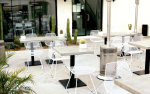 +2
Featured In Workshop Kitchen + Bar, Palm Springs , CA, Palm Springs, CA
Custom Options Available.
Ask The Creator
For Customization.
At this wonderful dining destination, the Ethel Side Chair adds to the comfortable contemporary escape under the olive trees. With its close-knit welds and comfortable Sunbrella Seating Pads, the Ethel makes every space look effortlessly chic.
PRODUCT DESCRIPTION
The Ethel Side Chair - Refined, clean, and crisp - the Ethel Chair is the perfect match for any dining table. As the best friend to the Lucy Chair, the Ethel borrows from her predecessor by incorporating a similar shape with simplified detailing for versatility in any setting.
Padding Options
- Sunbrella Seat Pad
- Ethel Seat Pad
Ethel Side Chair Specs
• 32"H x 20"W x 15"D
• Seat Height 18"
• Product Weight: 16 lbs.
• Box Dimensions: 26" x 19" x 16"
• Box Weight: 39 lbs. / Up to 2pc per carton
Colo white as pictured.
Free Shipping in the US, ask the creator about international shipping.
Have more questions about this item?