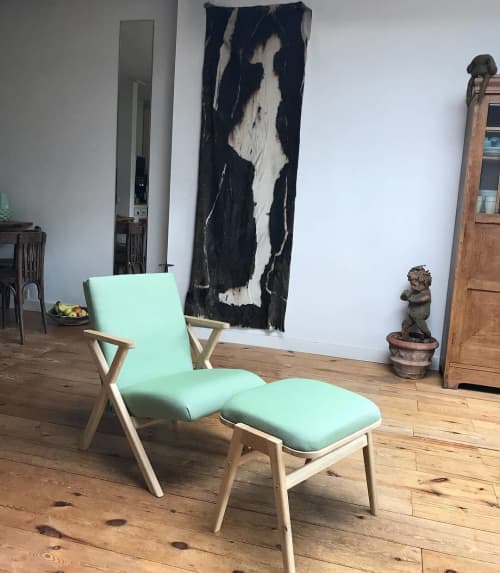 +3

"Hybrid Chair & Footstool"
Custom options available, ask the creator for customization.
"Another happy customer with the Hybrid Chair & Footstool."
Hybrid Chair and Footstool
The Hybrid Chair can quickly transform from a desk chair into a lounge chair and the other way around. By lowering the seat, an ergonomic relaxing position with armrests appears. Pull the seat up and the chair slides into a horizontal position, perfect to sit at a table.Therefore the ideal mix for people who do not want two separate chairs or simply do not have the space for it. Handmade from solid oak and upholstered with quality fabrics. Together with the Hybrid Footstool a perfect combo! There are two options of the Hybrid Chair; Comfort and Deluxe. The Comfort can be set manually in the top and bottom position, while the Deluxe option is driven by a pneumatic piston that can be set on any height. The user can even stay seated while lowering the Deluxe Hybrid Chair. This combo pack contains: 1x Hybrid Footstool and 1x Hybrid Chair (Comfort or Deluxe)
Have more questions about this item?