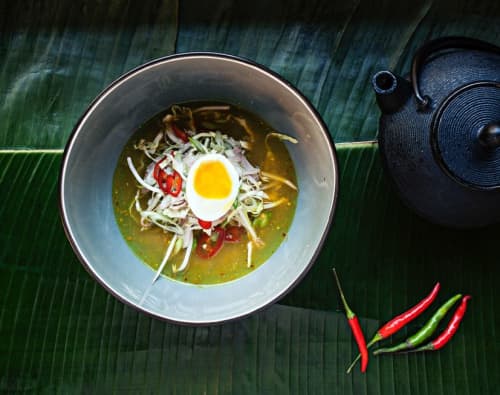 Image credit: Jesaja Hizkia Hutubessy



Gastro Grey Collection - Ceramic Plates
Creator not accepting inquiries
GASTRO collection
Material: stoneware
Colour: grey crackled
This product is part of GASTRO collection that contains over 40 items. An overview and price list is available. Just send me a message to receive it!
Shapes & glaze
A service set containing organic shapes such as oval and rectangular plates, round platters and sloping bowls. Distinctive because of its grey crackled glaze. The crackle is caused by the difference in expansion between clay and glaze, which causes small cracks in the glaze layer. This gives the plates extra depth. Some items have a yellow or blue colour accent inspired by the decorative sweeping technique used for sauces.
Collection
The Gastro tableware set designed in developed in close collaboration with master chef Ron Blaauw. The collection is available internationally for both consumers and professional clients. Delicious Indonesian cuisine goes hand in hand with the grey stoneware pieces as can be seen on these pictures made at Ron Gastrobar Indonesia.
Material
The material is stoneware, in terms of strength this material sits between porcelain and earthenware. The crackled glaze gives it its distinct aesthetic; it also makes it a bit more sensitive to chipping compared to solid glazes.
The service is dishwasher and microwave safe. It is used at a wide range of establishments: from gastro pub to Michelin star restaurant.
Item
Gastro Grey Collection