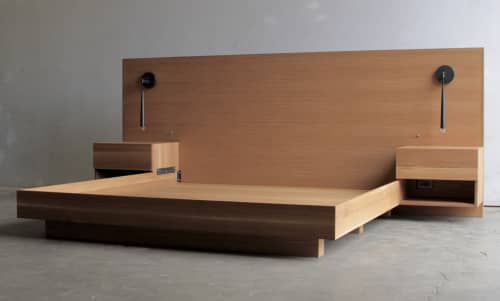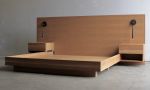 +3

The Guinness - Beds & Accessories
Creator not accepting inquiries
White oak, king bed with integrated lighting, outlets and nightstands. Also available in headboard with nightstands only. by Riley Ridd and built by Jordan Omohundro for Project Sunday.
The original Guinness Bed (shown) was designed for a client who wanted a simple but very functional bed frame. Our idea was to incorporate nightstands with drawers into the headboard to create a streamlined system of common bedroom furniture. At her request, we also added pendant style nightlights (Not included) to both sides adding to the ultimate all in one bedroom piece.
The Guinness Beds is finished using a professional 10 sheen conversion varnish.
Available in Full Frame or wall mounted Headboard Only option if an existing bed frame is being used.
*Nightlights sold separately and will require DIY.
**Nightstand outlets not included.
***This piece is shown in two custom formats for local clients and will need some discussion before proceeding.