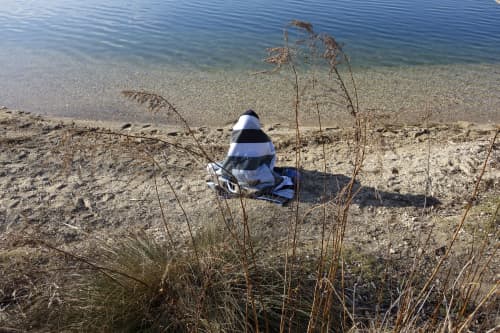 Image credit: Daniela Witt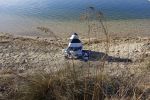 +3

Blockhouse Quilt - Beds & Accessories
Featured In Leipzig, Leipzig, Germany
This denim quilt is absolutely unique and was made by textile artist Daniela Witt in Leipzig.
The quilt top is made of recycled denim trousers, some of which show signs of wear and tear and thus make up the unique characteristic of the wall hanging.
The border and the hanging were sewn by hand, the sewing together of the strips and the quilting was done with a sewing machine.
The filling is made of 100% cotton molleton. The back was also pieced together from different cotton fabrics.
The blanket can be washed at 30 degrees. Der Quilt verfügt an der Rückseite über einen Schlauch um ihn aufhängen zu können aber er eignet sich auch als Überwurf für das Bett.
-------------------------------------------
Die Bekleidungstechnikerin und Textilkünstlerin Daniela Witt hat sich auf die Technik des Patchworks spezialisiert, das heißt Stoffe werden zerschnitten und neu zusammengefügt. Der Stoff wird dabei aus seinem ursprünglichen Zusammenhang gerissen und in einen neuen Kontext gesetzt, dadurch entstehen ungewöhnliche Effekte bzw. fehlerhafte Dinge wie Löcher/ geflickte Stellen/ Verfärbungen rücken in den Fokus und bekommen eine neue gestalterische Komponente. Durch das Spiel mit Farben und Formen lassen sich unzählige Variationen erzeugen, die spannende Bilder ergeben. Als Textilien für die Oberseite werden hauptsächlich Altkleider verwendet, vor allem abgetragene Jeanshosen haben es ihr angetan, da die Gebrauchsspuren der ausrangierten Klamotten Geschichten vom Vorleben erzählen. Die Quilts entstehen in ihrem Atelier in Leipzig.
Shipping: 8-10 days
$40 Shipping in the US, ask the creator about international shipping.
Estimated Arrival: November 8, 2021
Have more questions about this item?