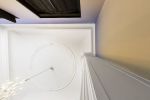 +4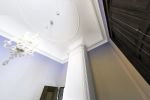 Tapestries - Art & Wall Decor
Featured In Museum Weesp, Weesp, Netherlands
A contemporary take on antique tapestries
Museum Weesp is a small museum housed in the historic town hall of Weesp, a town centre within the municipality of Amsterdam. One of the main heritage rooms of the city hall was fitted with a centuries-old tapestry that needed to be replaced.
We chose to replace the tapestry with a new tapestry using the old wooden frames and the original method of installation: stretching the fabric over thin wooden strips and nailing them on the far edges of the frame.
We took inspiration from an old technique called 'verluchten' used in wall tapestries, whereby intricate paintings or weavings of skies or heavens are used to create the illusion of the space being bigger than it really is. We abstracted the imagined scenes of these historic tapestries into highly blurred colour gradients and had them printed onto fabric and applied to the original wooden framework.
Have more questions about this item?