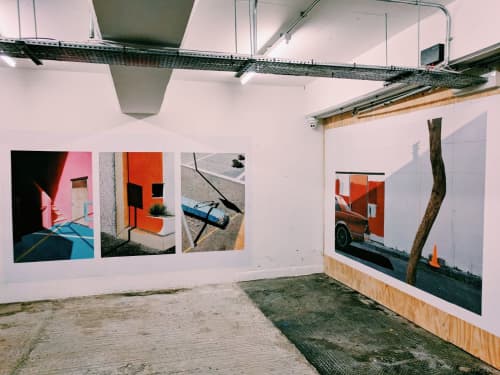 Altered States - Art & Wall Decor
Featured In Peckham Levels, London, United Kingdom
Images shared on Instagram are rapidly consumed by the platform's users. Artists and other cultural producers feel constant pressure to produce a daily curated feed of powerful images; it is a place of extreme visibility where creativity is temporary and easily disposed or dismissed, yet highly desired. An image that gets thousands of "likes" one day is old news in 24 hours or less. The tiny screens on our phones can pull us down a rabbit hole of artistic insecurity and self-doubt but the temporary validation social media provides is addictive.
alteredstates/alteredscapes is a three-pronged, collaborative photography project from Natalie Christensen (Santa Fe, NM) and Jim Eyre (London, UK) that positions Santa Fe as the physical location from which to engage a global audience, using Instagram to explore and distribute the project's ideas. The project is comprised of a site-specific exterior wheat paste mural, and digital display via a website and public Instagram feed. Referencing a 1980's horror film in which the main character gets lost in visual dreamscapes via sensory deprivation experiments, alteredstates/alteredscapes aims to make public and visible the psychological impact of sharing and viewing art on social media.
Christensen and Eyre met over Instagram and initiated a collaboration based on their shared ambivalence of using the social media platform to view and share contemporary photography. alteredstates/alteredscapes was born from the artists' main question: Is the unrelenting momentum of the virtual space stifling their creativity or, conversely, are they becoming better artists by the pressure to produce and compete for recognition on the digital stage?
The project is comprised of composite photography of New Mexico and London. To create the final images, the artists began passing their respective photographs—shots of their urban surroundings—back and forth via Instagram direct message. At each turn, the artists digitally cropped, collaged, or otherwise altered the images, shaping them by trial and error, layer upon layer. As a result, the images contain familiar tropes yet are oddly disorienting—architectural fragments and street elements meld together to present multiple points of view and subtle combinations of perspectives on a single visual plane, representing a malleable psychological experience. The artists willingly created these artworks through a laborious, tedious, rigorous process to share with a global audience, knowing that those who view them will do so in a split second and dispose of them with a flick of their thumb.
Have more questions about this item?