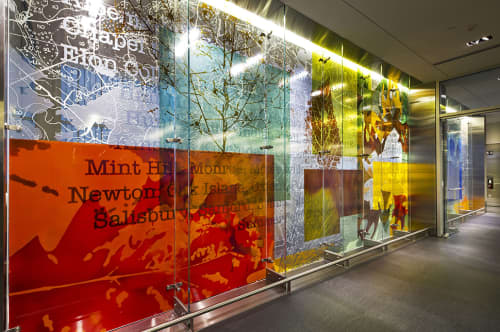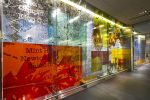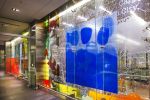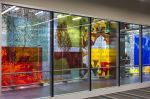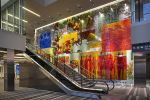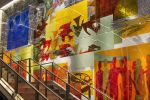 +1
Metamorphosis - Art & Wall Decor
Creator not accepting inquiries
Chicago-based artist Martin Donlin produced "Metamorphosis," a large art glass feature wall, for the Raleigh–Durham International Airport.
The bold and vibrant piece, which can be found in Terminal 1, contains many references to local plants, seeds, crops and vegetation. The idea of growth was developed to suggest a nurturing environment in the Raleigh, Durham and Chapel Hill area.
The artwork is painted on all four surfaces entirely by hand and is toughened and laminated with a small amount of cast toughened glass bonded to the front surface. At the security level the name of every city in North Carolina is etched into the glass surface, the colors are a "family" of warm earthy tones as a symbol of welcome with a contrasting series of "Tar Hill Blue" figures at one side.