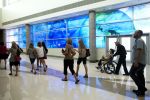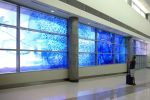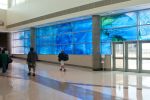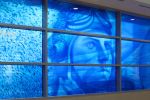 +1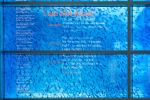 Blueprint of Flight - Art & Wall Decor
Creator not accepting inquiries
"Blueprint of Flight" (hand-painted ceramic enamel on toughened glass; 25 meter X 4 meter; 2013) is a gorgeous piece of travel art produced by Chicago-based artist Martin Donlin for Dallas Love Field Airport.
The central figure in the piece is Moss Lee Love, the pioneering aviator from whom Love Field takes its name. To the left of the design a collage of images that are taken from indigenous plant and bird life; the pecan tree and the mockingbird are overlaid with a flock of birds in flight. To the far right we can see a historic map of downtown Dallas from about the time of the first runway construction at Love Field.
To the left of the map is a large globe showing modern day flight paths around the world with Dallas as a central location. On top of all these elements are multi-layers of poems that relate to mans desire to fly: Some of the text is totally legible and sharp to the eye, while other layers of text are seen as soft dream-like "vapour trails" across the sky uniting and connecting everything.