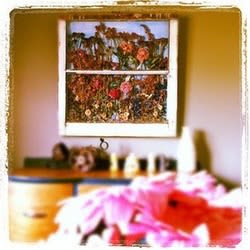 Antique Window Art - Art & Wall Decor
1950's distressed antique window frame complete with glass, with 3 dimensional dried flowers that were grown in my garden, Each stem, flower and leaf is secured in place so the piece will never deteriorate. This piece contains a variety of annual and perennial flowers.
Each piece is individually priced
As seen in
Private Residence
, Edmonton, Canada
Have more questions about this item?