+4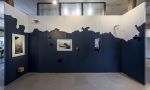 The Ocean - Art & Wall Decor
Featured In Pinkard Gallery, Baltimore, MD
multimedia installation, part of the exhibition "it can begin with the clouds", curated by john ros.
These artworks re-acquaint people with the importance of and our dependence upon water, a constantly evolving environment. A multi-faceted approach promotes understanding of the inter-related threads inherent in an ecosystem, which drives and shapes humans just as humans control and effect nature.
Together, the objects in this installation are parts of a network, stirring a memory. Similar to the way that a votive is a devotional gift designed to honor and adorn shrines, the polyhedrons and the photographs are dedications. I chose to work with polyhedrons, specifically the Platonic solids, after learning of Plato's "theory of everything,"* a cosmology based on the dynamic elements' primary roles in the transformation of the material cosmos –the environment.
Each polyhedron is symbolized by one symmetrical shape composed of triangles. The cube denotes solids of the Earth while the tetrahedron is associated with Fire's purifying quality. The octahedron references the cosmic breath of Air and the icosahedron denotes Water, the life affirming liquid. This framework is a means to unlock a new perspective focused on elements - and our reliance on them - in the platonic cosmos.
Have more questions about this item?