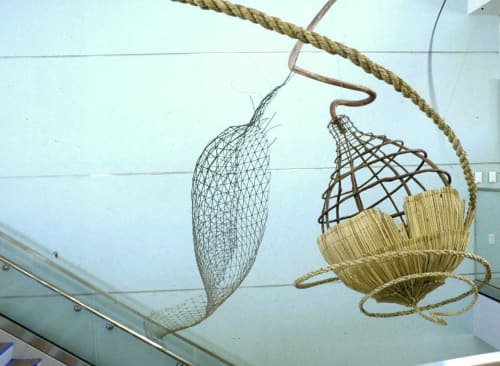 Item Details
The Potrero Branch Library on 20th Street features "Here and Past Here" (2010), sculptor Gina Telcocci's abstract work, which is suspended above the library's main staircase and references the unique natural and cultural history of the Potrero Hill neighborhood.
The focal point of the installation is a form suggested by the California Buckeye (aesculus californica) seed pod. The buckeye was one of the dominant trees in the area and provided food and other resources to the Native Ohlone living in the area. The pod is constructed of a willow grid, partially thatched with tule (scirpus californicus). This is a direct reference to Ohlone house construction.
The wire net-like piece hanging alongside the pod is another layer peeling off the pod. It is an abstracted version of a woven, utilitarian object such as a winnowing basket, made with a style of weaving that was also practiced by native people in the area.