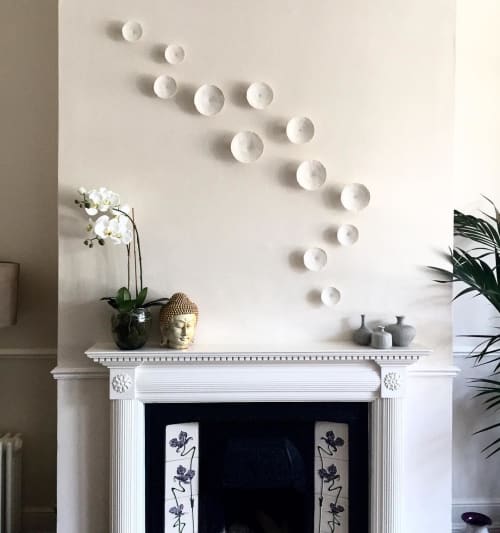 +1

Grace - Porcelain Wall Art - Art & Wall Decor
Price from $500 to $18,000$500-$18,000
These are each handmade by me in my UK studio from pure white porcelain clay. Then they are fired super hot, to make the porcelain very slightly translucent.
The flower sculptures stand out from the wall and will look minimal and soft against light or neutral backgrounds or dramatic against rich, dark backgrounds. Their shadows move as the light changes throughout the day and I like how that gives them a life of their own.
It's really easy and fun to arrange the set. If you are unsure of how to position them, then I recommend cutting circles of paper or using post it notes to the same sizes as the flowers and temporarily stick them to the wall to arrange them before installing the work permanently. This lets you play around with the arrangement, and take a step back to make sure you get them in positions you are happy with. Each will hang over a suitable nail or screw in your wall - please contact me after purchase if you would like a hanging diagram or if you intend to hang them in a high traffic or vibration area so that we can advise additional fixings.
Price varies according to number of flowers required. Flowers range from 3 - 5.5 inch diameter approx. Please get in touch for a quotation.
Returns accepted within 14 days
See details
Item
Grace - Porcelain Wall Art
As seen in
Private Residence
, Manchester, United Kingdom
Have more questions about this item?