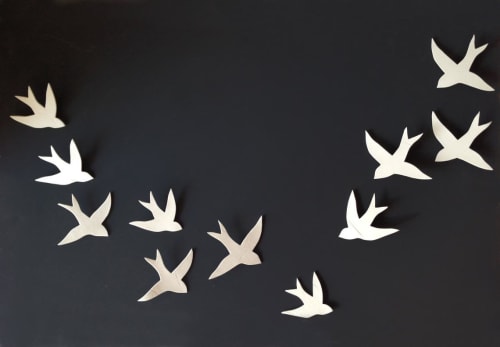 +2

Flock - 11 Porcelain Ceramic Wall Art Swallows
These modern swallow silhouettes, handmade from porcelain, will add clean, modern style to your wall art.
They are made from high fired ceramic, so they are perfect for kitchens and bathrooms, because they don't mind steam and are easy to clean, but they'll look equally pretty in living spaces and bedrooms. They're easy to arrange in any way that suits your space, so they are great for tricky spaces and hallways, and because of the angle of them as they hang on the wall, they cast a slight shadow on the wall that changes as the light changes throughout the day.
I designed these to be simplified silhouette shapes reminiscent of swallow tattoos. They have the subtle texture of feathers in the surface, and I cut each one by hand, so no two are exactly identical and you can be sure that your set is unique.
The largest measures approx 6 inches (16 cm ), so the set takes up a space approx 3ft x 2ft ( 61 x 92 cm) when arranged as pictured, but of course this could be considerably larger or smaller depending on your arrangement.
They are super easy to hang from a single nail in your wall, and if you'd like to change the angle a little then you can easily do so by using a little wall putty or blu tack. Please ensure that whatever you choose to hang the swallows with only protrudes from the wall a small amount to make sure that they sit nicely and close to the wall. They already have fixings on the back which will just slot over your choice of wall fixing.
Buyer can reach out to the creator directly if there's a more specific time request.
Shipping: 14 days
Free Shipping in the US, ask the creator about international shipping.
Estimated Arrival: September 20, 2021
Have more questions about this item?