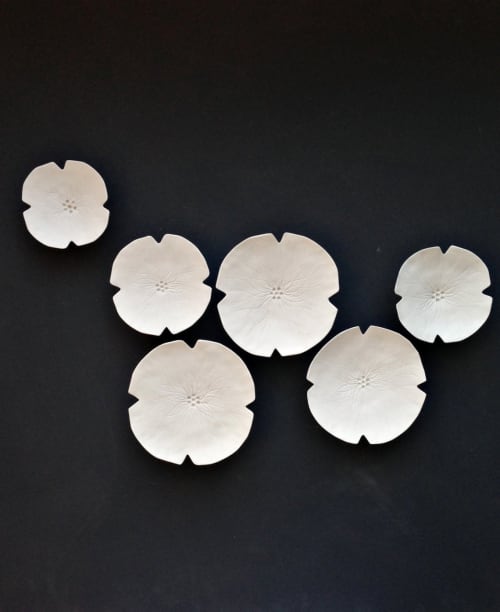 +1

Titled "Six Graces", these six delicate wall art flowers were formed by hand from high-fired white porcelain and provide a flexible, elegant solution for artwork, even in tricky areas, because you can arrange them to suit your space.
Each measures approx 3.25 - 4.25 inches across by 1.25 inches from the wall.
(8 - 10.5 x 3 cm)
Arranged as shown in the main image, this group measures approx 18 inches across. (46cm)
They are made from ceramic and they won't mind steam, so they are great in bathrooms as well as living spaces.
Porcelain has a beautiful translucent quality - when it is held up to the light, some of the light shines through.
Each wall flower has a hole recessed into the back and can be easily hung on one small screw or flat headed nail (depending on what is suitable for your wall), knocked diagonally downwards into your wall. They can be arranged as pictured, in a line, or any way that suits your space.
Buyer can reach out to the creator directly if there's a more specific time request.
Shipping: 14 days
Free Shipping in the US, ask the creator about international shipping.
Estimated Arrival: September 20, 2021
Have more questions about this item?