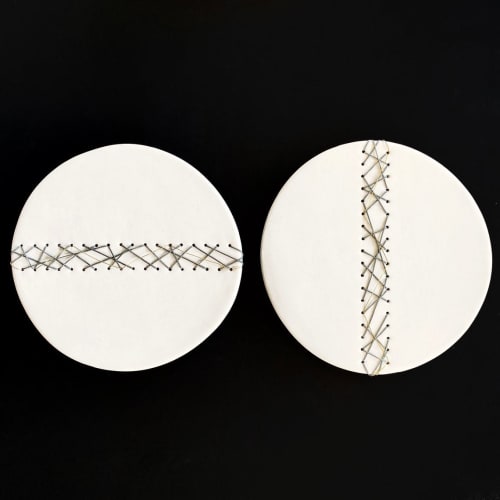 +4

Circular Wall Art Set Of 2 Geometric Abstract Artwork
This set of 2 circular porcelain ceramic wall panels was hand pierced and stitched through with golden wire and grey fibres. It is unique and can be arranged in different ways to suit your space.
Each measures approx 16.5 cm ( 6.5 inches)
They are easy to hang from a single flat headed nail or screw in your wall.
From my "Stitched Ceramics" series, each one started life in my English studio as a soft ball of the finest porcelain clay. I gently smoothed it out, formed the shapes and then painstakingly pierced it, all by hand. Then it was carefully dried out over a long period and fired super hot in my kiln. Lastly, I added subtle grey and golden brass stitches to the surface. Each stitch must be planned in advance, yet I still find myself a little surprised by how the lines look when they are put in place at the end of the process.
Buyer can reach out to the creator directly if there's a more specific time request.
Shipping: 14 days
Free Shipping in the US, ask the creator about international shipping.
Estimated Arrival: September 20, 2021
Have more questions about this item?