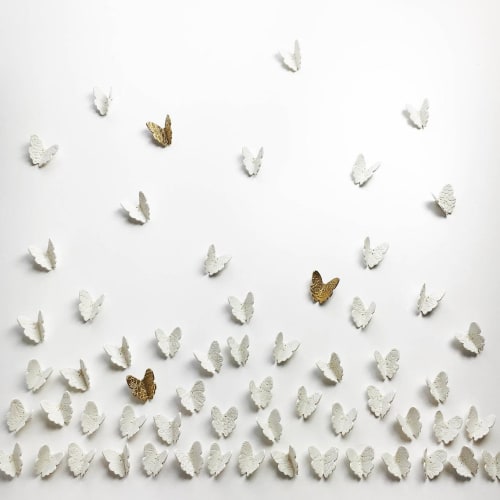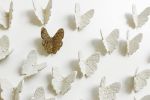 +3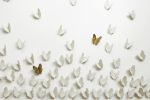 Extra Large Butterflies Wall Art Set of 60
Titled "Lace Wings," this set of 60 3D porcelain wall art butterflies were inspired by the beautiful insects of the same name. They're easy to install on your wall and the wings will cast shadows that change as the light changes throughout the day. Each one is made by hand in my UK studio, so you can expect the highest quality.
Each butterfly measures approx 2.5 inches (6cm) and because of the flexibility of the artwork, it can take up as large a space as you want it to. In the first image, they take up approx 1 metre (39 inches) square space, although they could be stretched out or displayed in a more dense formation.
Every butterfly sculpture is unique and is hand crafted from pure white porcelain. The texture and pattern on the wings comes from pretty antique lace embroidery and crochet, and they are finished with stitches in gold coloured low tarnish brass wire.
They're easy and fun to hang and arrange in any way that suits your space. Because this wall art set comprises sixty separate butterfly sculptures, it is super flexible, and can be arranged to enhance even the trickiest of spaces. They're dreamy in a bedroom and create an elegant calming effect in living spaces and hallways. They won't mind if the room gets steamy, so they're great for bathrooms too. Please clean gold butterfly finishes with care, as you might clean a painting. White ceramic butterflies can be cleaned with mild soapy water.
Different sized groups are available on request - please contact me for details if your perfect number isn't listed!
Buyer can reach out to the creator directly if there's a more specific time request.
Shipping: 14 days
Free Shipping in the US, ask the creator about international shipping.
Estimated Arrival: September 20, 2021
Have more questions about this item?