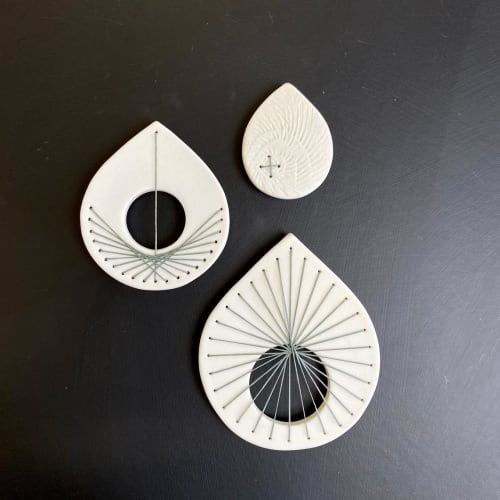 +1

White & Grey Leaf Stitched Porcelain Ceramic Wall Sculpture
These abstract leaf shaped ceramic wall sculptures are hand pierced and hand stitched through pure white porcelain. They combine my love of nature, textiles and ceramics.
SIZES:
The largest measures approx 5.25 inches (13.5 cm) and the smallest 2.75 inches (7 cm)
If you arrange them like I did in the main image, then the size of the group is approx 8 inches wide x 9 inches tall. (20 x 23 cm)
INSTALLATION: Each piece needs one small flat headed nail or screw in your wall.
They are from my original wall art range, and are unique pieces. Each hole is painstakingly made, then they're fired super hot and later stitched through. These take lots of patience and a very steady hand!
You can arrange them in lots of different ways to suit your space. They're easy to hang, each from one flat headed nail or screw in your wall. They make sweet gifts too.
Buyer can reach out to the creator directly if there's a more specific time request.
Shipping: 14 days
Free Shipping in the US, ask the creator about international shipping.
Estimated Arrival: September 20, 2021
Have more questions about this item?