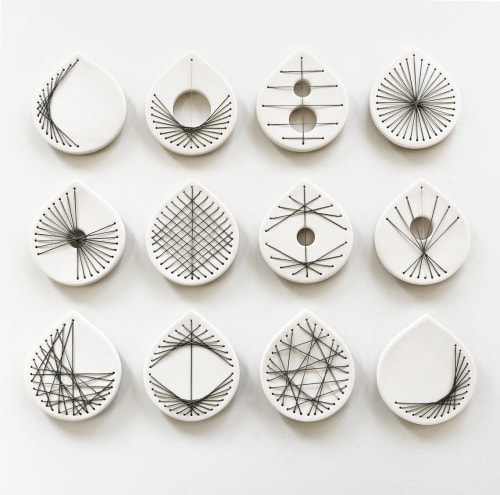 +6
Stitched Ceramics - Set Of 12
This set of 12 unique handmade porcelain wall sculptures is from my new "Stitched Ceramics" series.
These take patience, precision, planning and lots of care to make. Each stitch and hole must be carefully planned in advance, but I'm still always a little surprised by how the lines of thread and golden brass look when they're in place.
Each one measures approx 12 x 10.5cm (4.75 x 4 inches) so they take up a space approx 49 x 42cm (19 x 16.5 inches) when arranged as pictured in the main images. However, they can be arranged in lots of different ways to suit your space so that measurement could be larger or smaller. They are simple to install and need one flat headed nail or screw into your wall to fix them.
Please note, each sculpture is unique and your set may vary a little as I make each one individually.
Want more than are shown, a particular design or a different colour? Larger and alternative groups are available on request - get in touch to commission something special!
Shipping: 14 days
Free Shipping in the US, ask the creator about international shipping.
Estimated Arrival: September 20, 2021
Have more questions about this item?