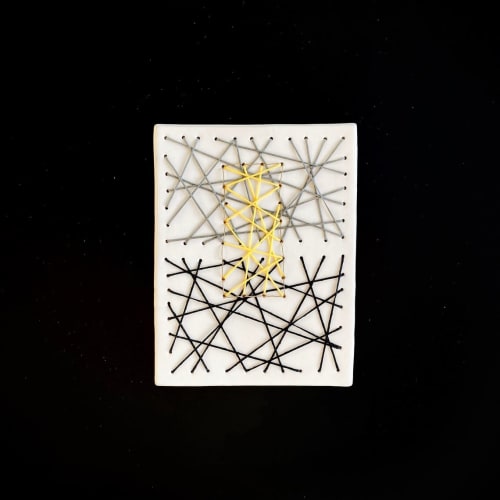 +1
This is a one of a kind, handmade original ceramic and fiber artwork from my stitched porcelain series. Title - You, me, us
It began life as a soft squishy block of white porcelain clay. I smoothed it out to form a flat panel, then hand pierced each tiny hole through with a very steady hand. Each black, yellow and gray fiber was individually threaded through and then it was finished with golden brass wire stitches.
It measures 13.5 x 10cm and sits around 1.5cm off the wall. (5.5 x 4 inches)
It hangs from one flat headed nail, screw or picture hanger into your wall, so it's easy to add to your collection! You could have it framed, but my preference is to hang it straight on to your wall.
Buyer can reach out to the creator directly if there's a more specific time request.
Shipping: 14 days
Free Shipping in the US, ask the creator about international shipping.
Estimated Arrival: September 20, 2021
Have more questions about this item?