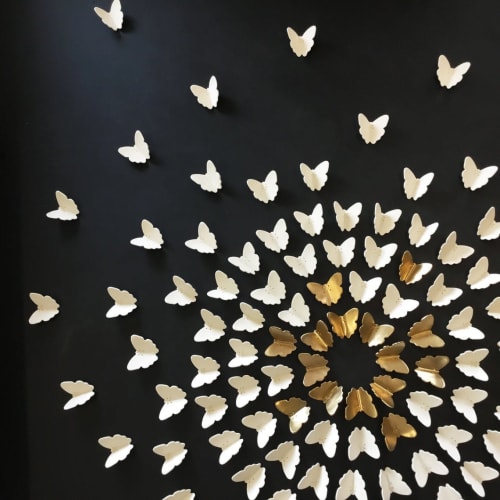 +5

Set Of 90 Gold and White Porcelain Butterflies
This set of porcelain wall art butterflies can be arranged in a multitude of ways to fit even tricky spaces. They're hand made in our UK studio from pure English porcelain ceramic, so you can be assured of the highest standard of quality. This listing is for 90 in total - 75 butterflies in white and 15 in metallic gold finish, with smooth porcelain texture. Each is hand crafted and finished with golden brass wire.
SIZE:
Each butterfly measures approx 2.5 inches (6cm) and you can easily arrange them in a way that suits your space. Arranged in a circular formation as pictured, they will take up a space approximately 100 - 140 cm diameter, depending on the density you choose for them at the centre. Less dense in the centre = more size overall.
INSTALLATION:
They have a simple fixing on the back, and to adjust the angle we recommend using poster putty, double sided sticky strip or hot glue (if these are suitable for your wall and environment) in addition to a single nail or screw for each one. You will need a single flat headed nail or screw, whichever is suitable for your wall, for each butterfly. We think it's simple to do but of course, please get in touch if you need any further information or help with fitting!
Shipping: 14 days
Free Shipping in the US, ask the creator about international shipping.
Estimated Arrival: September 23, 2021
Have more questions about this item?