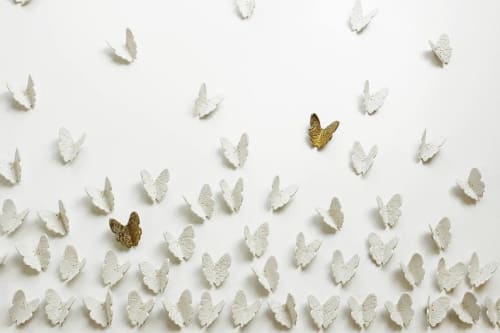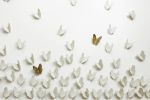 +7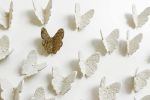 Extra Large Artwork 3D painting 120 Porcelain Butterflies
This extra large group of 120 porcelain ceramic wall art butterflies was hand crafted to be of the highest quality in my English studio and imprinted with the texture of vintage lace. The main image shows the group arranged together to form a huge square of 200 x 200 cm (approx 6.5 ft x 6.5 ft) Each individual butterfly measures around 6 cm (2.5 inches).
They're super versatile, so you can stretch the group out to make it cover an even larger space if you wish, or condense them to make a smaller square. You can arrange them in a line or any way that suits your space.
This group has the option of all in white, or with 7 in gold finish as an accent. If you would like a bespoke accent colour, wire colour, or a special colour for the whole group, get in touch! We love to make commissions for special spaces!
The brass wire details are all hand stitched through and the lace texture is always slightly different, so your set is truly unique.
From this listing you can choose either 113 white and 7 gold making 120 in total, or 120 white.
Buyer can reach out to the Creator directly if there's a more specific time request.
Shipping: 14 days
Free Shipping in the US, ask the creator about international shipping.
Estimated Arrival: September 20, 2021
Have more questions about this item?