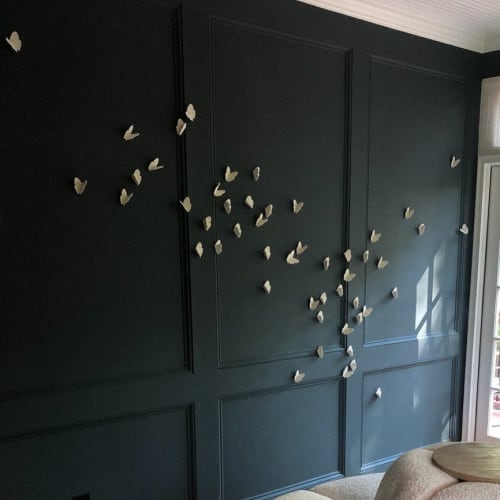 Image credit: The Drawing Room, Atlanta


+4

Flutter - Handmade Butterfly Wall Art In Porcelain
Custom options available, ask the creator for customization.
Gorgeous installation of my butterfly wall art by The Drawing Room interiors in Atlanta. Love the contrast with the inky panelling!
Every butterfly sculpture is unique and is hand crafted from pure white porcelain. The texture and pattern on the wings comes from pretty antique lace embroidery and crochet, and they are finished with stitches in gold coloured low tarnish brass wire.
They're easy and fun to hang and arrange in any way that suits your space. Because this wall art set comprises sixty separate butterfly sculptures, it is super flexible, and can be arranged to enhance even the trickiest of spaces. They're dreamy in a bedroom and create an elegant calming effect in living spaces and hallways. They won't mind if the room gets steamy, so they're great for bathrooms too. Please clean gold butterfly finishes with care, as you might clean a painting. White ceramic butterflies can be cleaned with mild soapy water.
Have more questions about this item?