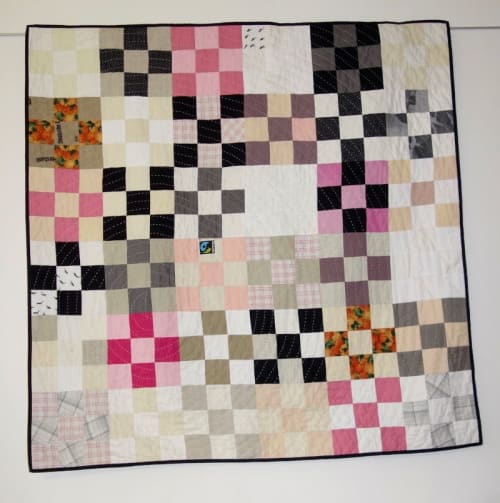 +4

Starts at US$600
Price varies depending on size, material and design (large or very small pieces),
Item Details
Fairtrade | Cotton, linen, organic cotton filling | machine pieced and quilted | 1,42 x 1,42 m/ 56 x 56 '' | 2019
If the textiles could tell their story...
This quilt is full of adventurous stories; one fabric, for example, comes from a household liquidation. A man, whose mother and grandmother sewed it, brought me the rest of her fabric. The pieces of fabric - some of them funny - were neatly folded or rolled up and many of the pieces tell what was supposed to come out of them. This information now appears in my works every now and then.
Furthermore a beautiful but totally worn out trouser was sewn, which according to the label is from Nepal and which I found on the street.
In addition, a small money bag, faded curtains, shopping bags, old bed linen, T-shirts etc. have been incorporated. (Of course I wash the fabrics before;-))