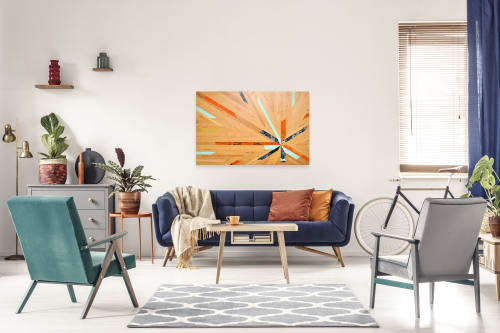 Context & Credits
As seen in
Private Residence
, Overland Park, KS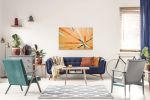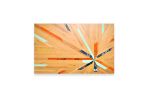 +2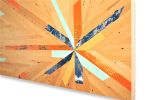 fully customizable - wood species, finish, color palette, dimenions, etc.
One of a Kind item
Inquire about Comissioning a Custom piece
Commission time: 2-3 weeks
Item Details
This piece is constructed using clear vertical grain (CVG) Douglas Fir. The individual wood pieces are arranged in a pattern of controlled chaos. The unique angular arrangement gives the piece a modern geometric aesthetic. A prismatic starburst provides an explosion of color on a background of smaller stars represented by the reclaimed wood nail holes.
The reclaimed wood in this one-of-a-kind wall art is meticulously selected for it's unique grain structure and character. The individual pieces of wood are hand sanded and finished to bring out their natural beauty. The edges are clean and straight lined giving this piece a modern look.