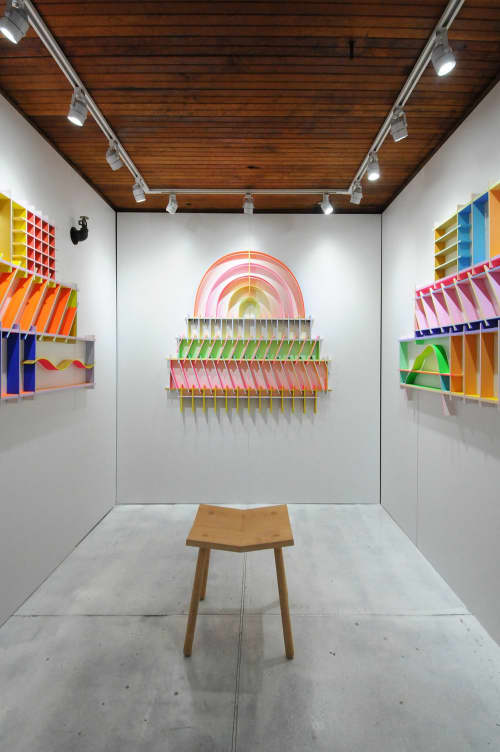 Image credit: Cooler Gallery


+7

Chiaozza Chapel - Art & Wall Decor
Creator not accepting inquiries
Chiaozza Chapel
Acrylic on wood
2018
Solo exhibition
Cooler Gallery, Brooklyn
Curated by Michael Yarinsky
Photography by Cooler Gallery
We approach the idea of the 'chapel' as a place of private meditation and contemplation; a small, non-conforming annex to common and prevalent modes of spiritual practice. The Chiaozza Chapel, installed within Cooler Gallery, is an intimate sanctuary celebrating color, light, and form. Five painted wooden wall works fill the 6- by 7-foot gallery. The formal compositions reference natural and metaphysical concepts such as horizons, atmosphere, time, landscape, and ritual. Repetitive motifs such as grids, diagonals, and arcs augment the visual vibration of the room.
In our work, color is a vessel for experience. Matte opaque pigment blurs the presence of the sculpture's surface and its surroundings, emphasizing the interaction of color and space. Light bounces off the painted wooden planks, creating reflected chambers of color that animate the air around and within each piece.
The Chiaozza Chapel grows from a lineage of artists and architects creating alternative spaces for the evolution of thought and worship: The Rothko Chapel, Le Corbusier's Notre Dame du Haut, Steven Holl's Chapel of St. Ignatius, Luis Barragan's Chapel of the Capuchinas, and James Turrell's Dorotheenstadt Chapel.