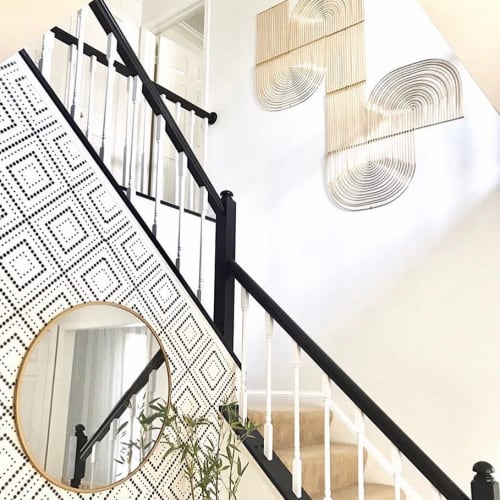 Image credit: Zuzanna Martinez

+1

Modular Art Piece - Art & Wall Decor
Other People Want This. 1 People Have This In Their Carts Right Now.
Custom Options Available.
Ask The Creator
For Customization.
A home makeover by Zuzanna Martinez. Bend Goods modular art piece in gold adds glamour to the fresh and clean new look of the space.
PRODUCT DESCRIPTION
This interactive wire decor is designed to brighten and enhance your walls inside or out. The Modular Art Piece lets you be the designer and create horizontal or vertical shapes that make a unique statement. If you're decorating your walls and looking for a modern alternative to pictures, this is for you.
Modular Art Piece Specs
• (Round) 24" x 17.5" (Straight) 12" x 18"
• Product Weight: (Round) 3.2 lbs. (Straight) 2 lbs.
• Box Dimensions: (Round) 25" x 18" x 8" (Straight) 20" x 13" x 2"
• Box Weight: (Round) 8 lbs. (Straight) 5 lbs.
• Custom Color: Please ask for Pricing
• Two Pieces / Package
Free Shipping in the US, ask the creator about international shipping.
Have more questions about this item?