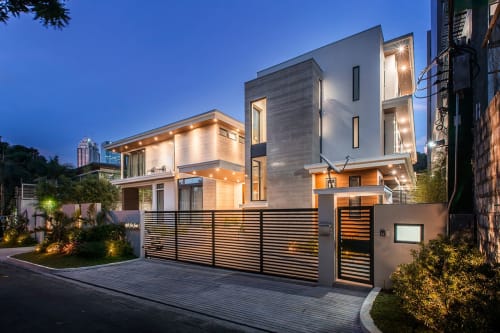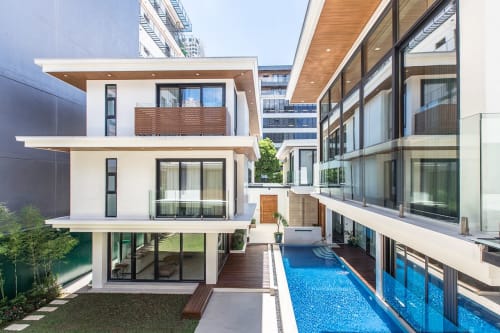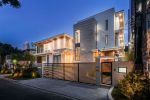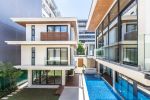 +22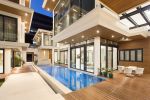 The C3 Residences project provides an interesting opportunity to explore intergenerational and interfamilial living. The design goal called for privacy and unity (for the nuclear and extended families, respectively) and hierarchy and equality (for the patriarchs and the siblings). Consistent with Chinese-Filipino customs and traditions, the children continue to live with their parents even after early adulthood. This often extends to when the children begin creating families of their own. In contemporary society, this deep-rooted filial piety and tradition is confronted by contradicting values of autonomy and privacy. C3 residences responds to this dilemma by designing three aesthetically congruent houses with individualized interior specificity - providing the adult sons their own private refuge while still maintaining ties to their parents.
The 1190 sq.m. lot on which C3 residences is located in a private subdivision in Mandaluyong City. The program calls for a 3 house family compound, that will encourage familial interaction, while still providing privacy in their individual homes. From the outside, the residence appears to be one unified structure. However, upon entering the main foyer, the distinction between units is made apparent by the common open spaces that weave a connection from home to home. The spaces in the individual homes are all oriented inwards, towards the grand lawn and lap pool, providing a reprieve from the outside world. The pool is the central element that ties the houses, and by extension the families, together. The space invites dynamic activity and peaceful relaxation. The house aims to be a tropical oasis in the middle of a hustling and bustling metropolitan.
Have more questions about this item?