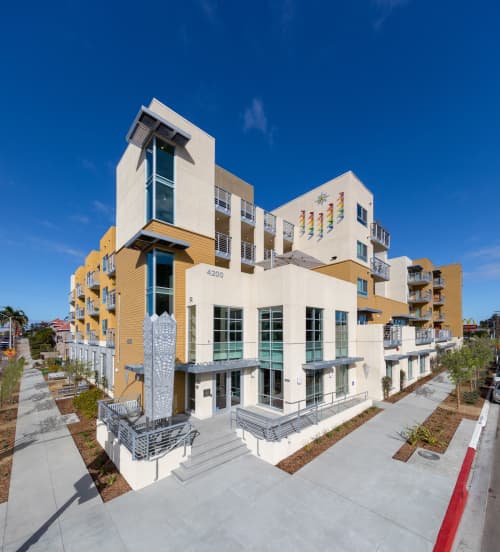 You Are Home - Architecture
Featured In North Park Senior Apartments, San Diego, CA
Public art at an affordable housing project for LGBTQ seniors is a celebration of community spirit, pride and culture. Multiple art elements utilize light and shadow throughout the project including a 16'ft tall obelisk/light tower and exterior sconces of cut aluminum and colored LED lights act as a beacon home.  Symbols and designs made of shaped and colored acrylic hanging in the courtyard, etched into concrete and a large array of multi-colored shapes that form a sundial on a south facing wall create community identity. The wall, visible from a distance, shows a compass that points due north representing the direction toward home and the North Star- a constant in the night sky just beyond the project wall. The piece also acts as a sundial, creating colored shadows that move throughout the day, casting shapes and symbols onto the wall.
The artwork is a colorful and festive celebration of life and light, changing throughout the day and night with the natural cycles of sun and stars.
Have more questions about this item?