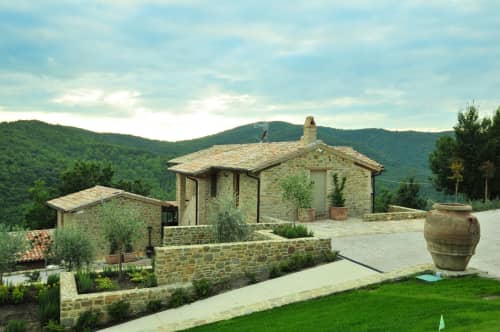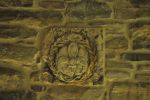 +36

Creator not accepting inquiries
Overlooking a forested Umbrian Valley is House Cicaleto, a renovation of a 12th century watch tower which was extended and reformed over time, a palimpsest of users, functions and meaning, to create a dwelling set among the rolling olive groves.
Due to the sensitivity of both the position (within 700m from Roman ruins, and 10km from Assisi) and the age of the structure, the approval and planning commission process lasted nearly three years with understandably firm and curated conditions applied by the authorities in executing the proposal.
Additions were allowed, albeit the bare minimum. This offered the opportunity to create a light and open connection between the two existing buildings, which would encapsulate a portion of the new kitchen, leading out to the addition of a lanai and triple rim flow swimming pool. These additions are sensitive and mindful of the layered histories of the context.
The kitchen/access link is a simple contemporary, flat roof structure under a glass roof. A steel staircase was inserted into this void, creating a physical relation between the ground floor living areas and the first floor where the main suite, study and painter's studio are located. This transparent void becomes a critical nexus within the altered home.
The original watch tower - turned farming dwelling - was quite traditional in its functionality and purpose; typically regional in its understanding of farming requirements in rural Italy. Stables and other farming facilities were located on the ground floor, along with hay storage located on a mezzanine level, while living quarters were located on the upper level. The new alterations and additions are mindful of these pre-existing processes and are thus programmed in a similar fashion.
The fabric and texture of the home is distinctly contextual and biographical. Stone, as the primary material for construction and finishing, needed to be enhanced and celebrated. The existing stonework was meticulously re-established both on the exterior and interior of the home.
All new stone used for finishing/structural work was found within the immediate context, establishing the sense of place. Timber trusses and beams were repurposed and recycled (some of these date back centuries).
The interior of the house offers a subtle, warm and somewhat eclectic palate. The predominant base of stone is offset and enhanced with light shades of wood, black steel and raw concrete.
The contemporary furniture and fittings were sourced from International brands such as B&B Italia, Molteni & C, Ciacci,Kristalia, Magis, Gloster, Fantoni, Lightyears, Rexa and the kitchen fittings by Spanish company Doca.
Light toned resin flooring provides a subtle base with off-shutter concrete, rough sawn hardwood and restored oak beams become the palate of rich ceilings throughout the house. Doors were manufactured from recycled oak beams, detailed with steel handles.