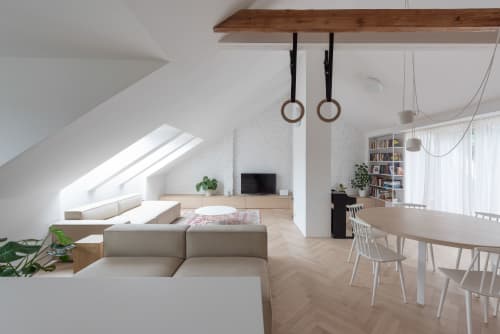 Image credit: Matej Hakár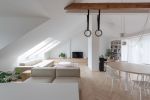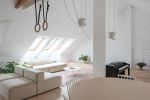 +15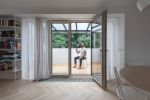 Attic Apartment in Bratislava - Architecture
The loft is located in one of the most saught after Bratislava districts built in the 1950's under the name of 500
apartments. This district represents the oldest housing estate in Bratislava, built after World War II in response to a
massive influx of people to the capital. It has become attractive particularly for young families. Since then Bratislava
has undergone strong urbanization and the location is being absorbed into the narrower city center. It is becoming
very attractive and unique. Due to the ever-increasing interest in housing, the originally uninhabited attic floors of
these characteristic three-storey houses started undergoing renovations in the 1990s, which led to the creation of
lofts.
The original condition of the apartment after years of usage did not meet the requirements of the family. Minor, but
important renovations were made. The aim was to achieve maximum use of space, openness (spatial) and new
generous storage space. The day zone of the apartment must work for a large 5-member family.
The functional - operational segmentation of space is determined by furniture, not partitions. It defines, divides, but at
the same time gives it a comprehensive character to the total space. The living room, kitchen,
dining room, game room, reading room and music room ... All one multifunctional space – large, modifiable and
transparent.
The main layout element is the new kitchen, which is actively connected to the living room through a two-way
modular sofa. As the cooking is quite often in a family of five, it is really a central communication space for all
members.
As part of the construction work, we removed the technical room with the boiler, which no longer fulfilled its function
and was replaced by a high kitchen assembly, into which we also integrated a new boiler. The unused chimney with a
fireplace was removed and the space increased to a depth of another 60 cm. In the hallway, the building openings
have been moved to create a new niche for storage space and last but not least the plasterboard ceiling has been
removed. We opened the space and showed the construction of the roof.
Have more questions about this item?