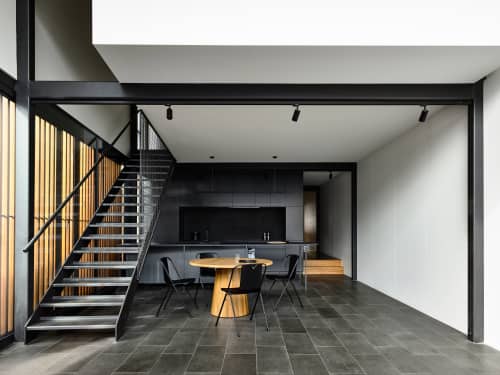 Image credit: Derek Swalwell


+8

North melbourne Terrace - Architecture
The North Melbourne Terrace is a double volume alteration and addition to the rear of an existing single story Victorian terrace house.
The new additions respond to the existing building, whist opening up the enclosed spaces to a generous living volume, light, and a refined structure and material pallet. The double height volume houses a new lower level bathroom, kitchen and living space as well as a generous upper main bedroom and ensuite suspended through the vertical steel frames.
The upper level hood extends externally to provide privacy to and from adjacent properties, whist elongating the footprint and directing the outlook to the rear of the site. The double height volume links upper and lower levers and allows sunlight deep into the living space in winter, with fully automated external louvers for privacy and solar adjustment.
The material palette has been carefully selected with external compressed sheet combined with refined steel edges to create a precise and functional enclosure. Honed bluestone flooring and steelwork combine to further enrich the white internal surfaces. The sophisticated tones of the bathroom further emphasise the privacy of the space through their deep tones including granite tiles, bluestone and custom formed concrete bath and basins.
Perforated compressed sheet panels operate alongside timber batten panels and double glazing to screen the spaces and offer a sense of security while allowing the building to breath.
Have more questions about this item?