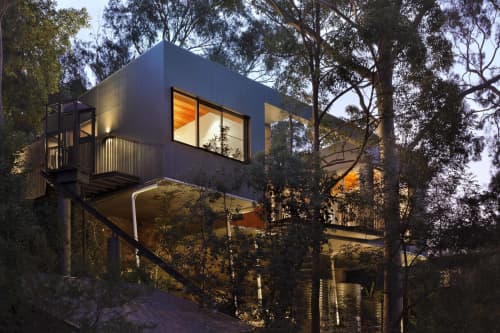 Image credit: Jackie Chan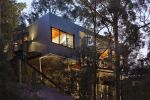 +13

The steep slope and high bushfire attack rating of the Castlecrag Residence provided us with many challenges and highly influenced the final design and materials of the house. The exterior of the house features brick, Matrix fibre-cement cladding and corten steel with timber accents. Inside, a curved timber clad ceiling echoes the curved corners of the exterior and discretely hides bushfire shutters. In the kitchen, living and dining room, large bi-fold and sliding doors provide cross ventilation and create an unbroken relationship with the outdoors. At the front of the house, the framed external courtyard highlights views to the surrounding native Australian landscape from within, while framing the sky and trees on approach. The steep slope means that the underside of the house is highly visible and great care was taken to ensure this elevation was as well considered as the rest of the house. Custom columns provide the house with structural support, while the corrugated steel cladding provides additional bushfire protection.
As seen in
Private Residence
, Castlecrag, Australia
Have more questions about this item?