Image credit: Stefano Pedretti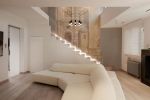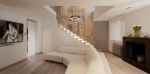 +24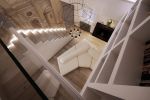 Navona Penthouse Project - Architecture
This prestigious residence located near Piazza Navona in Rome, is set in an urban mosaic of architectural and artistic works of unique value. The renovation wanted to take into account the particular context, emphasizing it through contrast with the new, essential design lines.
The double-height living room enjoys multiple views of the terraces and emphasizes a scenic staircase delimited by a pre-existing fresco, by a totally transparent crystal parapet and by a luminous band that highlights its shape.
The furnishings and refined lighting choices are well suited to the geometric irregularity that characterizes the ancient architectural envelope, creating a refined harmony.
Laser-engraved and backlit krion panels dot the various functional areas.
The fireplace was designed by the architect and covered in dark marble, deliberately in contrast with the white of the environment in which it is inserted.
In the terrace, an important fountain covered with natural stone and backlit has been created, which creates suggestive scenarios and sounds in accordance with the adjacent ancient Roman church.
A study-dressing room area and a luxurious bathroom occupy the private part of the lower floor.
Going upstairs, we are accompanied by a suggestive balcony that overlooks the living room and enjoys the views on both terraces.
A library emerges from the walls, merging with them and accompanying us towards the sleeping area.
The latter includes the master bedroom, a dressing room-study, two bathroom-wellness areas and two terraces.
The separation between the bed area and the dressing room is achieved through a part consisting of wardrobes with backlit doors and totally disappearing doors in the wall.
All the furnishings were handcrafted according to the architect's design.
The bathrooms are embellished with refined materials in chromatic contrast: dark marbles, panels worked with lily motifs and parquet with natural and bright color.
In the terrace adjacent to the sleeping area, a sitting area, the whirlpool tub and a second fountain create an extremely enjoyable space that overlooks the suggestive roofs of Rome.
Item
Navona Penthouse Project
Have more questions about this item?