+14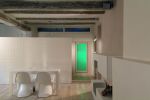 The non.wall concept Project - Architecture
A characteristic element of my work is what I call the non.wall (the non.muro): a filter between different functional areas that want to separate and relate them. Starting from the Echoppes Competition (winner of the Bordeaux Architecture Biennale in 2005), this concept of the non.wall has followed me in various projects, declining each time according to the specific situations, dimensions and needs of the client.
The non.wall hides each other and unites two different areas at the same time, creating a circular movement of the physical and visual user. Like a theatrical backdrop, the non.wall multiplies the perspectives and gives depth to the space in which it is inserted. It is a wall partition but does not reach the ceiling, leaving the perception of the continuity of space. It separates two spaces but at the same time places them in a close functional and visual relationship. It is, in fact, a wall but also a wall.
Have more questions about this item?