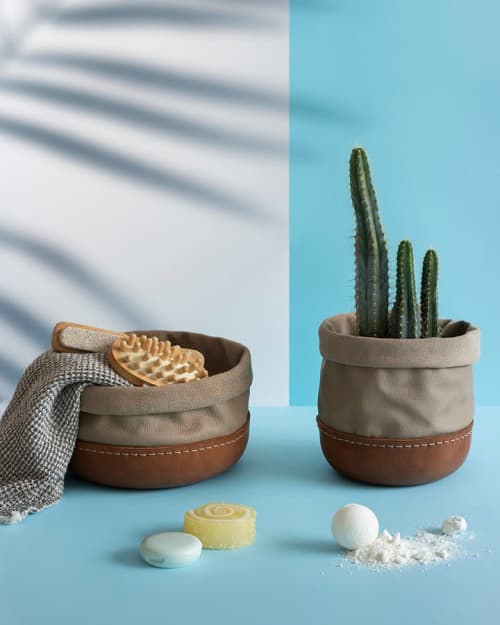 Image credit: Beyza Coruhlu


+1

Contrast - Apparel & Accessories
Featured In Uniqka, İstanbul, Turkey
Custom Options Available.
Ask The Creator
For Customization.
Contrast is a collection of storage units, exposing the beauty in contrast. The contrast of dark and light, hard and soft, thick and thin, rigid and flexible, traditional and modern.
Made of two contrasting pieces of leather; the hard and thick piece of leather constructs the base, where the soft and thin piece of leather sits on the top of the base and creates the sleeve. The rigidity of the bottom part allows the product to function as a container and the softness and flexibility of the upper part adds interactivity to it. By folding or wrinkling, the user can define the height and form of the product in various combinations. The interaction between the user and the product raises sensory physicality. Tactile stimulation delivers love and compassion.
The base of Contrast is made of wet-formed thick vegetable tanned leather. The soft and delicate leather, which used in the upper part is connected to the base with hand-stitching.
The design becomes a protagonist where traditional handcraft and modern living create a beautiful harmony. The product can fit in various occasions like dining, relaxing, calming and working.
Contrast is a versatile product that can be used for storing any object. Examples are floral display and ornamental presentations, as a basket for serving bread, as a sleeve for bottles or as a centre-piece to store daily stuff...
Contrast comes in two sizes and two color options.
material
Leather
dimensions
Ø: 17cm H: 27cm
Ø: 23cm H: 21cm
designer
Debbie Wijskamp
$30 Shipping in the US, ask the creator about international shipping.
Have more questions about this item?