How To: Use Wescover Filters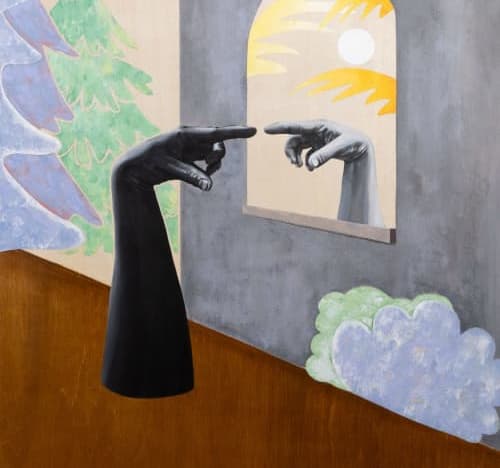 With thousands of options available on Wescover, finding the perfect piece can be an exciting journey. To streamline your search, we offer a range of search filters that can help you find the item that suits your needs and preferences. In this help guide, we'll walk you through how to use Wescover's search filters effectively to make your shopping experience as smooth as possible.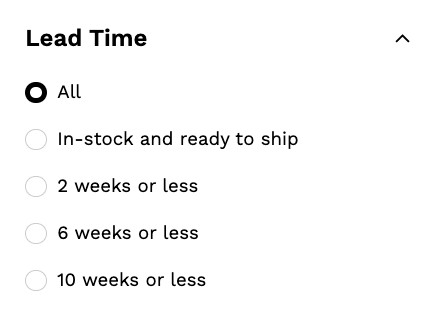 Lead time is a crucial factor when shopping for furniture, especially if you have a specific timeframe in mind. Wescover allows you to filter items by their 'Lead Time', ensuring that you find pieces that can be delivered when you need them. 
Wescover Tip: You can always directly message a Creator to inquire about specific leads time. Some Creators offer rush orders or prolonged deliveries. To message a Creator, select "Request Custom piece" on an item's page or navigate to the Creator's page and select "Inquire to Commission".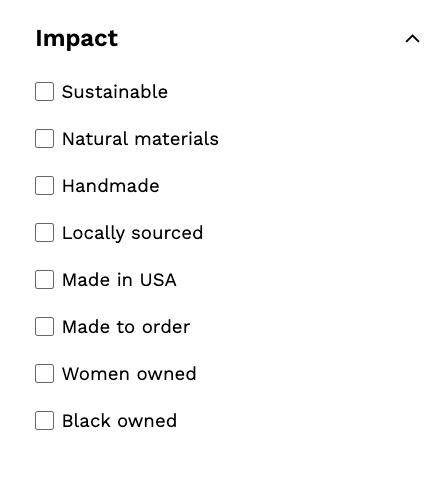 Wescover believes every item has a story. To help align your shopping with your values, our 'Impact' filter allows you to search by various principles. This filter highlights Creators whose practices include: sustainability, natural materials, locally sourced goods, Made in USA, made to order. Or, are businesses that are Women owned and Black owned. We are continually trying to expand our 'Impact' filter breadth.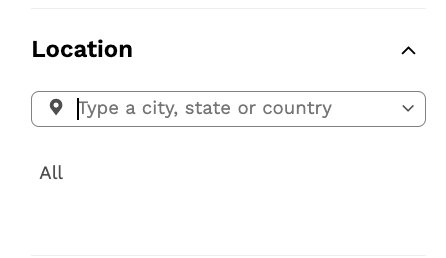 Supporting local artisans and Creators is essential for many shoppers. Wescover's 'Location' filter enables you to find items made in your desired region, fostering a sense of connection with the creators and their communities. You can search for items made in specific cities, states, or countries.
If you're shopping for furniture and decor for a commercial project, the 'Commercial use' filter is essential. It helps you identify items that meet the standards required for use in public spaces, offices, or hospitality projects. 
Browse all "Commercial use" items
"Buy Now" products are items that you are able to purchase immediately without inquiring with the Creator. These items are filterable and also indicated by an icon of a lightning bolt within a yellow circle:

Budget considerations are often a significant part of the decision-making process. Wescover's 'Price' filter allows you to narrow down your search to items that fit within your desired price range, helping you avoid items that may be beyond your budget.
Who doesn't love free shipping? By selecting the 'Free Shipping' filter, you can easily discover items that won't incur additional delivery costs, making your purchase even more cost-effective. Please note, this filter only shows items that offer free shipping in the continental US.
Browse all "Free Shipping" items
Everybody loves a good deal. Wescover's 'Special Offers' filter lets you find items on sale or with special promotions, helping you save money while still acquiring high-quality, unique pieces. Items on sale are decided by each individual Creator.
Browse all "Special Offers" items
Trade Member Offers
Filter
If you're a trade professional, the 'Trade Member Offers' filter can be incredibly valuable. It allows you to discover items with exclusive discounts or offers for interior designers, architects, and other trade members.
Browse all "Trade Member Offers"
Looking for something truly unique or a piece that perfectly fits your space? Wescover's 'Customizable' filter allows you to discover items that can be tailored to your specific needs, from size adjustments to personalized finishes. 
Wescover Tip: You can also request customizable on a certain item with the "Request custom piece" button or by sending a Creator an "Inquire to Commission" message. 
Have a broader commission request? Fill out with this Commission a Creator form with details of your project scope and we'll help match you with a Creator!
Material choice can greatly impact the look and feel of your furniture. Wescover's 'Material' filter enables you to explore items made from wood, metal, glass, fabric, and more, helping you find the perfect material for your home or project.
If you have a specific color scheme in mind for your space, the 'Color' filter can be a game-changer. It allows you to browse items that match your desired color palette, ensuring your decor seamlessly integrates into your design vision.
Everyone has a unique sense of style, and Wescover's 'Style' filter helps you find items that match your aesthetic preferences. Whether you prefer minimalist, vintage, modern, or eclectic designs, you can use this filter to tailor your search accordingly.
Summary: How To Optimize Your Wescover Search with Filters
Wescover's search filters empower you to find the perfect furniture and decor items that suit your preferences and needs. Whether you're focused on lead time, price, style, color, material, trade member offers, location made, special offers, customizability, creator values, or commercial use, Wescover's filters make it easy to discover the ideal pieces for your home or project. By utilizing these filters effectively, you can streamline your shopping experience and bring your creative visions to life with ease. Happy shopping!