Shop The Shoot with Designer Elena Calabrese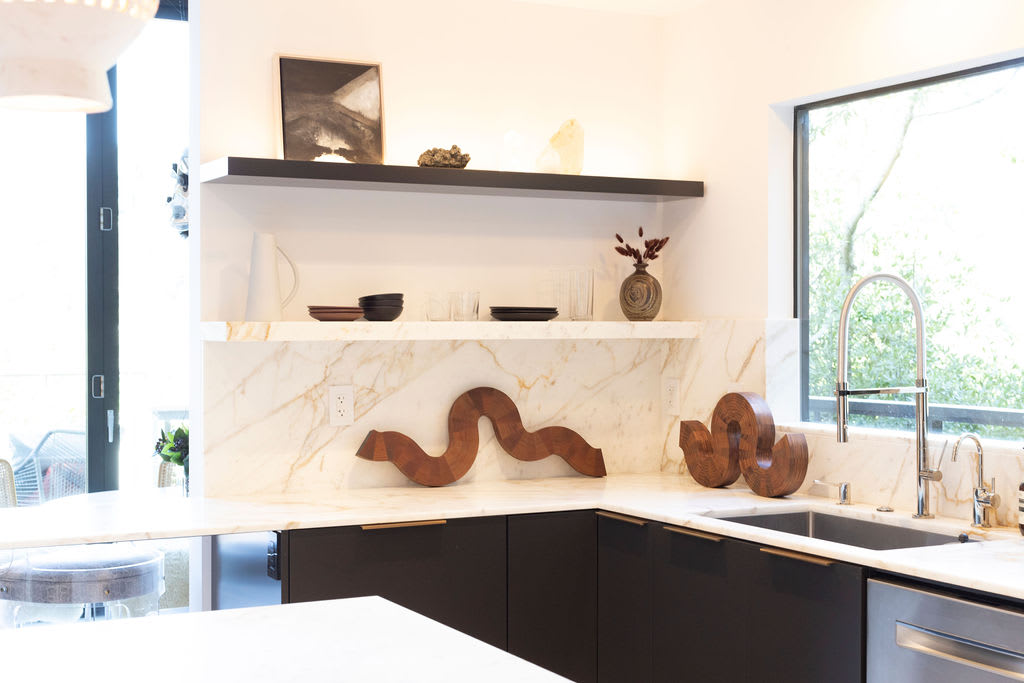 By The Wescover Editorial Team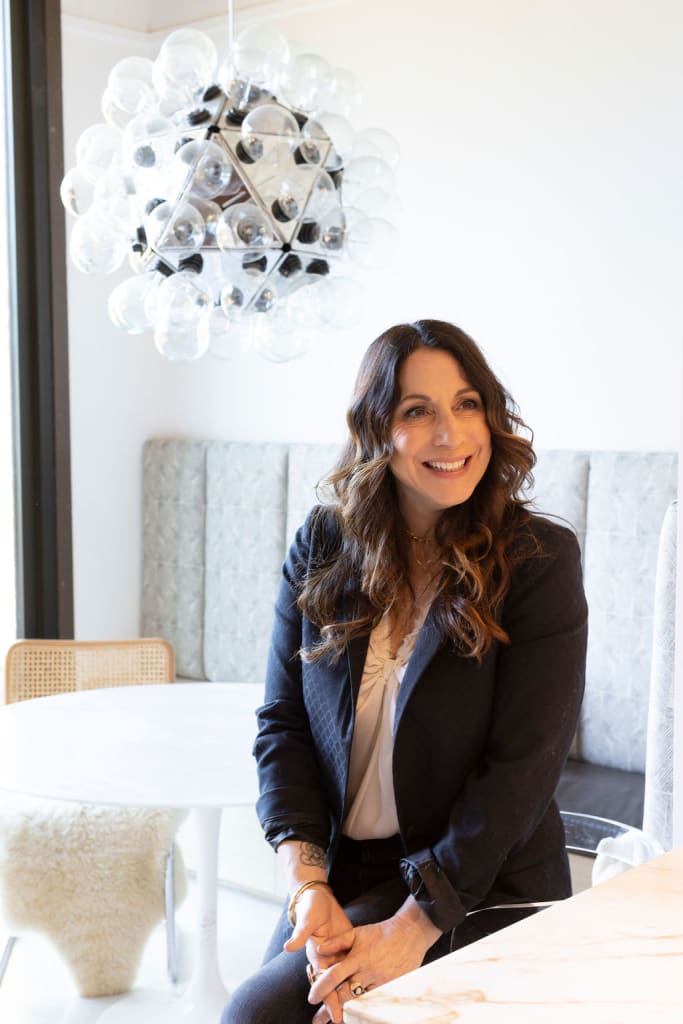 When Interior designer Elena Calabrese purchased her Mill Valley home it came with a long list of to do's. After living in the 1970s classic Marin hillside home for a couple of years, Calabrese was finally ready to tackle the outdated kitchen. She wanted to maintain the funky character of the house, while updating it in her iconic California style.

Tackling a Remodel
Elena started by reconfiguring the space to accommodate an oversized Viking cooktop and a commercial size refrigerator. Her husband is an avid weekend-chef and they love to entertain, so it was high on their list of priorities. With that said, a large center island was essential for rolling out pasta and serving family dinners.
Picking A Palette
Calabrese selected a subtle palette of black, white, and gold to warm up the space and make it feel elegant and inviting. The interiors now serve as the perfect backdrop for her eclectic collection of decorative pieces.Display shelves made from marble slabs were carefully placed in the kitchen corner creating an ideal nook for Elena's black and white crystals, vintage barware, Heath ceramics and other designs to be displayed.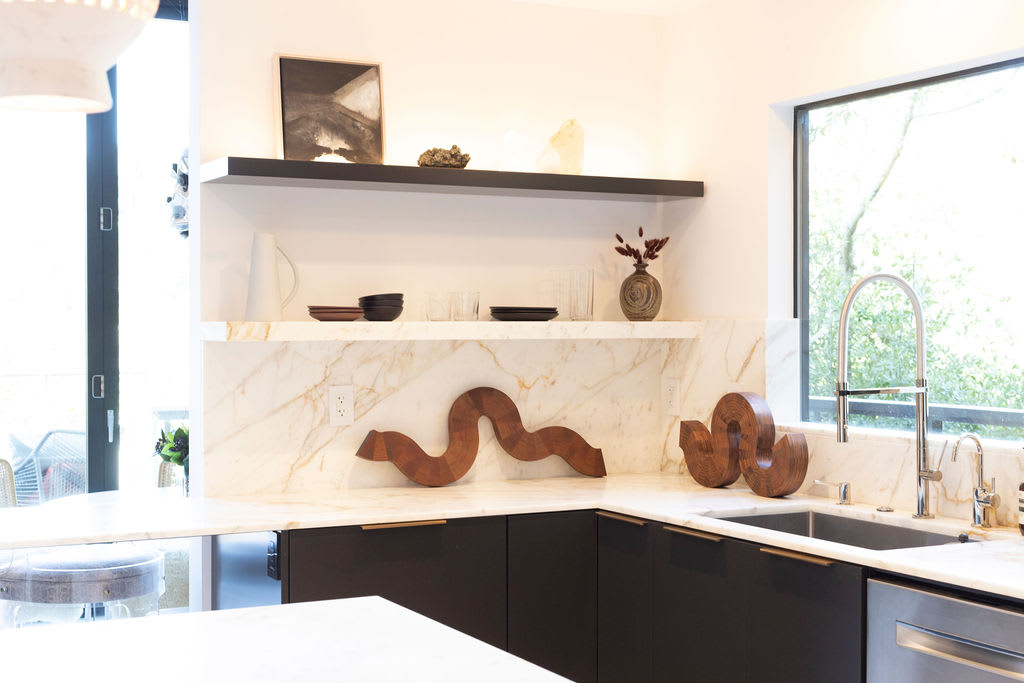 Calabrese uses these shelves to display a rotating collection of artwork and unique objects. The above image shows a handmade Porcelain Vase by Cote Garcia and two abstract reclaimed wood sculptures by Lutz Hornischer.

She designed custom shelves to accommodate her mothers' extensive cookbook collection.

Using salvaged Redwood, Elena clad one of her kitchen walls and completed the look by highlighting the corner with a Candice Luter's Svara Arch Mirror, sourced through Wescover. When speaking about this particular design find, Elena said: " I just love how the metallic finish and deco-inspired fringe of the mirror contrast with warm rustic wood."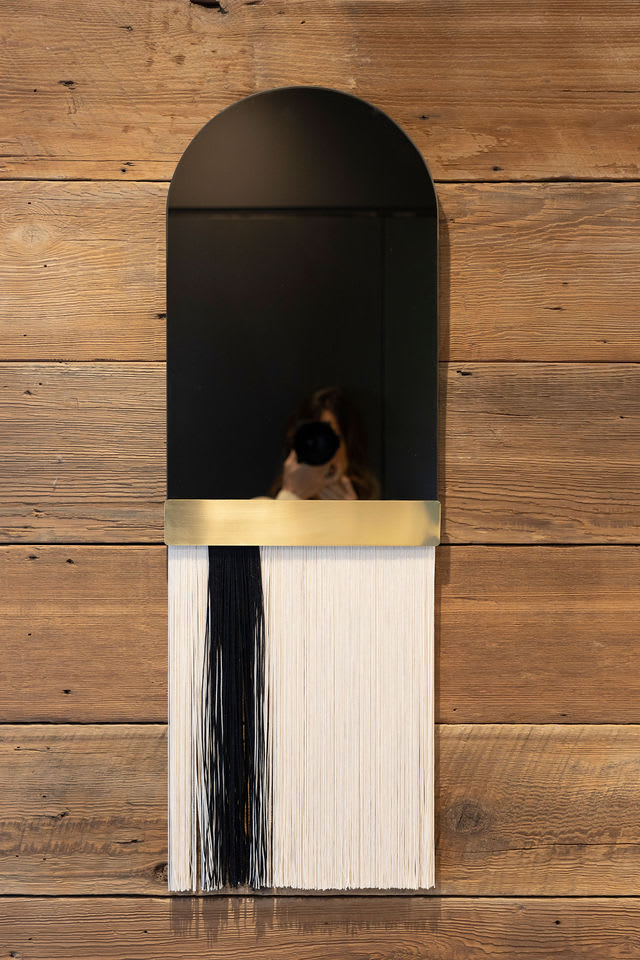 She added a built-in bar and had the backsplash custom painted by Creator Caroline Lizarraga in an antique mirror finish. Another favorite find is a hand-crafted wood ice bucket from Alabama Sawyer that has a classic Mid-Century feel.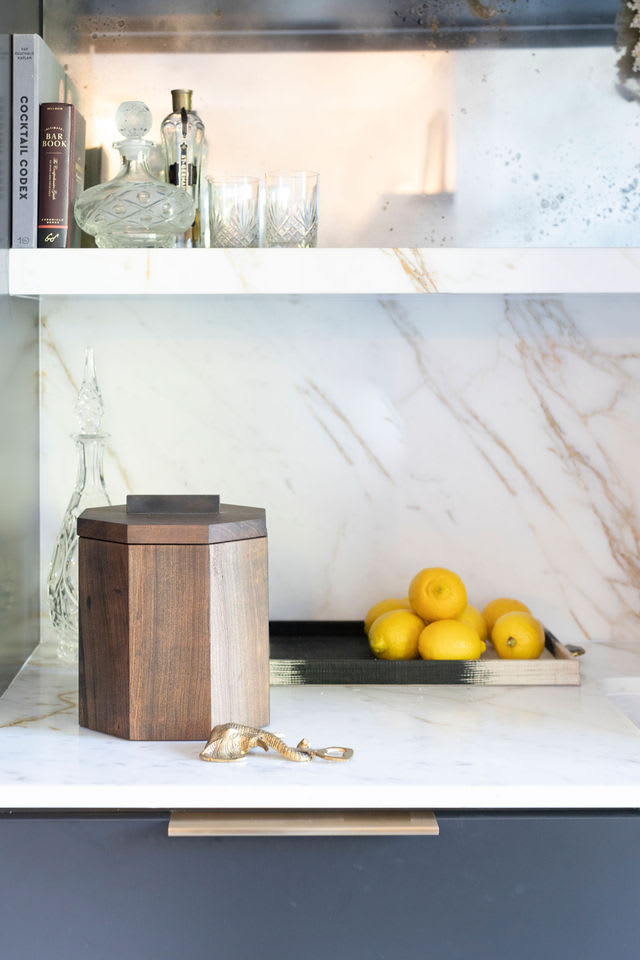 The adjacent breakfast room serves as a cozy dining nook for intimate dinners and cocktails with friends. An abstract canvas by Michelle Drewes adds vitality to the space.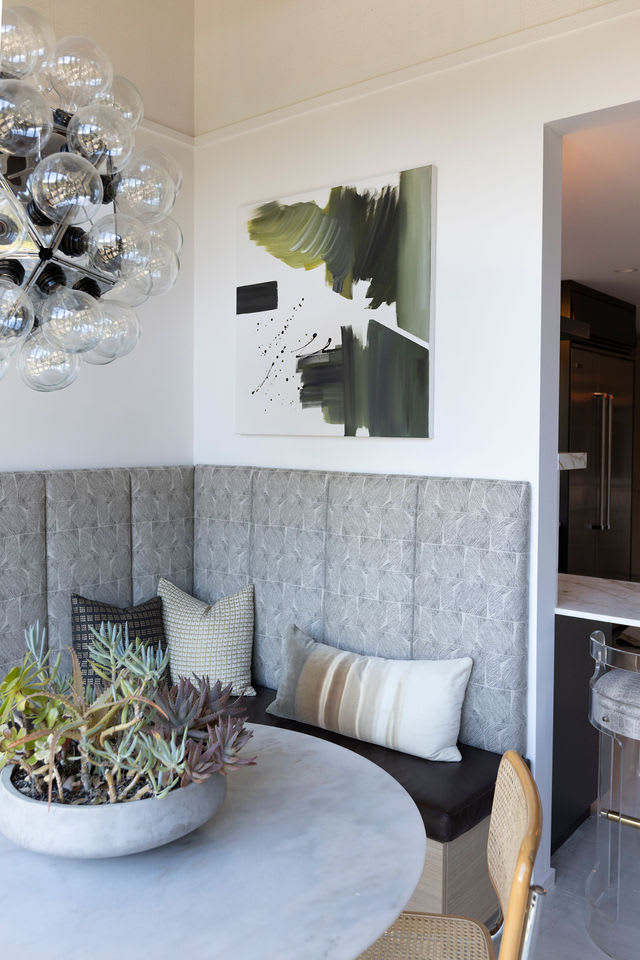 Calabrese found a set of handcrafted leather strap hooks by Keyaiira that she installed by the sink for towels. An elegant solution to a basic kitchen necessity.

The adjacent powder room was the perfect spot for a Tree Ring print by Erik Linton and a collection of white ceramic vases from Pandemic Design Studio, based in Calabrese's hometown of Philadelphia.
The spacious living room has soaring 25 foot ceilings and spectacular views of California's Mount Tamalpais. The room is the perfect backdrop for displaying art – Calabrese chose a pair of canvases by Michelle Drewes over the fireplace to elevate the aesthetic and present a pop of shapes and textures. She loves to casually display art pieces along her expansive fireplace, some including a colorful print by Kara Suhey and a painted canvas piece by Emily Keating Snyder. Calabrese admits her favorite find was the large black and white wool serpent rug from Mehraban.
"I fell in love with a set of vintage Moroccan serpent door pulls. They really were the jumping off point for my whole design. When I discovered the Mehraban Serpent rug on Wescover I had to have it. I just knew it would be the perfect way to finish off the space. It really made the whole space come together."

Elena Calabrese is known best for her "natural luxe" interior design style. Pairing organic textures and clean lines with metallic pieces, her spaces exude a lavish yet comforting aesthetic. If you, like many others, are transported by Elena's design finds, check out Wescover's "Shop the Shoot with Designer Elena Calabrese" Collection that is filled with pieces that transformed her Marin home!