Record Player Stands – What To Look For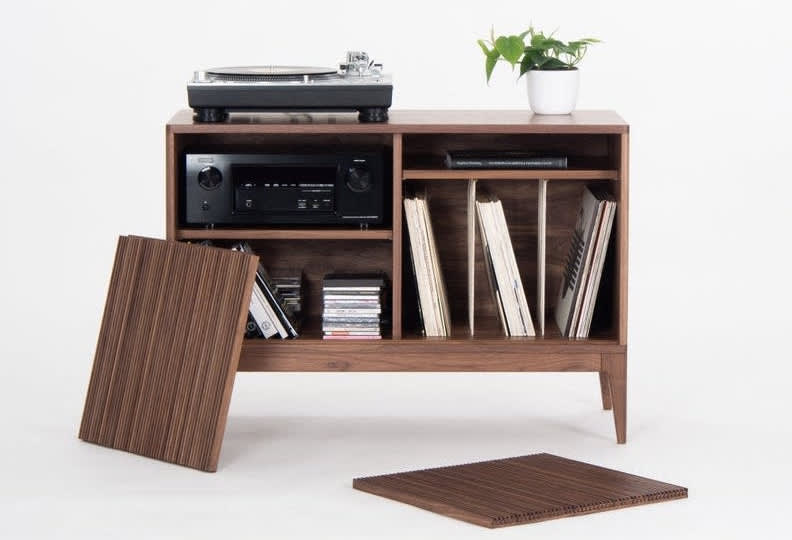 Danielle Amir-Lobel, Editorial Manager
December 17, 2021
Record player stands are an essential furniture piece to add to your collection if you enjoy the ritual of listening to music from classic, timeless vinyls. A record player table is the perfect spot to keep your turntable and records, for personalized, long-lasting listening and aesthetic enjoyment.
One of Wescover's Creators Mo Woodwork, located in Stalowa Wola, Poland, makes beautiful and functional record player stands, among many other wooden furniture pieces. The trio of friends founded Mo Woodwork in order to create high-quality, personal, and unique products that bring joy both to themselves and to their customers. All of their furniture uses natural materials and classic carpentry craftsmanship to highlight the beauty and longevity in simplicity. Mo Woodwork has joined us to offer some valuable insights into record player stands and their creation philosophy.
What are the key components in creating a record player stand?
To create the perfect cabinet for your vinyl record collection and audio equipment, the individual compartments and shelves need to be comfortable for everyday use. It is crucial to ensure the right height, width, and depth of the individual compartments is crucial. At the designing stage of our record player stand, our most important consideration is designing a piece of furniture that will be both beautiful and versatile enough to be customized according to the user's needs. Our standard audio cabinet comes in several versions. It can have two or three compartments, and it can be a taller version with two levels, allowing you to store more vinyl records. 
Our record player stands are customizable. The TONN record player stand is designed so the interior can be adapted to individual preferences. You can modify the arrangement of its internal elements, such as shelves and string compartments for vinyl records. Further, to accommodate individual tastes, we offer our customers the possibility of additional customizations of the dimensions and almost all cabinet elements. After detailed communicating with a customer and preparing visualizations they approve, we create a "tailor-made" cabinet according to all customer guidelines (including additional elements). We love such custom projects! The results are often great creations that bring as much joy to us in creating them as they do to our customers.
What material is ideal to use when creating a record player stand?
One of our favorite materials to use when creating a record player stand is solid wood. We thus use a few different types of solid wood in our TONN record player stands. Solid wood is an extremely durable material, capable of supporting heavy loads. This is an especially important feature for furniture dedicated to holding heavy audio equipment. The joy of dealing with natural material is another great benefit of wood. We use natural oils and waxes to finish our furniture, making it extremely pleasant to the touch. Well-designed and manufactured solid wood furniture can last a lifetime.
What is the best height for record player stands?
The height of a record player stand depends primarily on personal preferences and the audio equipment at your disposal. The dimensions of the vinyl records themselves are also significant to the stand's size. The size of the furniture may also depend on the intended functional and storage use. For example, some people may prefer a standing approach to the furniture while others like a more "down-to-earth" carpet-level one where you can browse and listen from a sitting position. Because there is not one perfect height, our TONN record player stand is available in three different sizes. It is also fully customizable to individual preferences.
How much do record player stands cost?
TONN record player stands are made entirely in our workshop using traditional carpentry techniques and purely handmade work carried out by experienced craftsmen. The cabinets are made of solid American walnut wood or solid European oak. Apart from the material, the furniture's size also factors into its price. For instance, a two-compartment TONN record player stand made of solid oak wood costs $2,180 while a three-compartments version costs $3,120. A TONN cabinet made of solid walnut wood can be 30% more expensive than its oak equivalent. Beyond these differences in materials, our customers frequently choose personalized sizes which vary in price. We enjoy these customizations and invite everyone to create timeless and functional furniture.
A record player stand is the perfect place to hold your record player and vinyls. To find the perfect one for you, Wescover has a curated collection of beautiful, yet functional, record player stands. Finally, be sure to check out more of Mo Woodwork's high-quality, natural, and simplistic furniture pieces right here on Wescover.