Restaurant Murals – Everything You Need to Know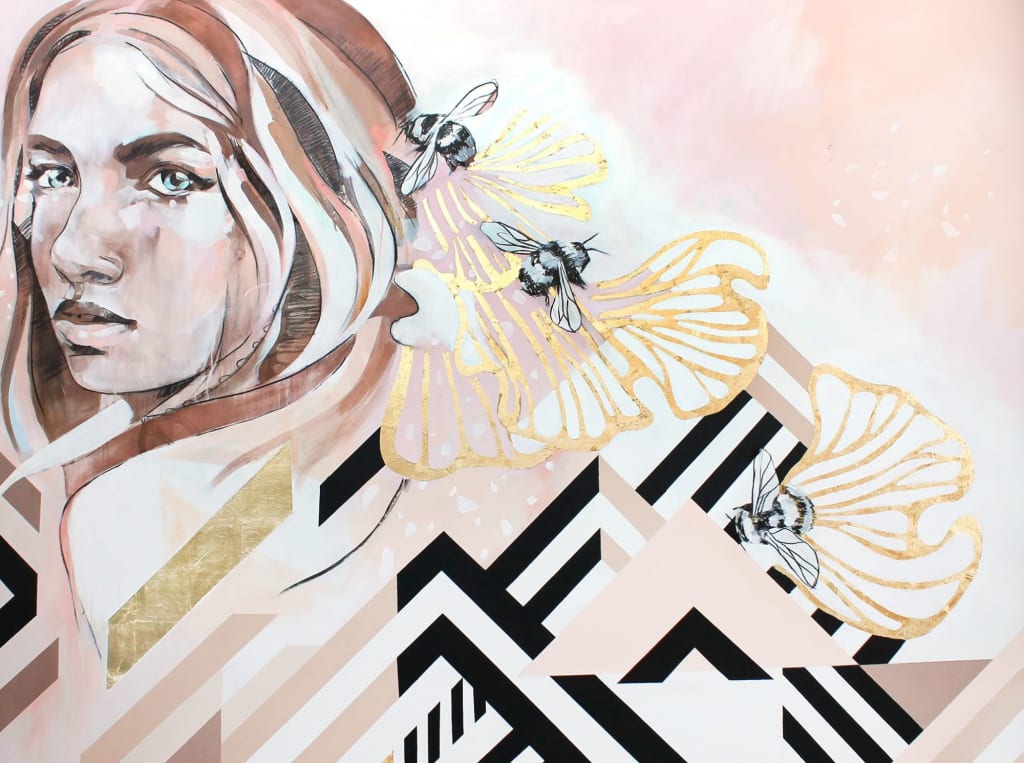 Danielle Amir-Lobel, Editorial Manager
September 28, 2021
A restaurant mural is a handmade piece of artwork painted or applied directly on a wall, ceiling or other permanent surface within a restaurant. These murals are usually indoors, hand-painted, and customized by the artist to fit the space. Often, a mural is unique in that it harmoniously incorporates architectural elements of the space into the piece. 

One of Wescover's creators, Hannah Adamaszek, values bringing this experiential aspect of art to the public with her custom, unique restaurant murals. A rising, renowned star in urban art, Hannah hails from Brighton, United Kingdom. Her award-winning art has been featured in numerous galleries as well as Elle, The Guardian, and Free People publications. Within her work, Hannah aims to bring a calm, feminine aura to otherwise male-dominated street art and seeks to capture a sense of beauty and soul in her immersive artwork.
What makes restaurant murals exceptional?
I love painting big anywhere. It is exciting how much larger and grander everything can be in a mural as opposed to a regular painting. Indoor restaurant walls that I work on bring fewer challenges than outdoor murals, especially because of unexpected and uncontrollable weather patterns, so I find indoor restaurant murals a lot more fun. The best part of my creation process for me is seeing the customers in the restaurant interacting with my art when it is all finished. There are always people taking their photos next to the murals, and I love seeing people engage with the art. The special aspect of this work is that each restaurant is different and unique, creating a new experience with each new piece for everyone involved.
What unique design challenges do you face when painting a custom restaurant mural?
Sometimes the walls I work on in restaurants can be very textured, which makes creating a straight line a very real challenge. These textures can sometimes work in your favor by adding a unique feel to the work, but, more often than not, they are very challenging to work with. Surfaces like tiles or brick need to be painted with a good primer which can bring up another large challenge of time management. I always want to do my best job on each mural, so I need to be clear on the time frame from the beginning. I try to factor in potential articles in advance, like, for example, the paint takes time to dry, and I often need to do a few layers for proper coating.
What guidelines do space owners usually share and where do you have creative freedom?
Most of the time, when painting restaurant murals, the space owners give me a brief to follow. These guidelines can be a requirement to include some specific ideas in the design or to use a defined color scheme to match the brand logo. Alternatively, for some other restaurants, I have been given a location as a theme, and then I have to design around this location. I always like to share my process with the space owners, so, before I begin working on the mural, I provide them with a brief description of what I want to achieve, a color board, and an initial design that we can review together. Space owners also share with me a floor plan and dimensions and define which walls can be painted and which cannot be touched. Beyond these types of formal requirements, I can use my imagination to design unique murals that creatively fit the spaces.
How do you decide on a subject or color palette?
In general, I am given a rough subject and a color palette in the brief. These initial requirements can be reworked during the design process if I have any new ideas that I can visually run past the client. Sometimes, I shift away from my natural style to better fit the interiors of the space I am working with. While this adjustment can be a challenge for me, I like a challenge, and stepping outside of my comfort zone has taught me many new techniques that I have been able to later apply to my personal work and style.
How does the scaling process work?
Each mural takes a different amount of time to design, depending on the details involved and the size of the wall. I often work with timescales for the designs, as the murals need to be painted according to a strict schedule so as not to affect daily business at the restaurant. In order to scale the design, I always need my client to provide me with the wall dimensions, as this information makes scaling up a lot easier. I have found that you lose a lot of the detail when scaling to a very textured surface, so it is important to take this challenge into account in the original design. Sometimes, it's nice to incorporate the texture of the wall surface as a part of the design and maintain little elements of it, so the mural merges nicely with the existing space.
What kinds of materials have you worked with?
I like to use emulsion on murals, as the paint goes a lot further, and you can match colors exactly to your preferences. I also regularly use spray paint as a material in my murals because it covers texture surfaces much better and a lot faster. I have also often used gold leaf in my designs which can be a real challenge to work with. I have to resist the temptation to touch the gold leaf before it dries because doing so would make me have to start the process all over again. I have learned a lot from making mistakes through my practice and experience and am continually improving my craft. More recently, I began working with collage per a customer's request, and I was so happy with the results. Still, collages can be a challenge getting printed to large sizes. I normally paste the collage on like wallpaper, and then, in the end, I use a varnish to protect the wall, as this material is very vulnerable to damage from wear and tear.
If you're a restaurant or business owner, adding a custom mural to fit your space may be exactly what you need to liven up the atmosphere and give customers an immersive art experience. To explore a vast array of unique restaurant murals and see what creativity you can bring to your spaces, visit Wescover's full collection of restaurant murals. Last but certainly not least, be sure to check out more of Hannah's restaurant murals and other designs on Wescover!