Linda Zacks: Expressing Poetry through Mixed Media Painting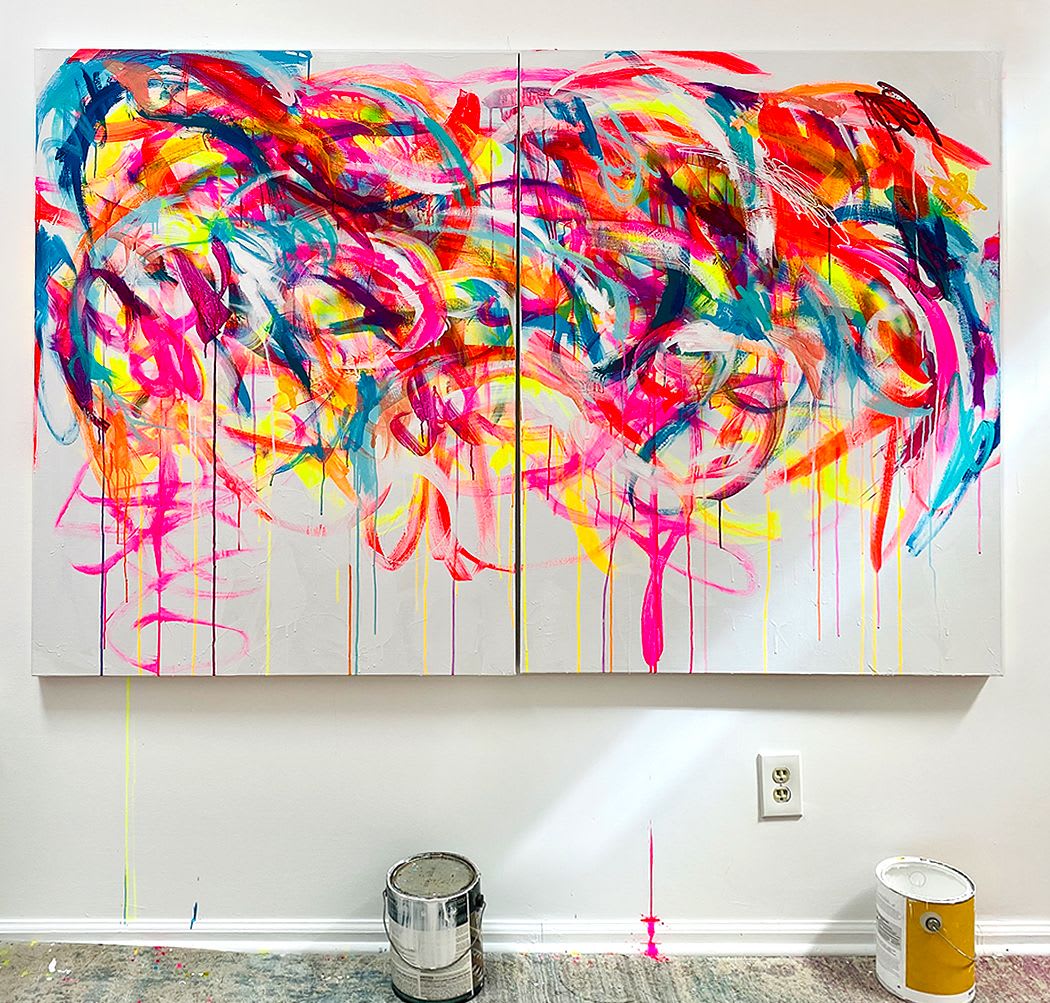 THE BLOOMS GOT ME DANCING INSIDE by Linda Zacks as seen on Wescover in Princeton >
Linda Zacks is a contemporary artist whose visual works are "part paint, part poetry." She uses her artwork to tell stories, and creatively blurs the lines between mediums. Thus, everything she creates is the first of its kind and has nothing like it. She has worked on commercial projects as well as in fine art, and is never tethered to one definition of the term artist. 
Her source of creative motivation is largely inspired by the multitude of places she's lived in. She has resided both in and outside of the US, and has had many experiences and grown in each place. This is reflected in her works that are loud and lively. They engage viewers, pulling them into a full visual experience. 
In addition, Linda is known for her distinctive mix of styles, creating pieces that are both gritty and graceful. Furthermore, her love of poetry almost always makes an appearance in her work. This adds yet another multidimensional level to her interdisciplinary style. She also isn't afraid to get messy. In fact, she loves it. Rough sketches and imperfect images come together to create impactful and vibrant works that stir profound emotion in viewers. This is largely because the hard feel of the paintings in combination with vibrant colors makes them enticing and mysterious. 
Even more, Linda changes her method and process from work to work. This ensures that each finished media piece has its own distinctive personality. They foster an astounding amount of character, and are inspired by different sounds, sights, feelings, and thoughts experienced by the artist. 
Lastly, although messy, Linda's works conform to a sort of imperfect standard of beauty. That is to say, while the pieces are born from chaos, the results come together to create a single striking piece of art. Hear what Linda had to say about her story, motivation, and creative process.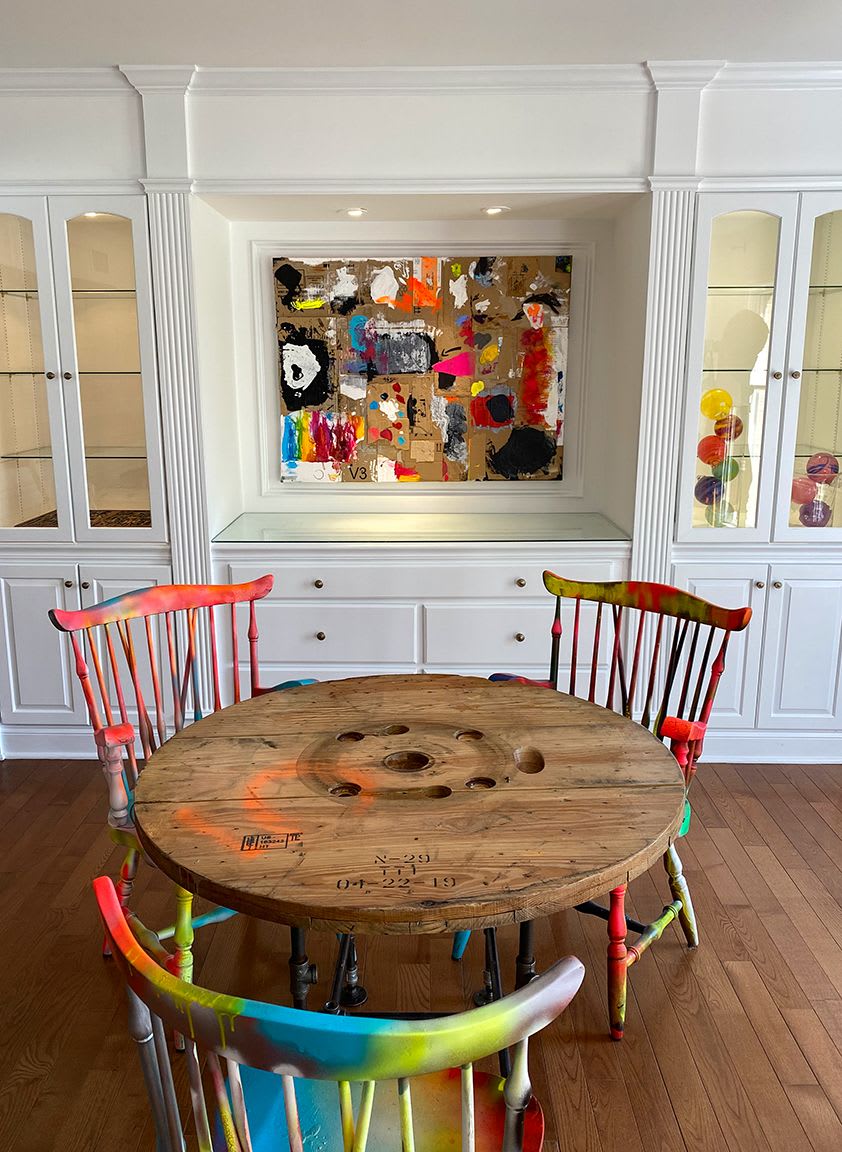 What's unique about your work?
My work is gritty, cerebral, vibrant and contemporary. I use a combination of materials to create my mixed media works. Anything goes. My lifelong love affair with words and letters makes its way into almost every painting and handmade book. I love the messy thinking process more than the finished product. Sketchbooks, rough edges and the wonderful imperfect nature of thinking and processing questions and ideas rule the roost.
What do you want people to do or feel when they encounter your creations?
A visceral connection that stirs something in their gut. A lot of my works are large so they will be the focal point of a room or office. See it, feel it.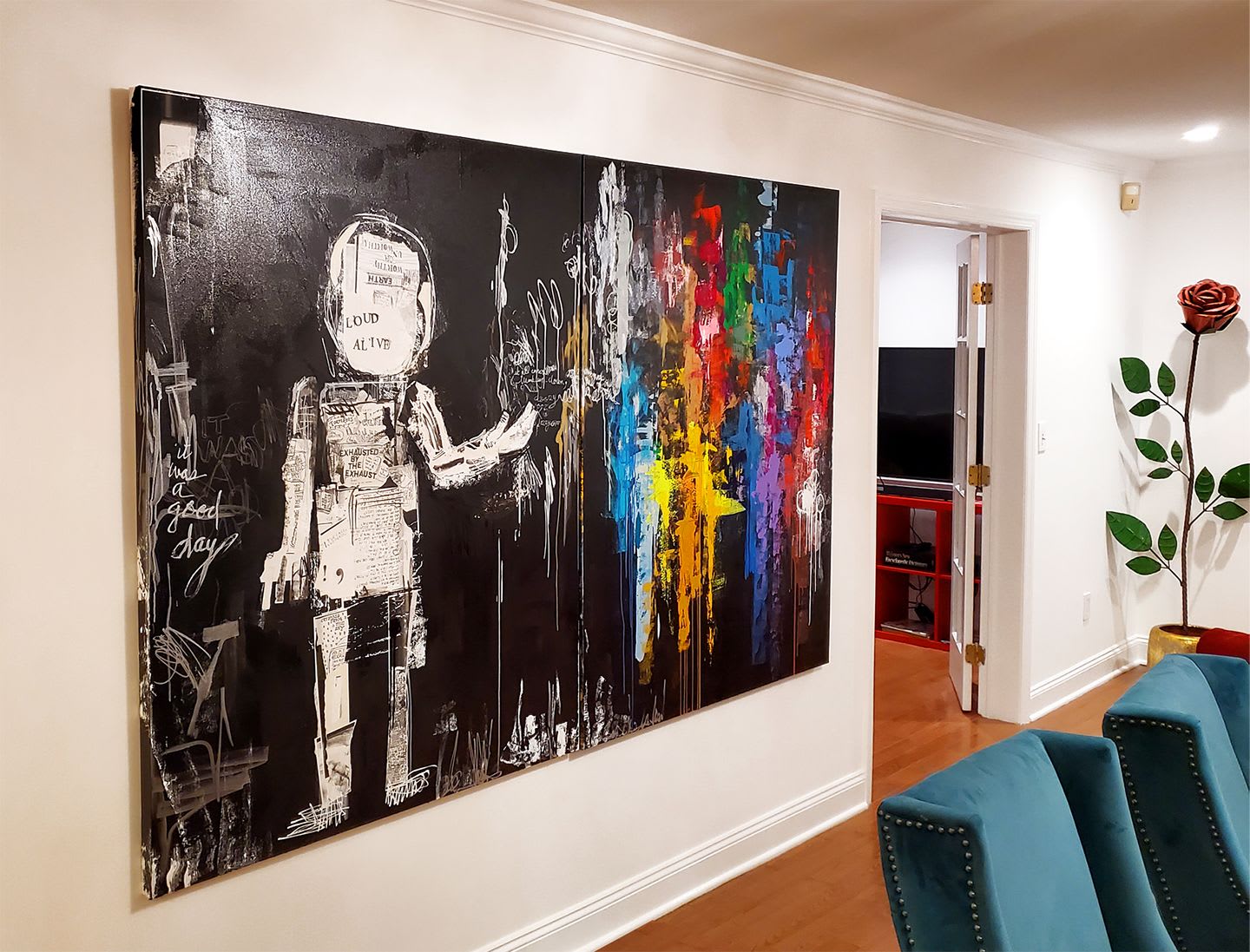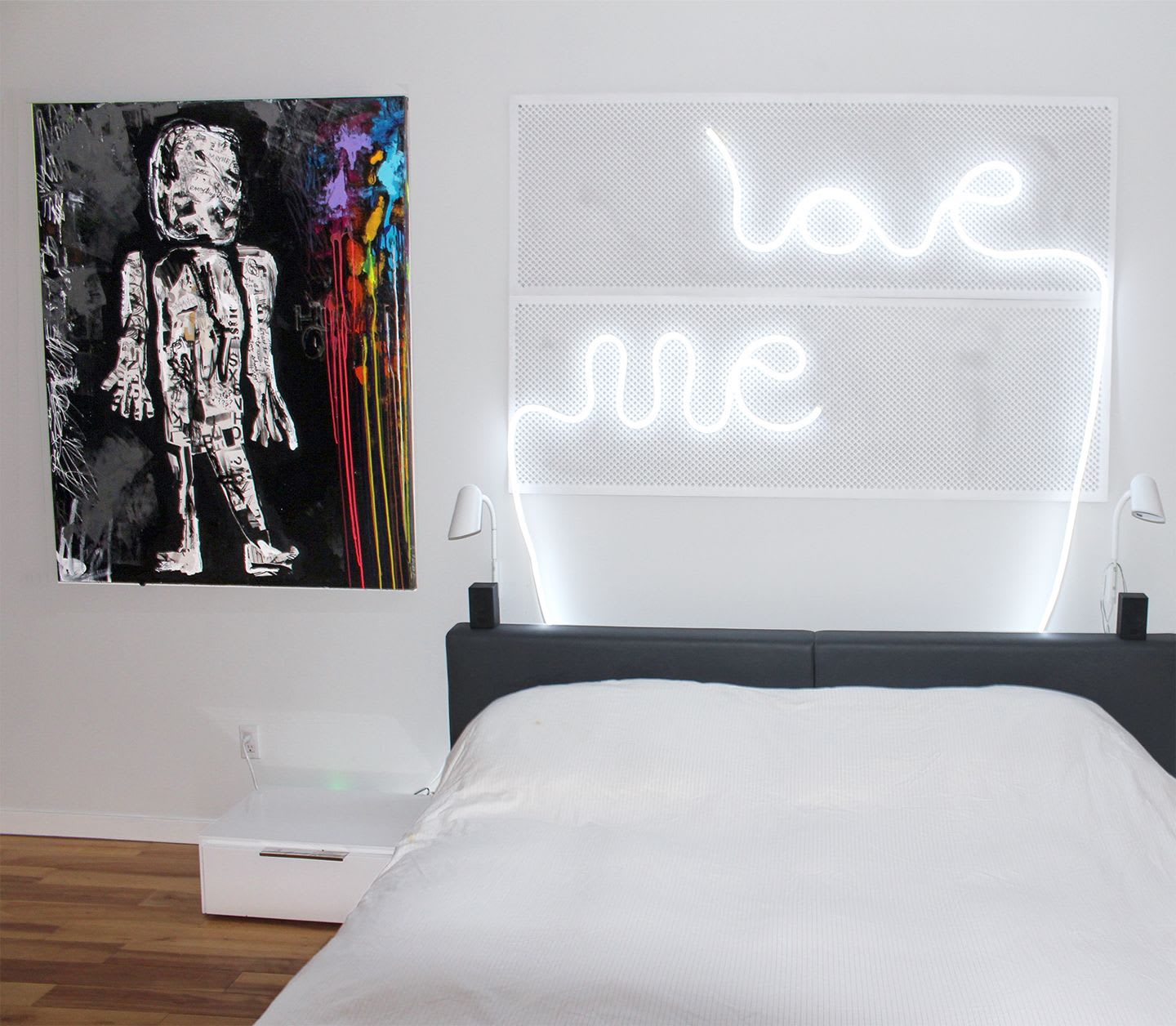 What is your favorite material to work with?
I like mark makers that bring surprise. I like the physicality of creating. Time's effect on materials that bring a delicious authenticity. The ink that oozes. The paint that splats. The pencil that smears. The paper that tears. The polaroid that's imperfect. The typewriter that makes a different "A" every time. Everything can be used, and every mark is different. I love old paper, used cardboard and old wood and I keep everything I use or find to be reborn in some fashion. My least favorite materials are ones that smell bad – sometimes ink, paint or pens can be downright potent and stinky!
How do your pieces come to life? Tell us one interesting thing about your process?
The piece comes to life after time. It's hard to be patient. The important thing is to start and enjoy the process as it snakes and changes and evolves. One day you love it, one day you hate it. But keep moving and be as fearless as possible. I can work on a large piece for a month – coming in and out of the studio to add this and that. Slowly the concept takes shape. My works are not precious. I feel like I can always add something or paint over something or glue on something.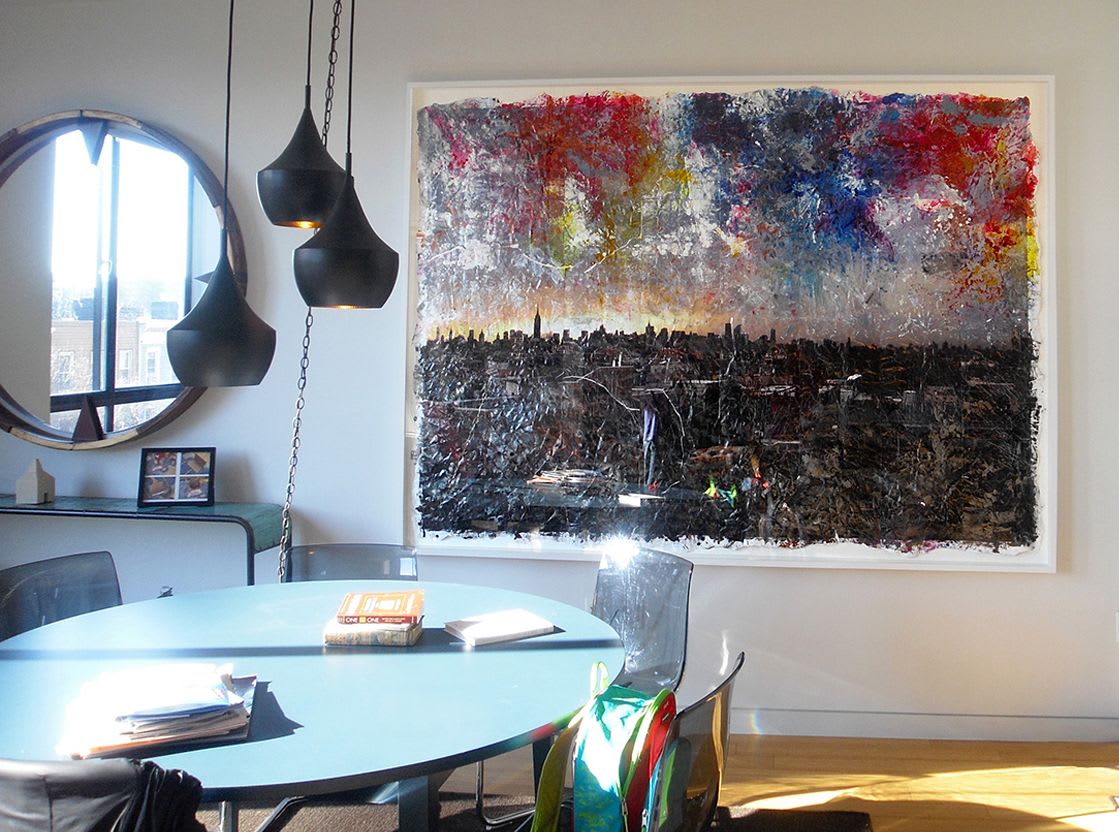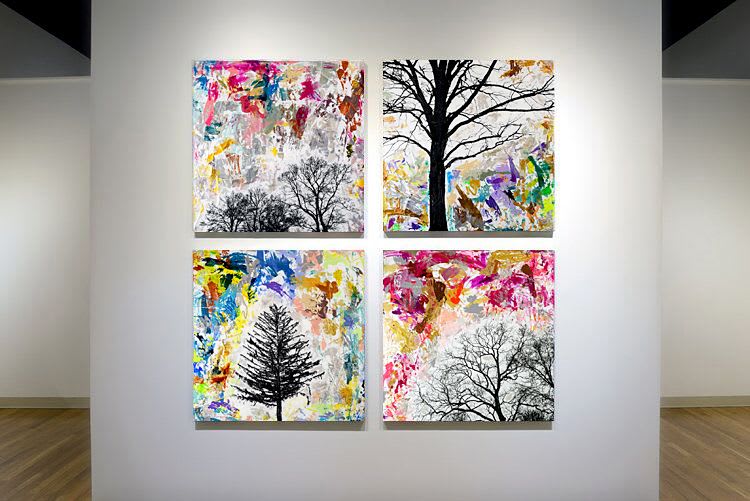 What funny moments, unexpected surprises, or obstacles have you encountered?
Unexpected surprise: When I lived in Brooklyn, the trash all over my neighborhood in Williamsburg used to drive me crazy. Then, one day, when walking my pup down the sidewalk, I noticed a big piece of plastic that looked like a lowercase "e." It was then that my TRASHABET was born! I became obsessed with finding trash letters laying around every time I went out with my pup. Each TRASHABET is the culmination of many hours of hunting on the streets. You can see each of the trash alphabets on my site: https://www.lindazacks.com/#/trashabet/
What motivates and inspires you?
I am motivated and inspired by things I hear, things I see, things I touch, things that bug me, things that surprise me. I am motivated by exercise and the power of it to dislodge magic from the depths of your brain when you sweat and exert yourself. Words and ideas stick in my skull and then the firecracker ideas start firing away… I keep multiple lists of all the things I want to make so I don't forget anything. 
What makes a space special?
A special space is a place where you truly let loose and make a mess. With mess there is magic. Creating is messy and unpredictable. It's fun to make random connections when everything is spread out all over the place and hanging everywhere. It's like my brain explodes and then after a picture is done I clean it all up. Then the cycle repeats again.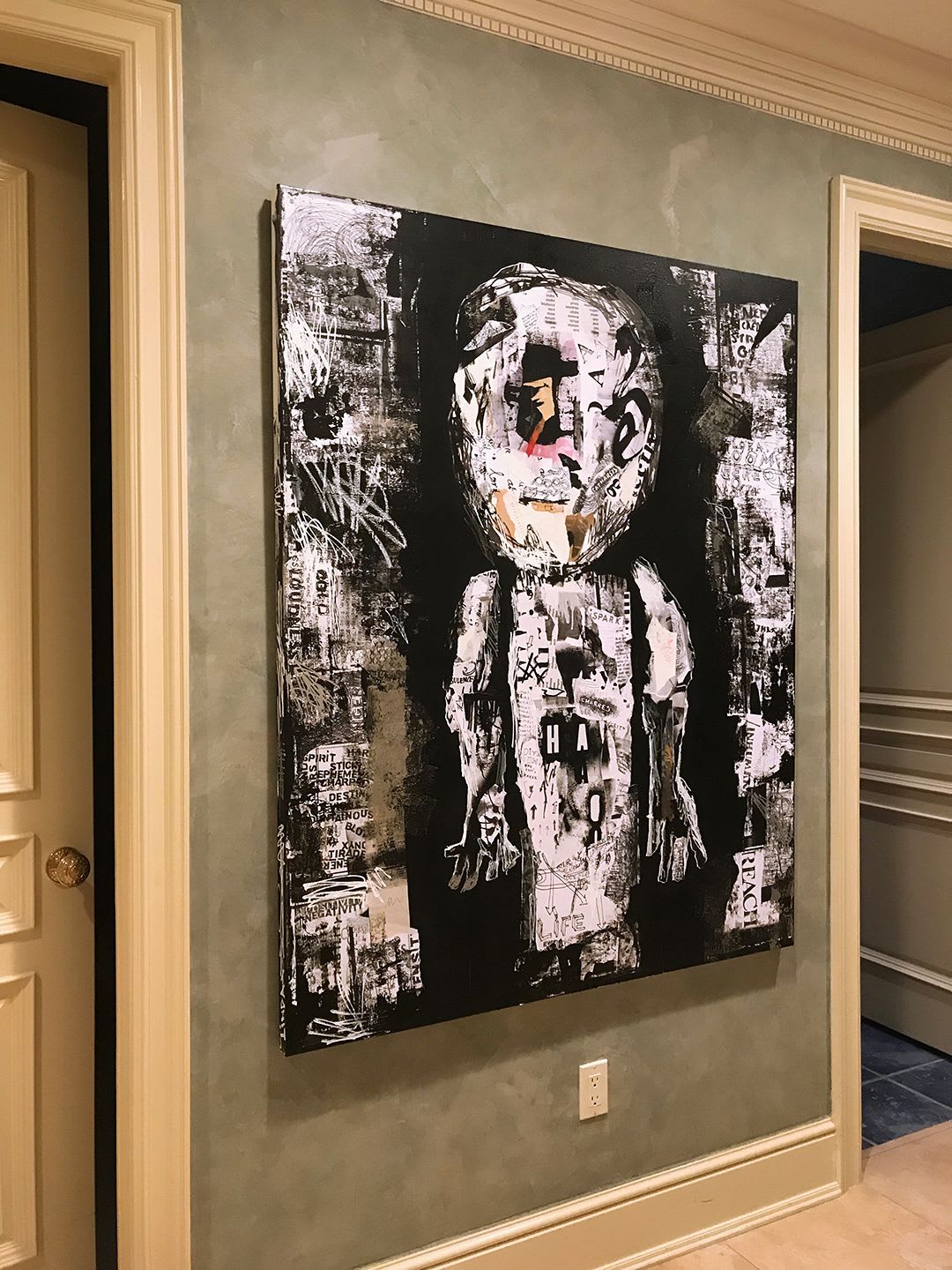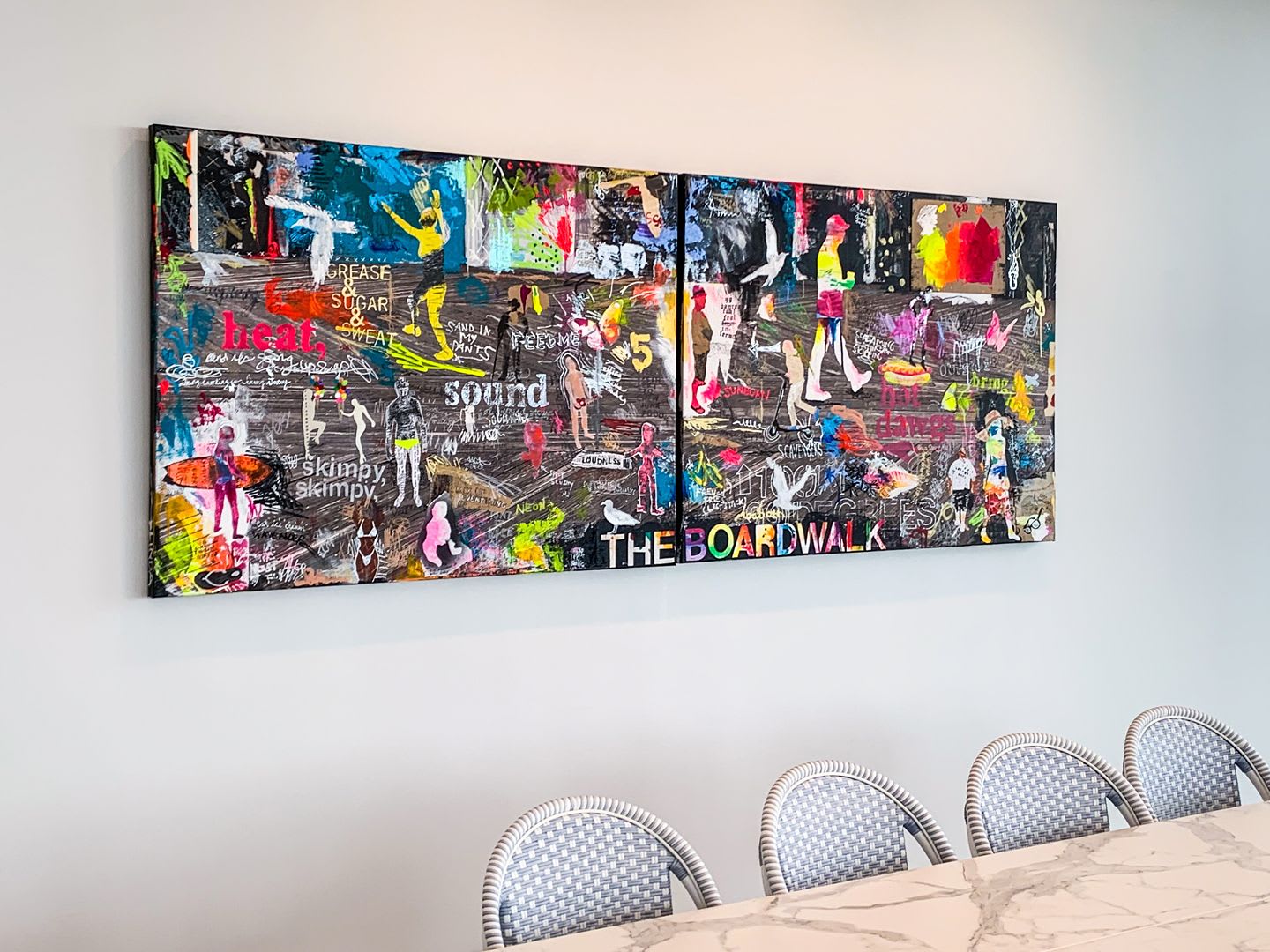 Linda Zacks' passion for art is evident from the canvas. Vibrant colors combined with eerie black and white mixed media scenes create an intriguing feelings with ripples of excitement. 
Discover All Art by Linda Zacks on Wescover >