LumberLust Designs Incorporates the Natural World into Modern Design
Ryan Walsh is the expert craftsman behind LumberLust Designs, based in Phoenix, Arizona. Ryan handcrafts live edge tables that emphasize the natural beauty of the wood and showcase design by nature's own hand. In his work, there is an interesting contrast between minimalist metal hardware and the dynamic shape of the wood. In this way, he creates multidimensional pieces of furniture that draw from a number of different styles.
Did you know live edge tables are tables that leave the natural bark of the wood intact? They are slabs of lumber that retain the natural edge of the table rather than cutting off the ends to create an orthodox shape. These tables first gained prominence during the Mid-Century modern movement. Since then, architects and designers alike have used them in an attempt to incorporate the natural world into modern design.
Furthermore, Ryan's live edge tables transcend furniture; they are sculptural works of art. Indeed, LumberLust Designs honors the grand beauty of nature by showcasing the swirling, heavily burled grain and the dynamic live edge of the wood. And because of their live edge, these tables do not conform to the room they are in. Rather, they become a statement piece that sets the tone of their space and create a natural – and modern! – ambiance.
Even more, each individual piece is completely unique from any other table. The cross section of the tree showcases the grain and tree rings. Tree rings are like nature's fingerprints, the DNA and story is embedded into the table. Thicker rings denote seasons where rain was plentiful while thin rings represent long dry seasons. Imperfections in the grain tell tales of insect colonies burrowing into the tree, making a life for themselves. In this way, no two LumberLust Designs table is the same, and each has their own unique character.
Delve into a world of authenticity and natural beauty with LumberLust Design's beautiful live edge tables.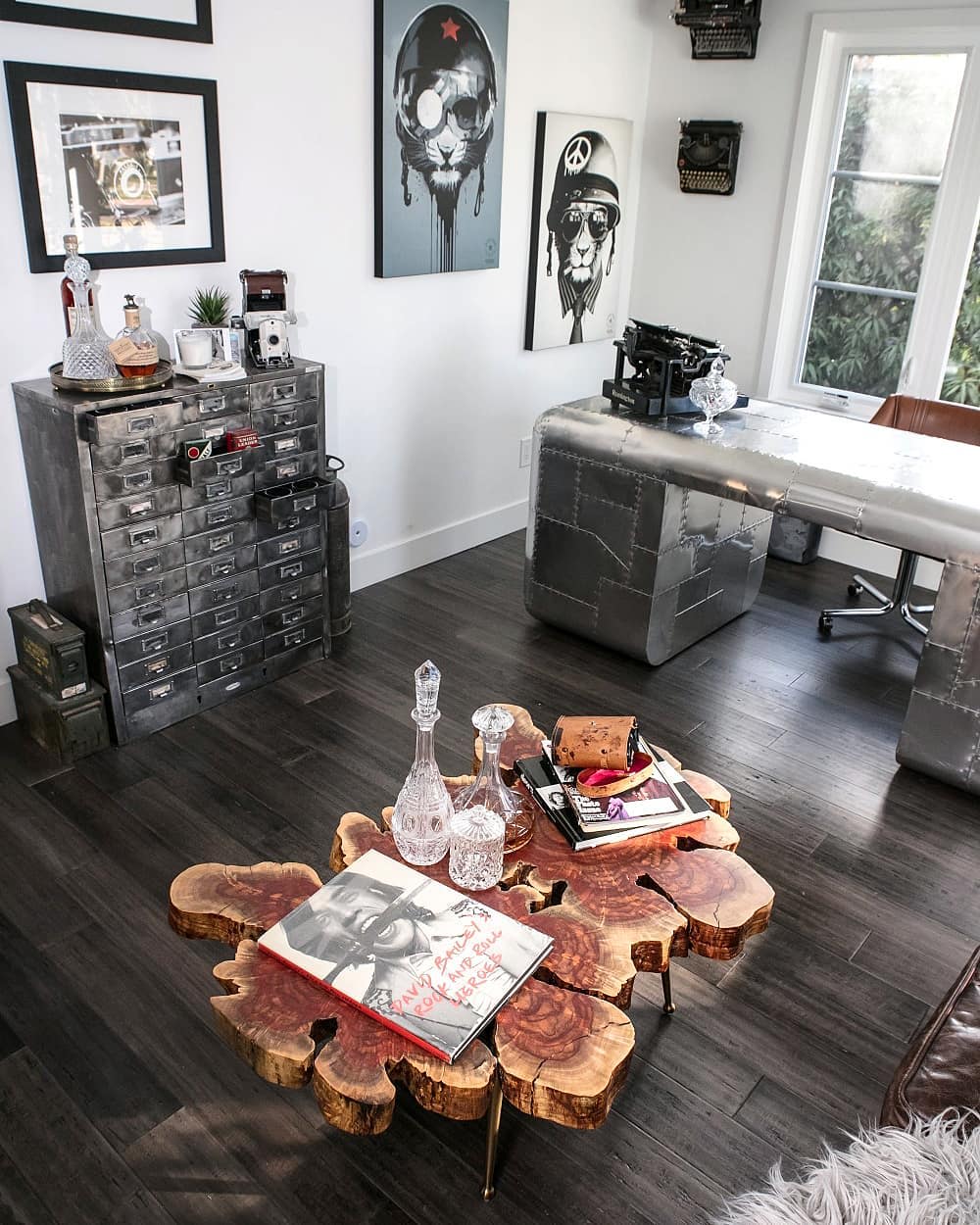 What's unique about your work?
I create bold furniture to inspire connection and make a statement with nature in your home or office. 
What do you want people to do or feel when they encounter your creations?
First impressions are everything right? Visually the form and texture needs to draw the viewer in with curiosity to want to touch it. I love seeing a client reach for their piece to get their hands on it for the first time. The best furniture is the kind you feel and that leaves an impression where you can't wait to see it again.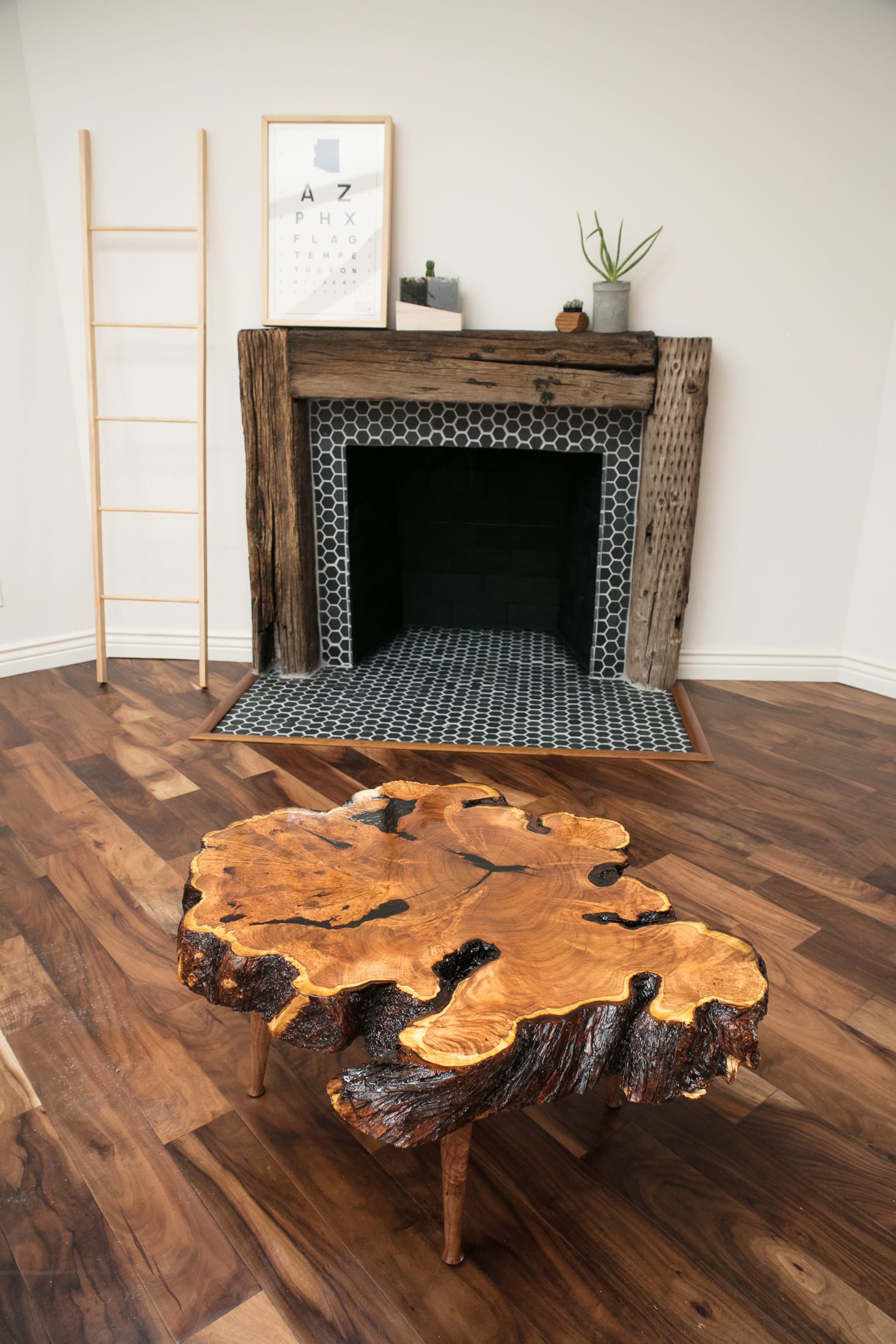 What is your favorite material to work with?
I love improvising with all kinds of materials including wood, gemstone and crystals, resin, glass, steel, concrete and more.  My passion is hunting rare desert hardwood burls and specialty slabs to provide my clients with the most unique options you won't find in stores. 
How do your pieces come to life? Tell us one interesting thing about your process?
It depends on if we're creating a commissioned piece versus building something for sale in a boutique. Wood selection is at the core of either scenario, and we source mostly reclaimed hardwoods from Phoenix, Maple and Walnut from Washington, and other sustainable exotics upon request.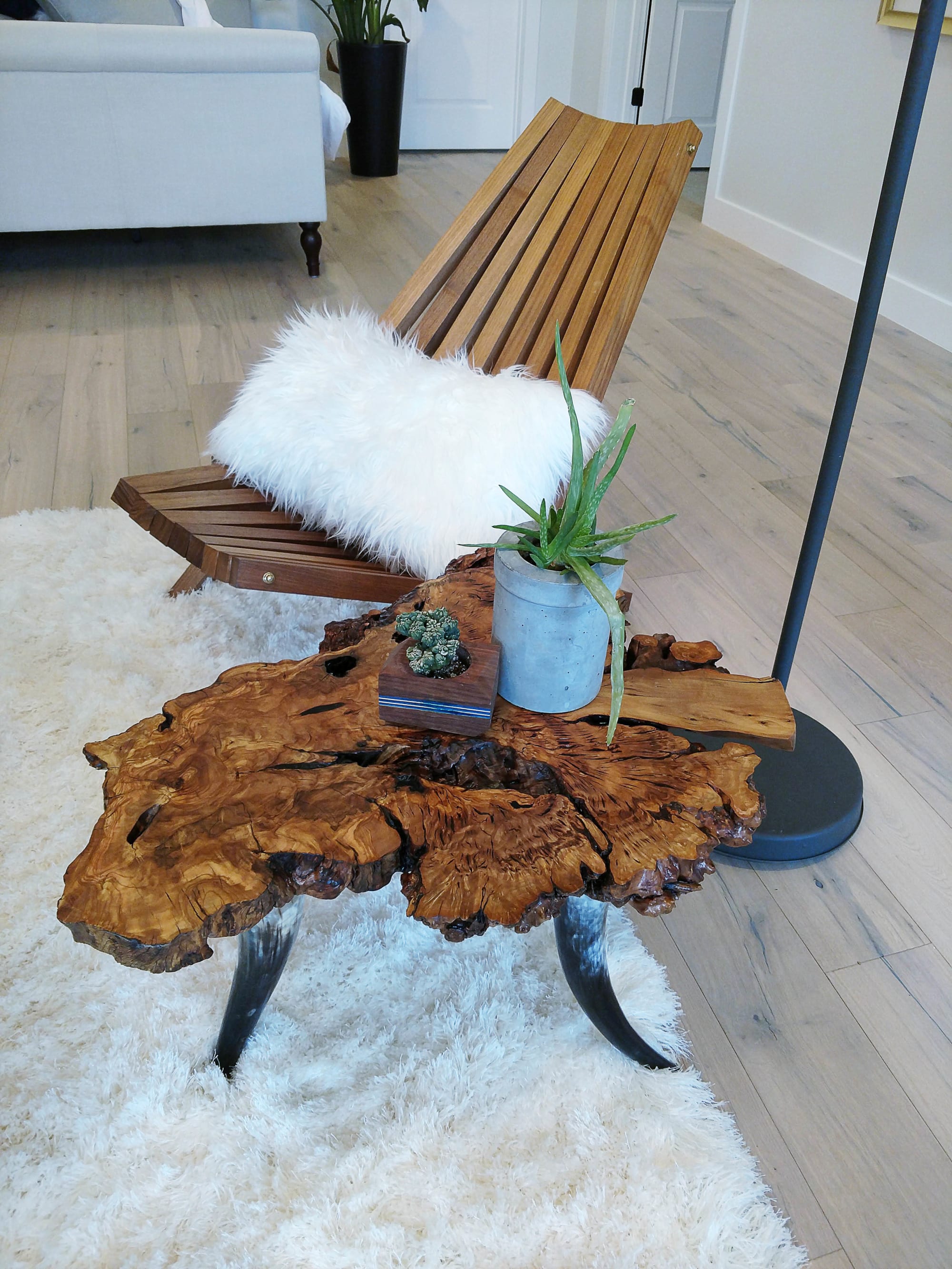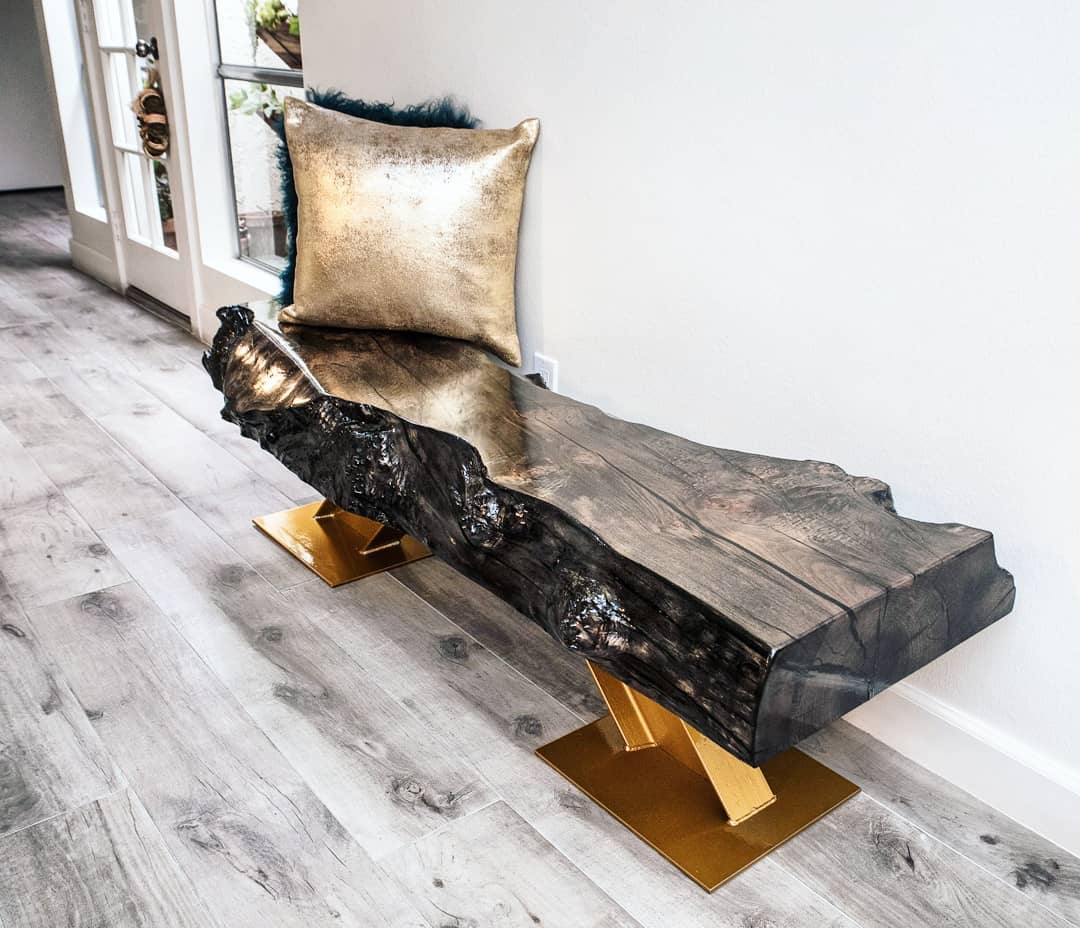 What funny moments, unexpected surprises, or obstacles have you encountered?
Our projects tend to grow in complexity as a result of attracting highly custom requests, often times pushing the limitations of our materials.
What motivates and inspires you?
"Artists need to create on the same scale Society has the capacity to destroy." – Sherrie Rabinowitz
Our wood slab furniture is sourced from reclaimed urban trees from around the desert and Pacific Northwest.  These trees grew in people's yards, orchards, parks, farmland, irrigation and common areas, wild forests and deserts turned corporate parks.  We work with specialty sawmills and tree services to save these trees from the landfill when they come down during storms, land clearing for farming and commercial use, or when homeowners cut them down. When made into furniture these trees tell us their story and live a 2nd life in the homes that grew them. 
What makes a space special?
While clothing is made to fit a person's body and lifestyle, projecting a sense of identity, furniture should do the same for a space and tell you something about the people who live there.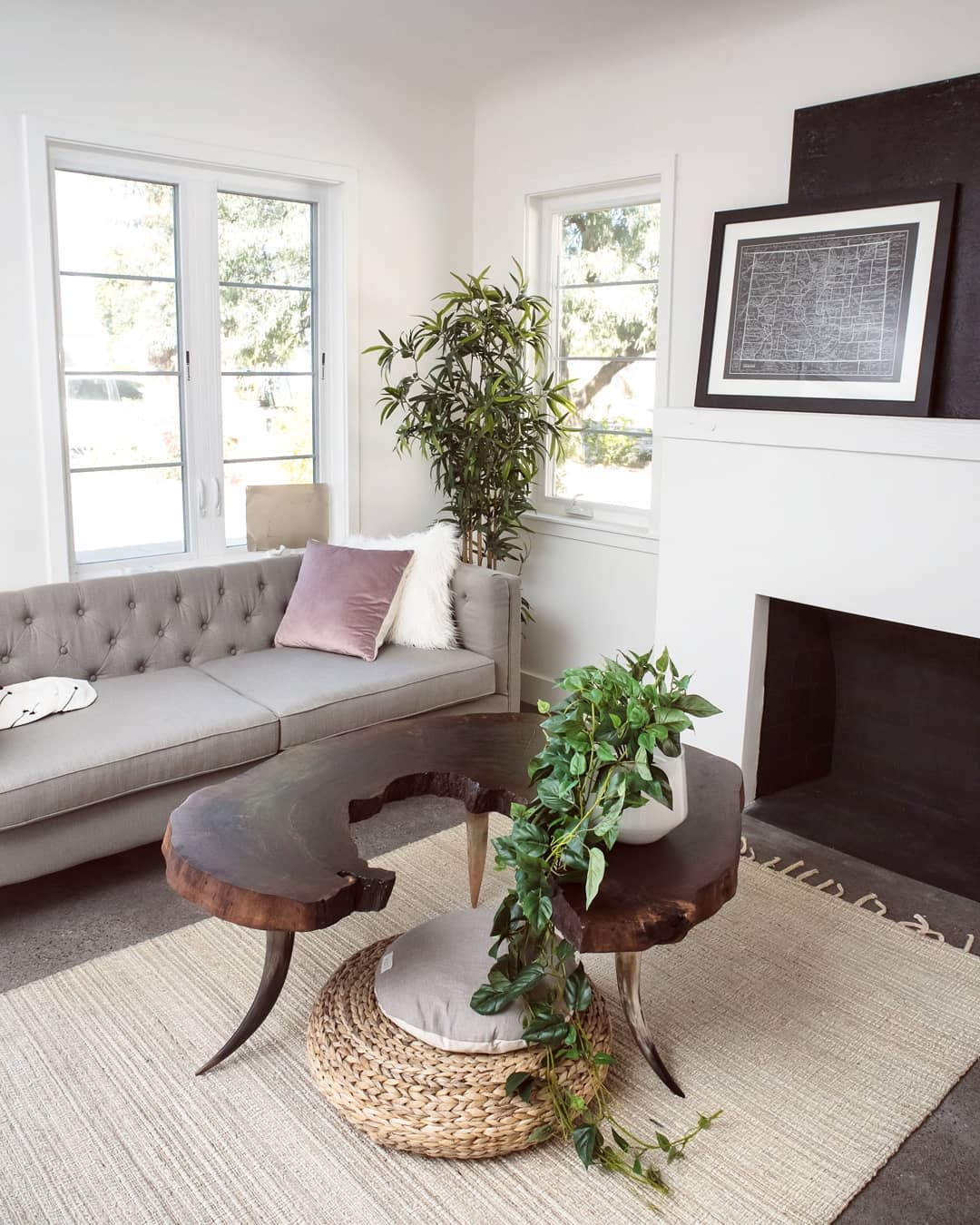 LumberLust Designs' work reminds us of nature's timeless beauty. Ryan captures the perfect imperfections that make live edge tables so dynamic and authentic, leaving us with one of a kind pieces of furniture that tell the tales of Mother Nature.