Creator Spotlight: K'era Morgan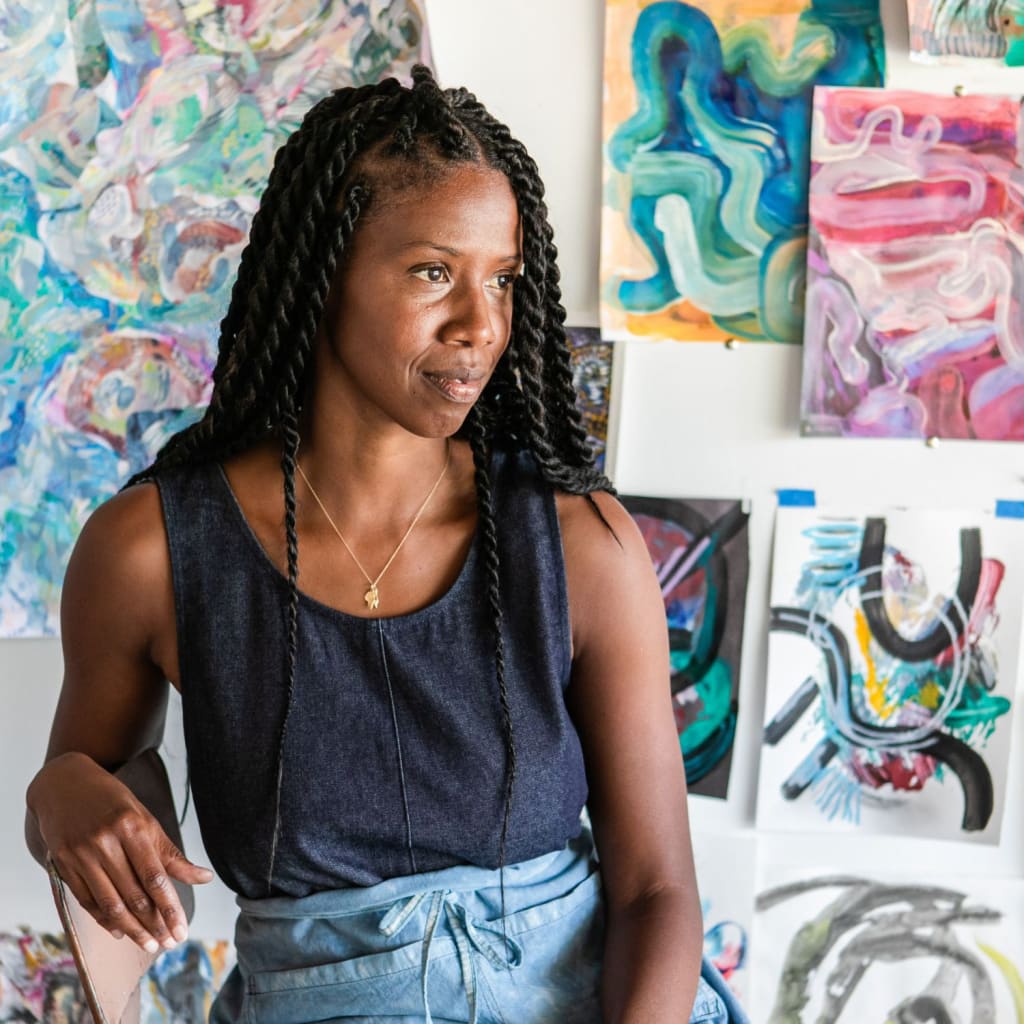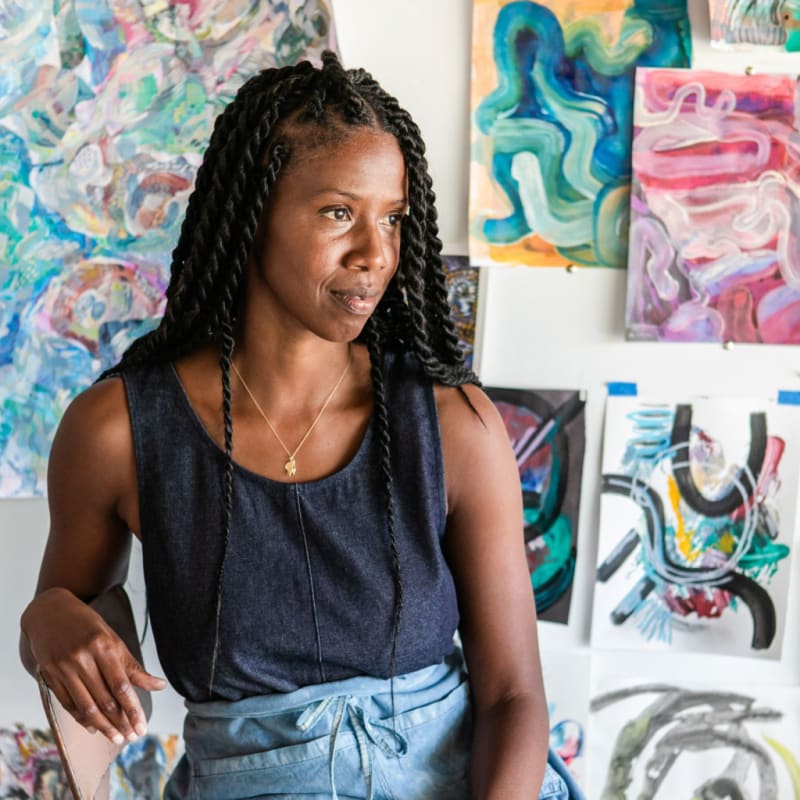 K'era Morgan is a "Mixed-media intuitive painter and textile designer." She creates fresh wall art and textiles that will bring layers of texture and color into your space to invigorate your overall design. K'era aims to speak to people through color, drawing them in and allowing them to have their own personal experience with her works. Her use of intricate patterns and attention to detail creates unique visual experiences. She also works on a whim – all of her designs are spontaneous creations. Hear what K'era had to say about her inspirations and artistic process.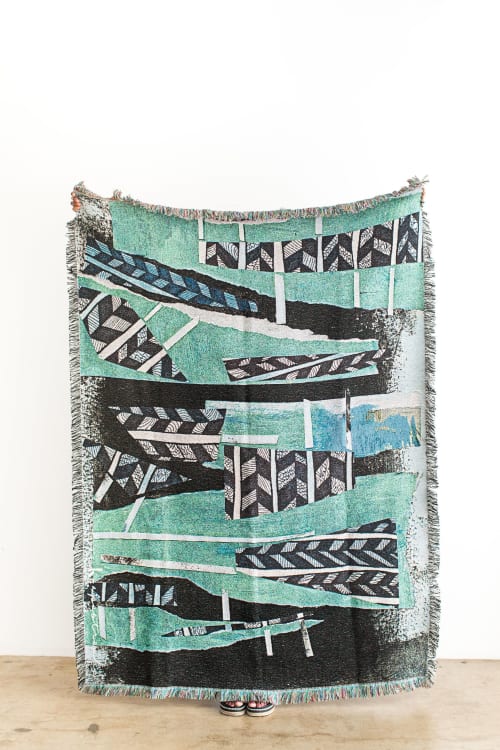 What's unique about your work?
My work is how I process the world around me. My vision is just as unique as each individual on this planet and as a result so is my creative work. Although the tools or the techniques I employ may not be very different from other artists, my work is a direct reflection of what is swirling in my head subconsciously or the mental state I'm in. My textiles are an extension of that as my original artworks are the basis for my ever growing textile collection of home decor items. I love seeing how a piece of work can change when it's woven into a throw blanket or pillow, for example and how people interact with it.
What do you want people to do or feel when they encounter your creations?
I want to draw them in with color and allow them to create their own story about what they are seeing. Most people also say they feel a sense of movement in my pieces which is deliberate as well. Although I value stillness especially since in modern society we have challenges with simply "being" and are always doing I always come back to this idea that even in stillness everything is changing. There is movement but a shift in energy or possibly it's a change of heart or thought.  Therefore, movement or dynamism is a common attribute in my work.
What is your favorite material to work with?
I use collage in my work a lot therefore, I would have to say paper and especially found paper that I source from various places including recycling bins, my own library of used books, magazines that friends actually gift me and even junk mail.  
How do your pieces come to life? Tell us one interesting thing about your process?
My process is unique in the fact that I don't work from sketches or studies. I generally never have a plan of a final piece and allow my intuition to guide me each time I enter my studio to work. 
What funny moments, unexpected surprises, or obstacles have you encountered?
Ever since I started my textile home goods collection I've had a dream of working with artisan collectives in various countries to create special collections and products. Until recently that seemed so far out of reach for me. However, on a recent trip to Mexico I stumbled across a boutique with stunning woven items. I struck up a conversation with the owner about textiles and our shared mutual love of global textile traditions which lead to her to connect me to a weaving collective in Oaxaca that I'm currently working with on a project. Talk about an unexpected surprise!
What motivates and inspires you?
I draw my inspiration for my creative practice from the world around me. Everyday I am motivated to do what I do because I love it (most days!) and it's hard to imagine doing anything else. It hasn't been all rosy but I keep going because I've seen others that were brave enough to pursue their dreams succeed on their own terms. I am motivated because I want other Black and POC to recognize they too can do this should they have the desire. 
What makes a space special?
The energy of a space is what makes it special. The intention behind a space can be felt energetically and I think whats in the space such as furniture or the various material surfaces can help support the flow or maintenance of energy. 
How did you discover Creators (designers, artists, makers, etc.) and keep your community growing?
I discovered Creators through a friend and fellow artist. Although my community of fellow creators is small it is mighty in the sense that the support and camaraderie I receive is priceless. 
When Creators work with Interior Designers, what elements of your collaboration best compliment each other? Any traits or commonalities that excite you?
For me, nothing is more exciting than seeing a space come together which is an obvious commonality that I share with Interior Designers. Furthermore, hanging artwork is usually the icing on the cake or the cherry on top that will make a space unique to it's owner. It's the part where everyone involved usually gets pretty excited. I also feel there is a mutual respect for our respective crafts. When a designer comes to me to commission work it shows a level of trust which is always humbling. 
Is there an essential mix of talents you need to create a space?
Visualization is huge as is flexibility and resilience and creative problem solving.