Bavel: Challenging Restaurant Aesthetics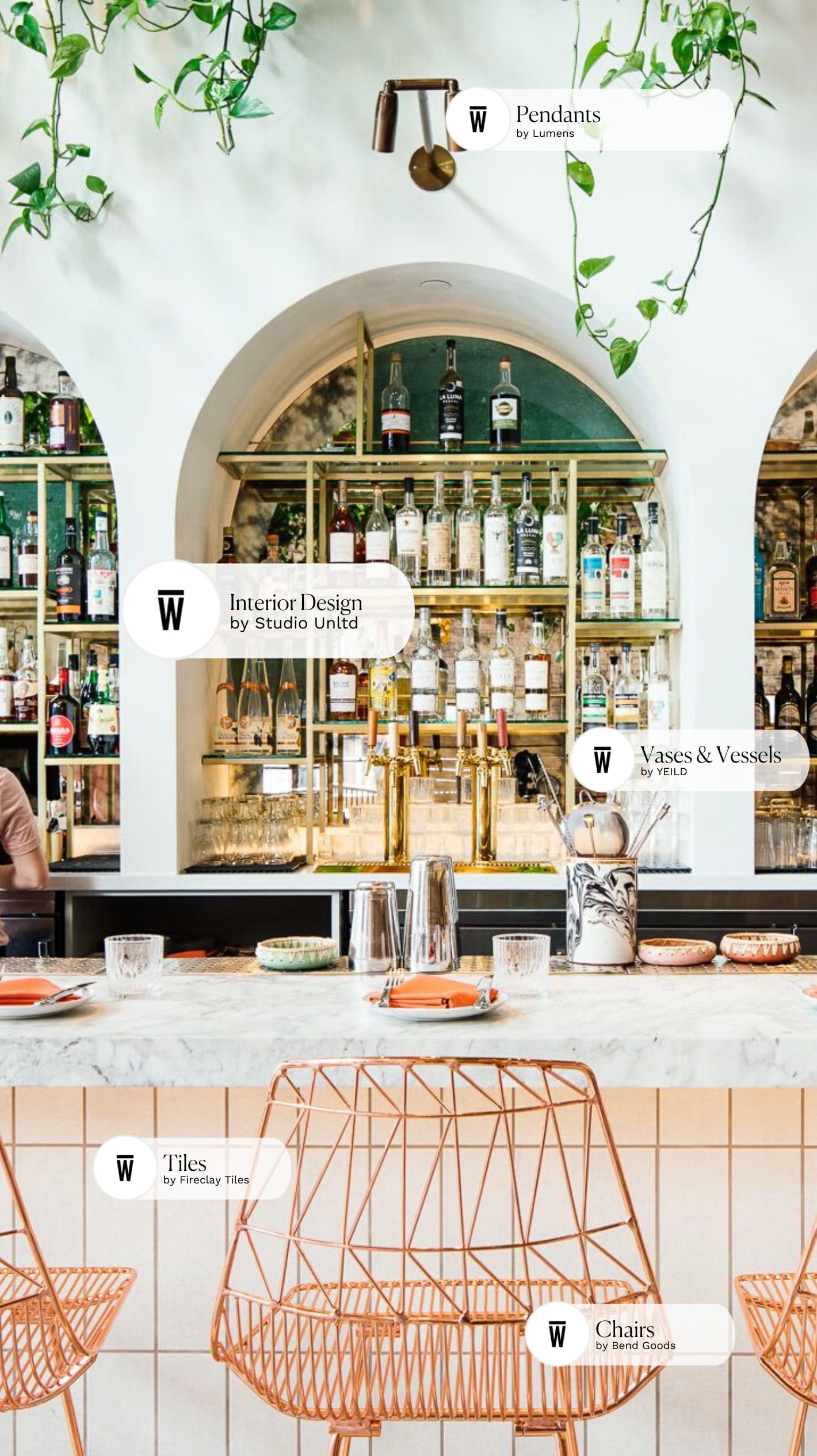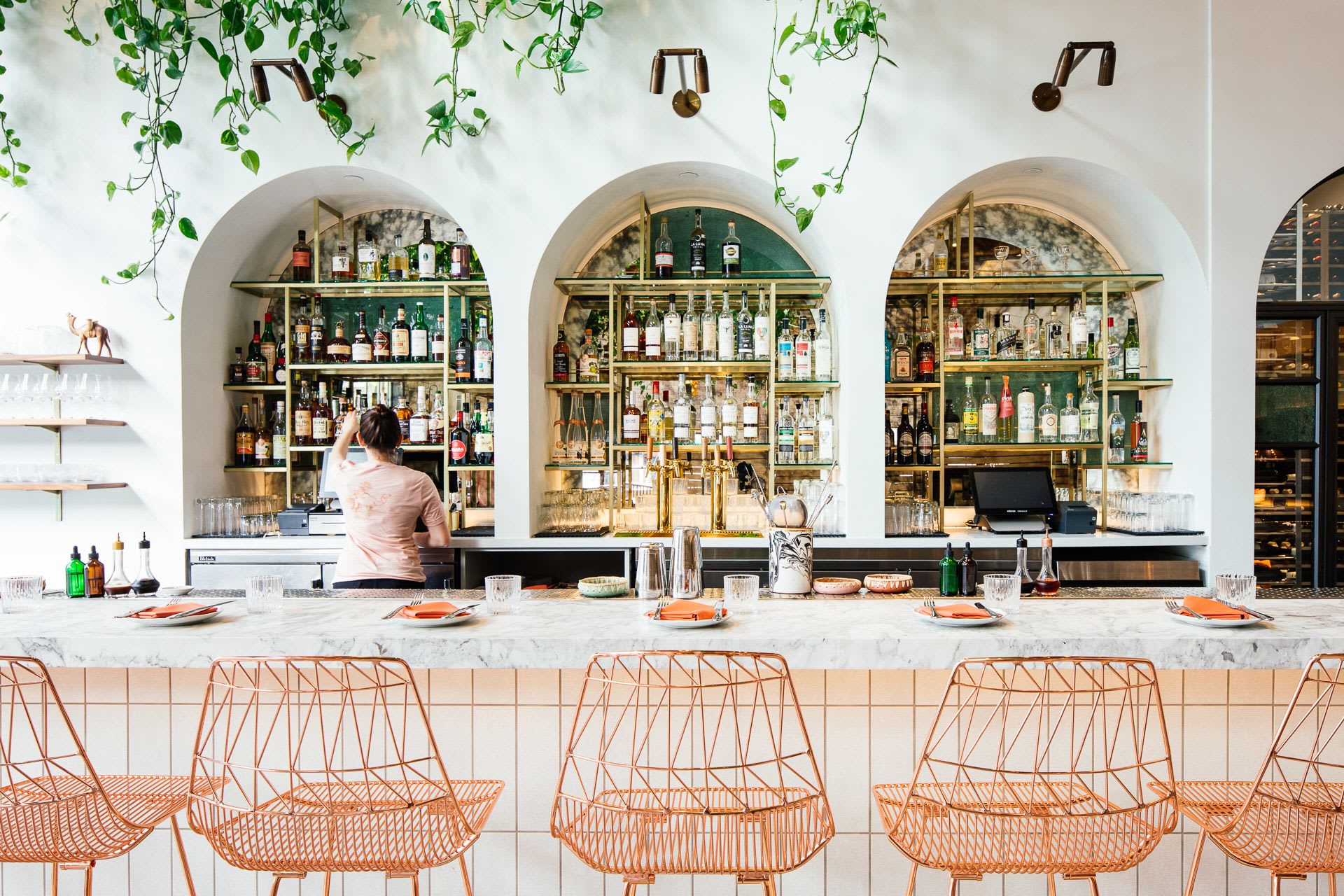 The aesthetics of a restaurant will make or break the experience guests have there. The designers of Bavel in downtown LA were well aware of this and took initiative to challenge industry standards of what a Middle Eastern restaurant should look like. The results are fresh and inviting, with metal accents and greenery in every corner. This space definitely matches the vision of the owners and is a perfect mix of contemporary luxury!
Function is clearly an important aspect of a restaurant, and Bavel does an amazing job of using their space effectively. We especially love their Lucy Bar Stools that have a light and airy feel all the while adding a little glam to the space. This space is also a great resource for interior design inspiration, and many elements are sourced from local Creators. For example, the unique bronze backsplash tiles by Kismet Tile.
This is an interior space that was expertly designed for an innovative dining experience. Attention to detail is clear, like the choice to add high quality wooden bench seating that will stand the test of time. But don't be fooled by the cozy and casual initial impression of this space. While it's true that Bavel is a great low key spot to grab delicious food, it features some truly high end design elements. Hear what the owners had to say about their chic LA restaurant!
What is the interior design style of your space?
The restaurant design embraces the influence of the regions from which the cuisine is derived, interpreting those ideas through the lens of its Arts District (Los Angeles) location.  The worn, rather innocuous brick warehouse which houses the space, served as a wonderfully textured canvas for the restaurant to evolve from.  Natural light served as the critical ingredient employed to create a bright and inviting atmosphere. This was addressed by constructing soaring saw tooth skylights on the roof which, coupled with storefront openings and clerestory windows, bathe the dining room in indirect northern light. 
What was the biggest source of inspiration?
This Client craves a soul and craft which meets what they do; a space to sing and to soar with them. We delivered a design which has Mediterranean & Middle Eastern glimpses, without being kitschy or cliché to reflect their take on the region's cuisine. A space that was inherently feminine, but with a subtle roughness and rawness to it. The interior brick walls have been treated with a wash which evokes the textures of ancient Middle Eastern seaside villages; where wall materials show the age of centuries of different treatments depicting its evolution. The overall palette, furniture selections and copious daylight (from new skylight and storefront) and electric lighting schemes achieve this for them.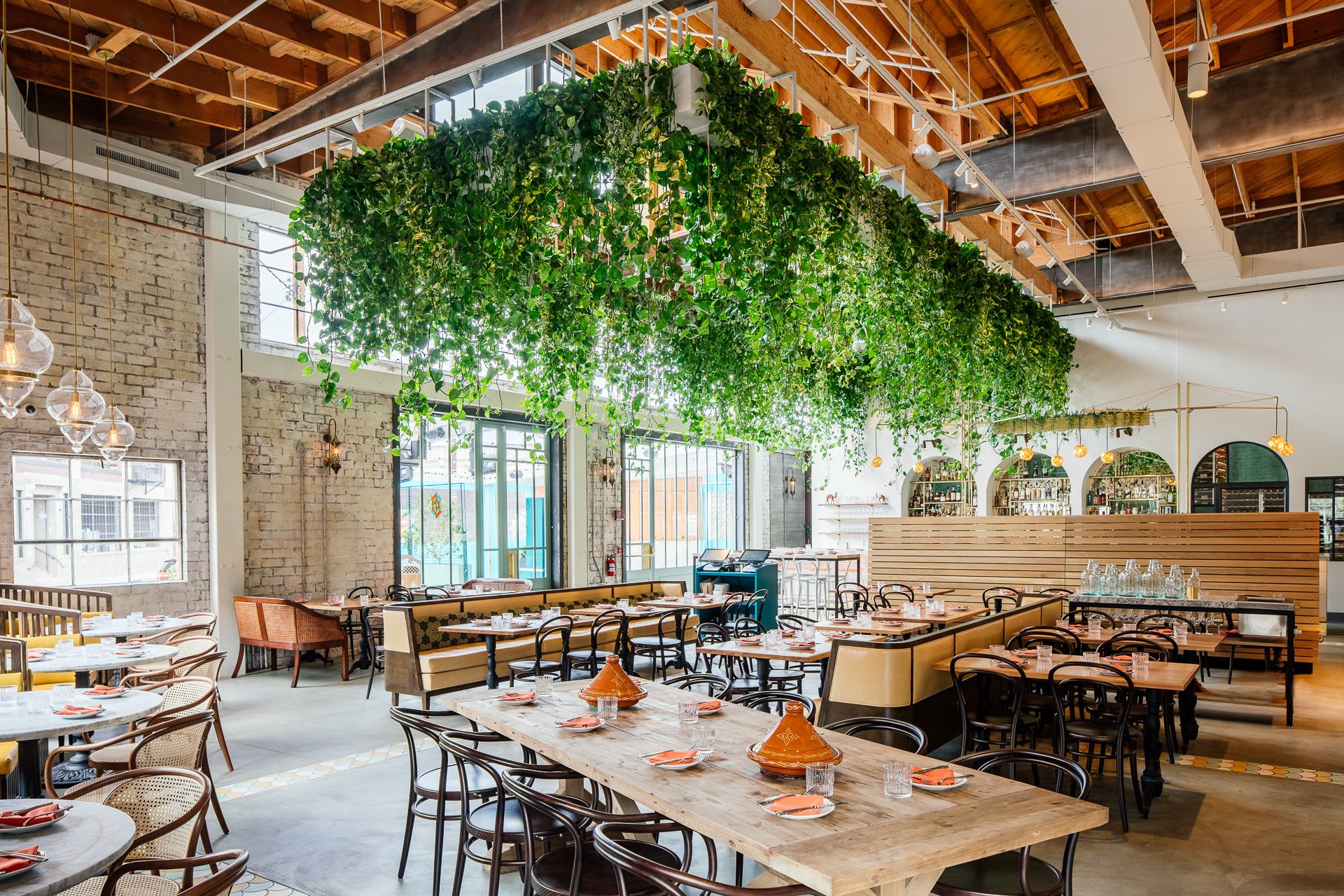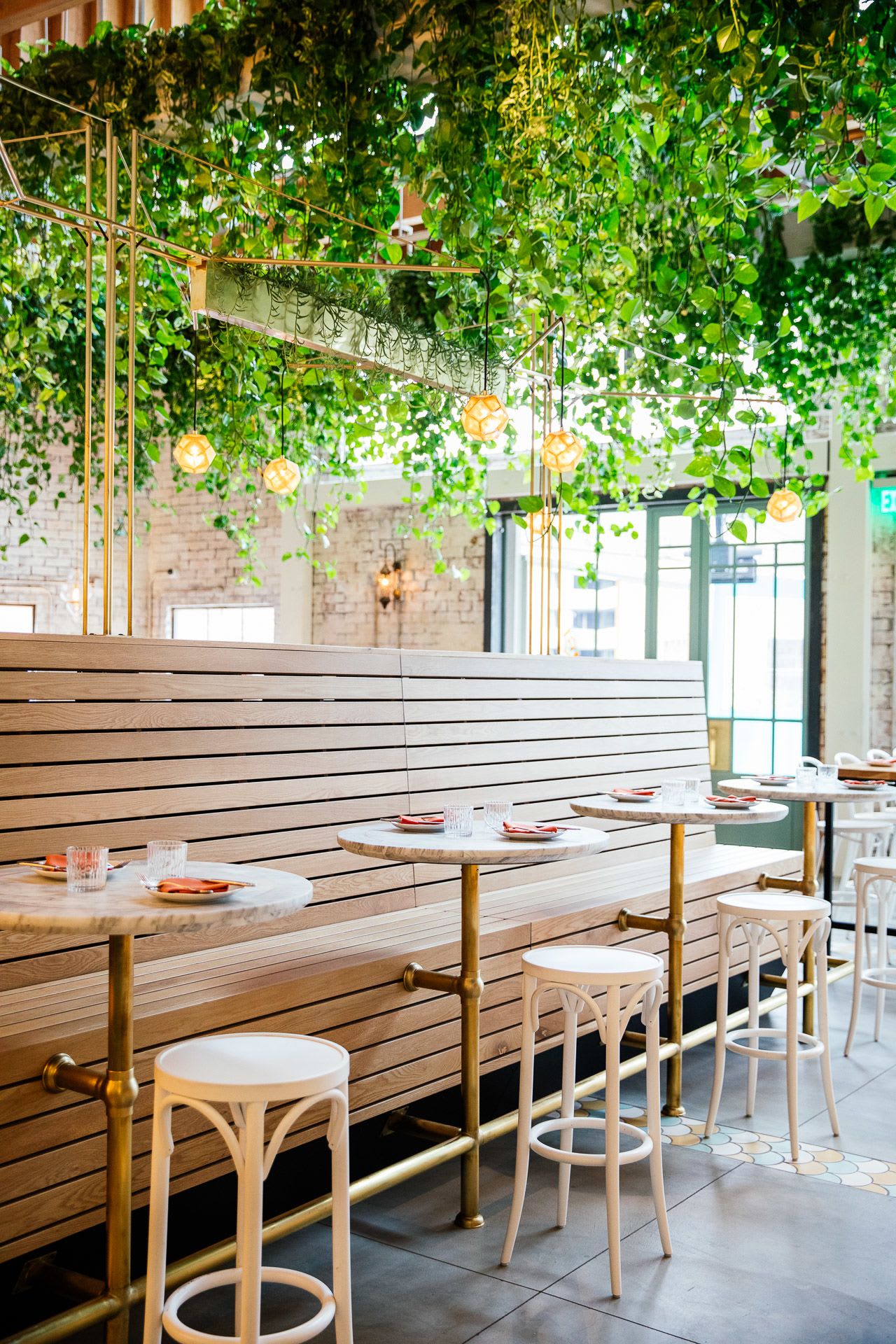 How does the design of your space (or an element of the design) impact the experiences people have there?
Seating diversity is plentiful, with a focus on comfort so diners relax and enjoy whether inside or on the patio. Modern and traditional styles have been blended to find the perfect note and finishing touched to the space. The restaurant is very open and due to the L shape of the cook-line and bar, there really was nothing architecturally interesting to help delineate space.  We designed an elevated bench to create a vibrant and compact bar scene and a different experience for guests on the dining side. We like to employ strong architectural seating elements in our spaces so as to avoid a "sea" or chairs and tables. 
What custom/original element do your guests notice most often? What do they say about it?
The center piece of the design is an extensive raceway of planters which hang just below the massive skylight openings. Vine-like greenery spills from above, filling the voluminous ceiling area.  The day gives way to evening, the spot-lit plants create interesting shadow play on the perimeter walls reminiscent of Moroccan lattice.   It is an absolutely massive piece which adds a very unique ambiance yet does not dominate the room. Despite this living, breathing sculpture, which interacts with the architecture, patrons are there to enjoy company and eat Chef Ori and Genevieve's wonderful food and the lively kitchen and bar remain the center of action and attention. The space is at once casual and somewhat formal. It is at once refreshing and exhilarating.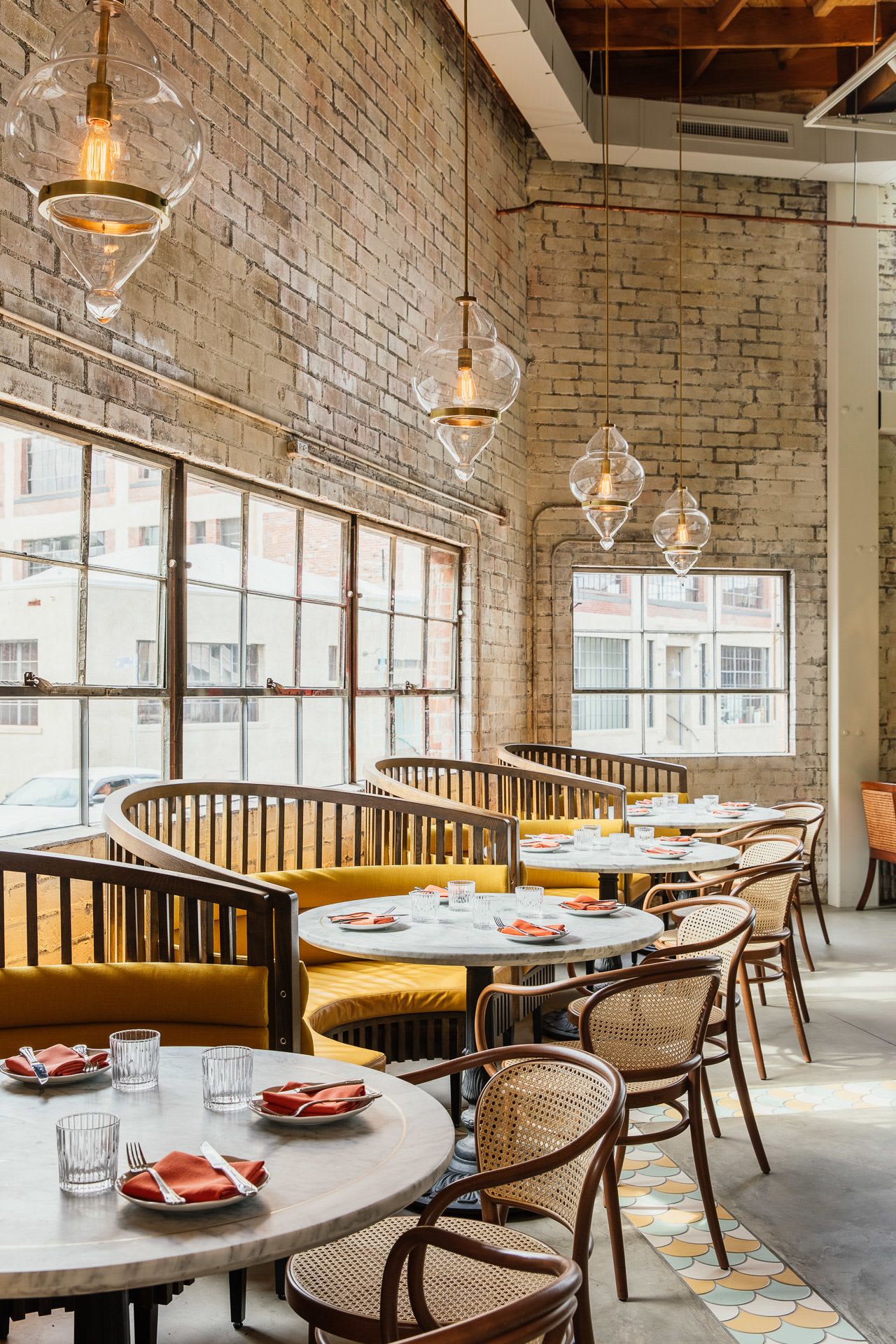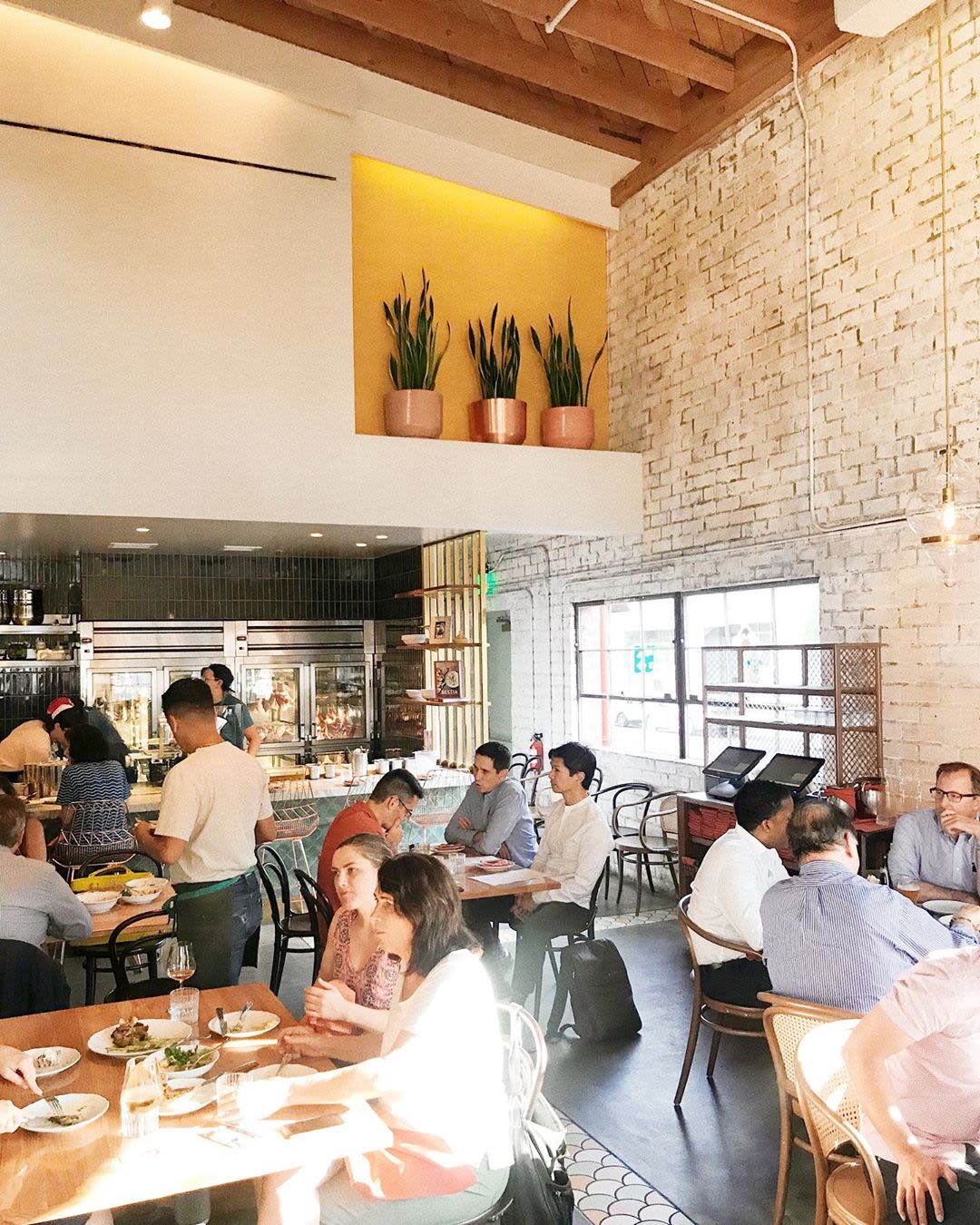 Who did you love working with on this space? Any memorable moments or unique craftsmen?
We really enjoy partnering with AFM Contract for our custom furniture pieces.  They give great creative input and are very pro-active during the development, bringing us prototypes and problem-solving with us.  At Bavel, they worked on the custom curved booths at west windows.  These are half round booths with yellow leatherette upholstered seats and yellow fabric dual lumbar and back cushions. The frame is made from walnut-stained white oak and features vertical (spaced) slats on the back of piece as well as below the seat cushion.  Additionally we worked with them to develop the long banquettes of walnut-stained white oak frame with wheat-colored yellow leather panels on the back of the piece, leather seat cushions and patterned fabric loose back pillows.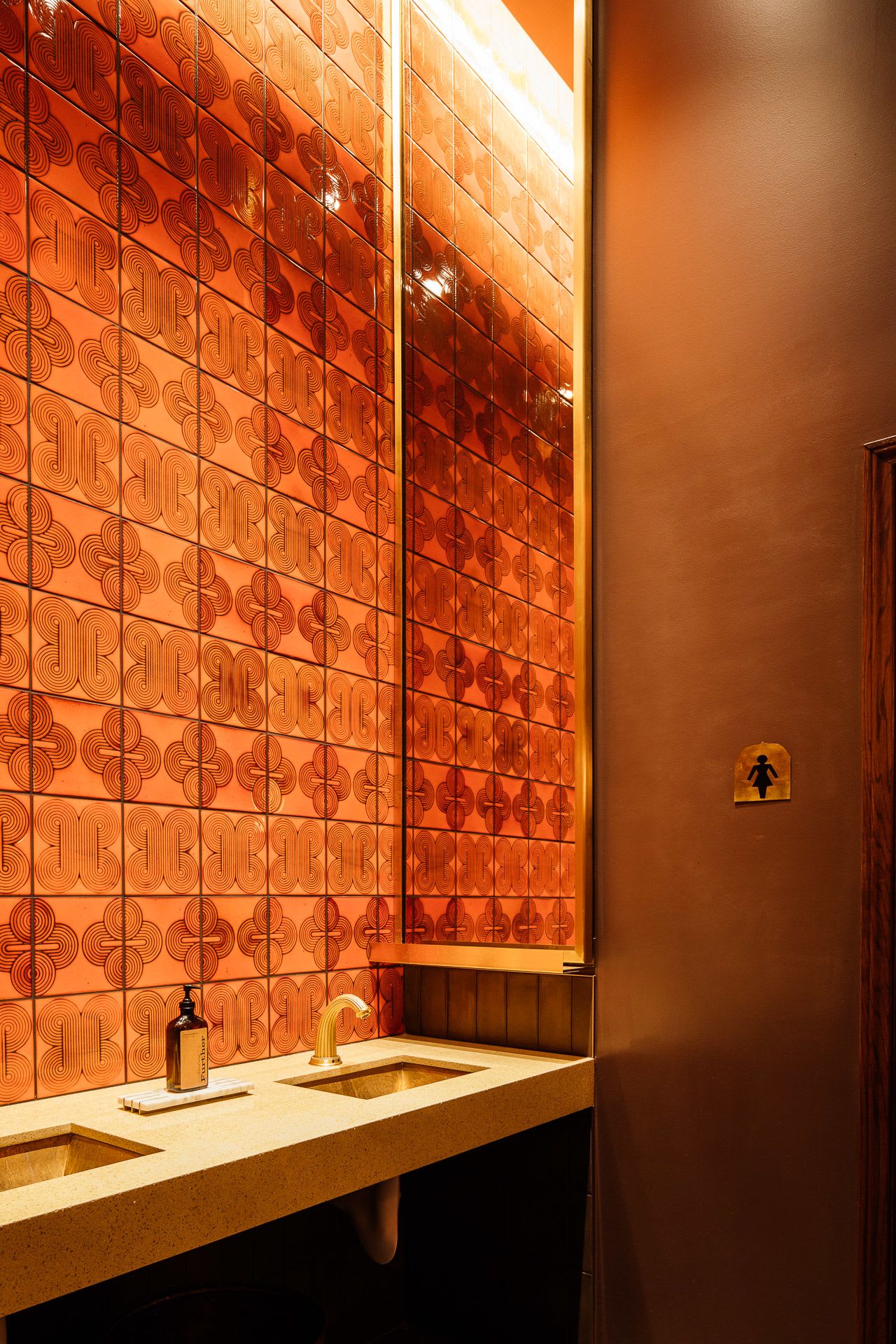 Restaurant interior design doesn't have to follow the status quo. The aesthetic of Bavel Restaurant is fresh and creative, largely due to innovative design and a combination of stylish elements. Looking for interior ideas that draw inspiration from LA's Arts District? Check out Bavel and prepare to be inspired!