Alexandra Stefanec: Abstract Art with a Story
Alexandra Stefanec captured by Rachel Grammes >
Deeply emotional and personal works of art can create a unique ambiance in a space. If you're looking for a statement painting with a one of a kind story behind it, this Creator is sure to go beyond your expectations. 
Alexandra Stefanec creates wildly powerful and emotional works of art through abstraction and introspection. She intuitively uncovers what consists of her mental space and her works largely reflect resolution with memories, loss, solitude, intimacy, and nostalgia. In this way, her works come to life and each have distinctive personalities. They add depth to any room and we love the way she uses line, form, and negative space to invite you to come closer.
Abstract art usually aims to encompass a feeling, and Alexandra uses it to do even more than that. Her paintings put her vulnerability on display and represent her very own human experience. We are especially drawn to the way they invite you in as an active participant and create a visual experience like no other. Through abstraction and introspection, she creates simply powerful works of modern art. These emotional works come to life as we consider them. Check out what Alexandra had to say about her reflective works of art!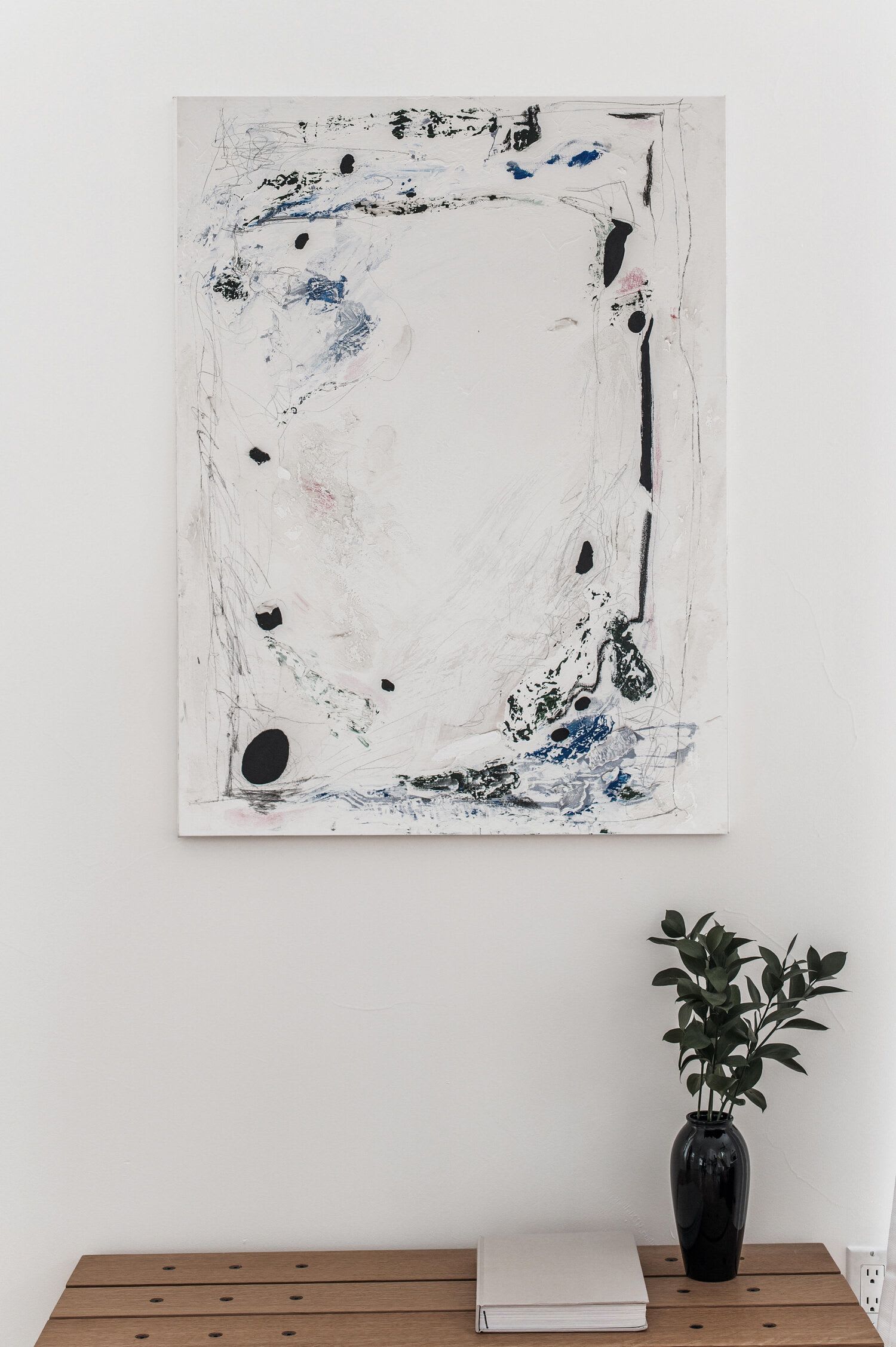 What's unique about your work?
My paintings respond to personal experiences, so my works are inherently unique in terms of where they come from and how they are realized into a visual form. They are acts of resolution with memories, loss, solitude, intimacy, and nostalgia. Each painting is referencing one or more specific memories that I attempt to make peace with; The title of the work being the most explicit exposure of the painting's concept. Through methods of layering and removing textured materials, or utilizing dynamic shapes and compositions, I am sorting and uncovering what occupies my mental and emotional space. My work reveals hours of introspection where I confront myself most intensely and attempt to achieve acceptance of love, loss, and sense of self.
What do you want people to do or feel when they encounter your creations?
I don't want to tell people what to see or how to feel when they encounter my work. But what I will say is I hope that they are contemplative and engaged. It's tricky with minimalism and abstraction because you are presenting something that does not directly point to recognizable images which can defeat or bore the viewer. But I think if people give themselves the chance to spend time with my work, they can get something out of it. 
What is your favorite material to work with?
I have a lot of fun working with molding paste in my textured paintings. Molding paste transforms a 2-dimensional surface into something that is way more sculptural. It is dramatic in its impact but in the most subtle and non-suspecting way, it's a really stunning material to work with. Typically I go for coarse molding paste, heavy molding past, or matte molding paste. I will lay down acrylic onto the canvas first, then layer molding paste onto so there is a beautiful softness and cloudiness to the color beneath, then work graphite and pastels into it when wet and dry. 
How do your pieces come to life? Tell us one interesting thing about your process?
When I know I have something I need to paint about but am afraid to address it, I will dedicate about 3 hours to go all in. I black out my studio so I can't see anything, I get my sketchbook, and play 'Xen' by Arca, an album that somehow makes me feel free and safe to explore my interior landscape. I mentally need to give myself permission to go really deep and accept that what I find might be celebratory, loving, sad, scary, or sometimes dark. The point is for me to feel like I'm expressing myself in the most sincere and honest way.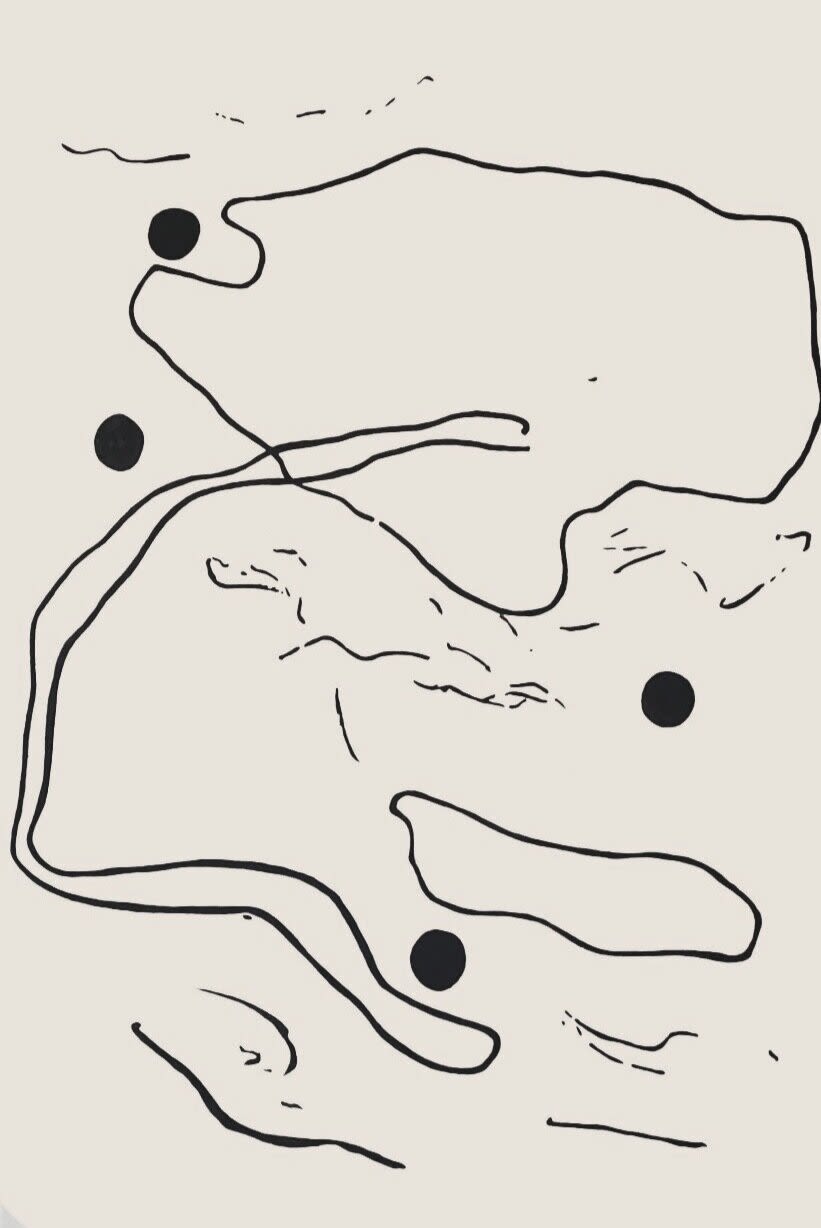 What funny moments, unexpected surprises, or obstacles have you encountered?
The funniest yet most frustrating things I face is how the tasks that are seemingly simple to achieve are actually the most impossible to get done correctly. Color choice for instance, seems like a straightforward process, but I have been deceived countlessly by seemingly simple colors. The way a color behaves in its container is much different to how it is when you are working with it, when it dries, when it's used on a large scale, and when it interacts with other colors. My studio assistant and I have spent days on perfecting my colors. We joke about how difficult it is to get the perfect beige color that I want—we call our struggle 'The Great De-Beige!' It's important to listen to your intuition, but don't be surprised if your intuition deceives you. We need to take a lot of breaks and have a drink over it every once in a while!
What motivates and inspires you?
I'm motivated by my essential need to work out emotional subject matter. I have Generalized Anxiety Disorder and Dissociative Identity Disorder, so painting is essential for me to work out the nuances of my mental health. I think a lot of artists are inspired by their personal narratives and struggles, but I do it because I need to do it for myself. It is, however, very rewarding if my viewers enjoy my work too! To see my viewers and buyers have a deep connection with my work makes me feel like I have connected with them as much as I have connected with myself.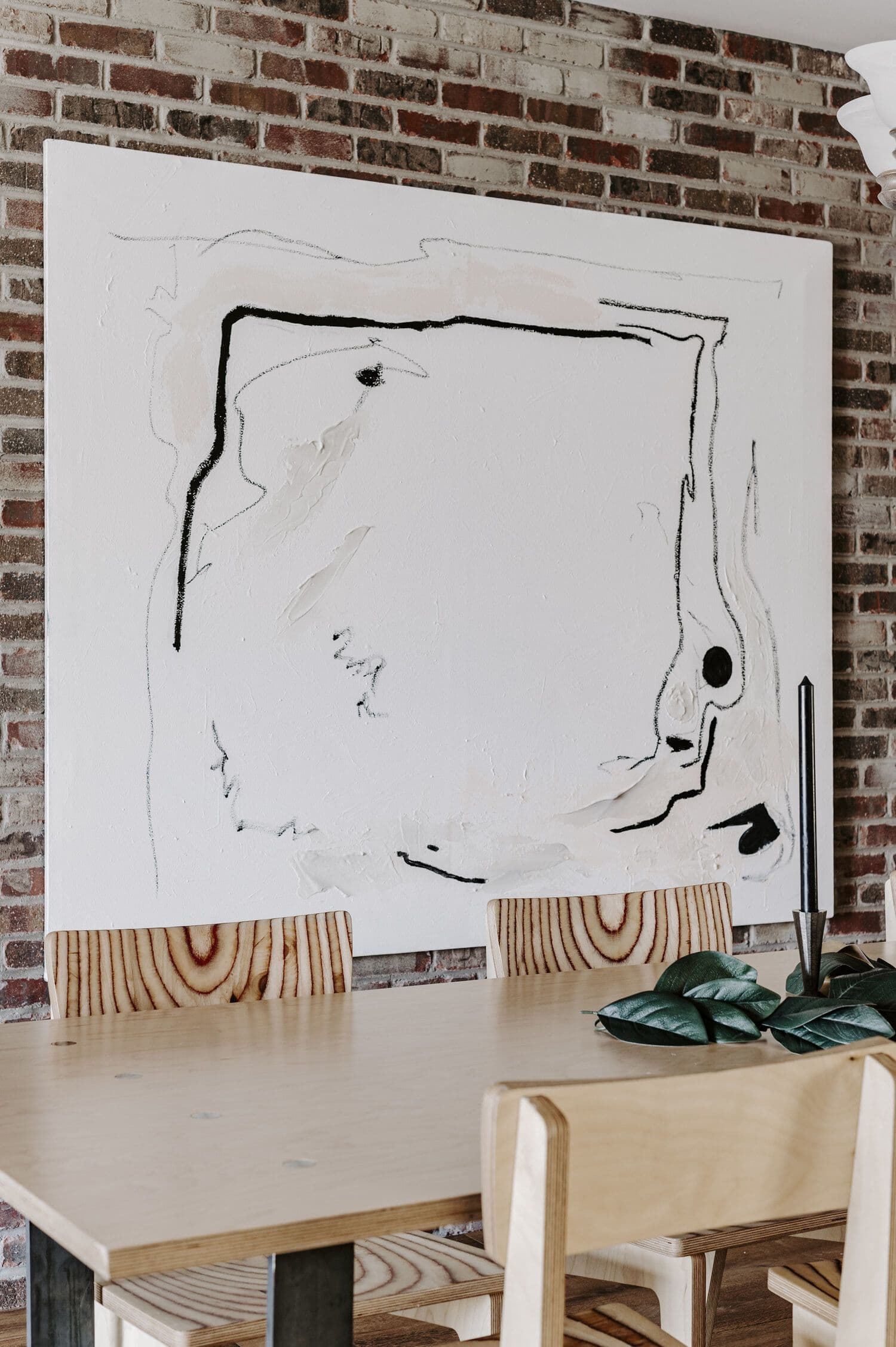 What makes a space special?
I think a space becomes special when it is relatable, challenging, adaptable, and allows for free thinking. I think all those things can be executed through levels of design—architecture, lighting, landscape architecture, interior design, and spatial functionality. I like the idea that we don't 'grow into a space', but the space 'grows into us', and design is a powerful tool to create a special experience within our spaces. It's important to have things in your space that reflect your values and what matters to you, because our spaces are essentially externalized formulations of who we are internally. 
How did you discover Creators (designers, artists, makers, etc.) and keep your community growing?
The art community in Denver is very robust, and everyone wants to see their peers succeed in the work they pursue. There are always new gallery exhibitions and openings to go see and that's always a good place to meet other artists. I work for the Museum of Contemporary Art Denver, which certainly helps with meeting other creatives, as the museum provides free memberships for artists. I also think staying up to date on the contemporary art world is more accessible than ever, as we have so many digital platforms to explore on. I think it's important to see what literature is being written on contemporary art. I am a long time fan of Jerry Saltz who just came out with a stellar book titled 'How to be an Artist' which I highly recommend!
When Creators work with Interior Designers, what elements of your collaboration best compliment each other? Any traits or commonalities that excite you?
I think my work is best paired with minimalist design styling, which I know is very popular at the moment! However, I think we are in a time that is mindfulness-centric and we are reflecting that in how we design our spaces. I love to see my work paired with concrete tables or floors, or even steel chairs and furniture. I am a sucker for white walls, but I think there's something very seductive and cerebral about black walls (when styled well!). 
Is there an essential mix of talents you need to create a space?
The essential mix I look for in my paintings is for them to be minimal in its design, but maximal in visual impact. Having a dynamic and challenging composition while using minimal color pallets, line work, and shapes is the sweet spot for my paintings. I want the eye to constantly be moving, but not exhausted nor overwhelmed. The same goes for creating a space. My reference point for executing a space is responsive to the Case Study House Program in Los Angeles, California from 1944-1962 (I highly recommend researching it if you are unfamiliar!). The concept of 'form-follows-function', developed by American architect Louis Sullivan in the late 19th century, is essential for me to create a fluid space. If a space is oversaturated with useless decor or enhancements, we can become distracted and not really connect with the space on a deep level.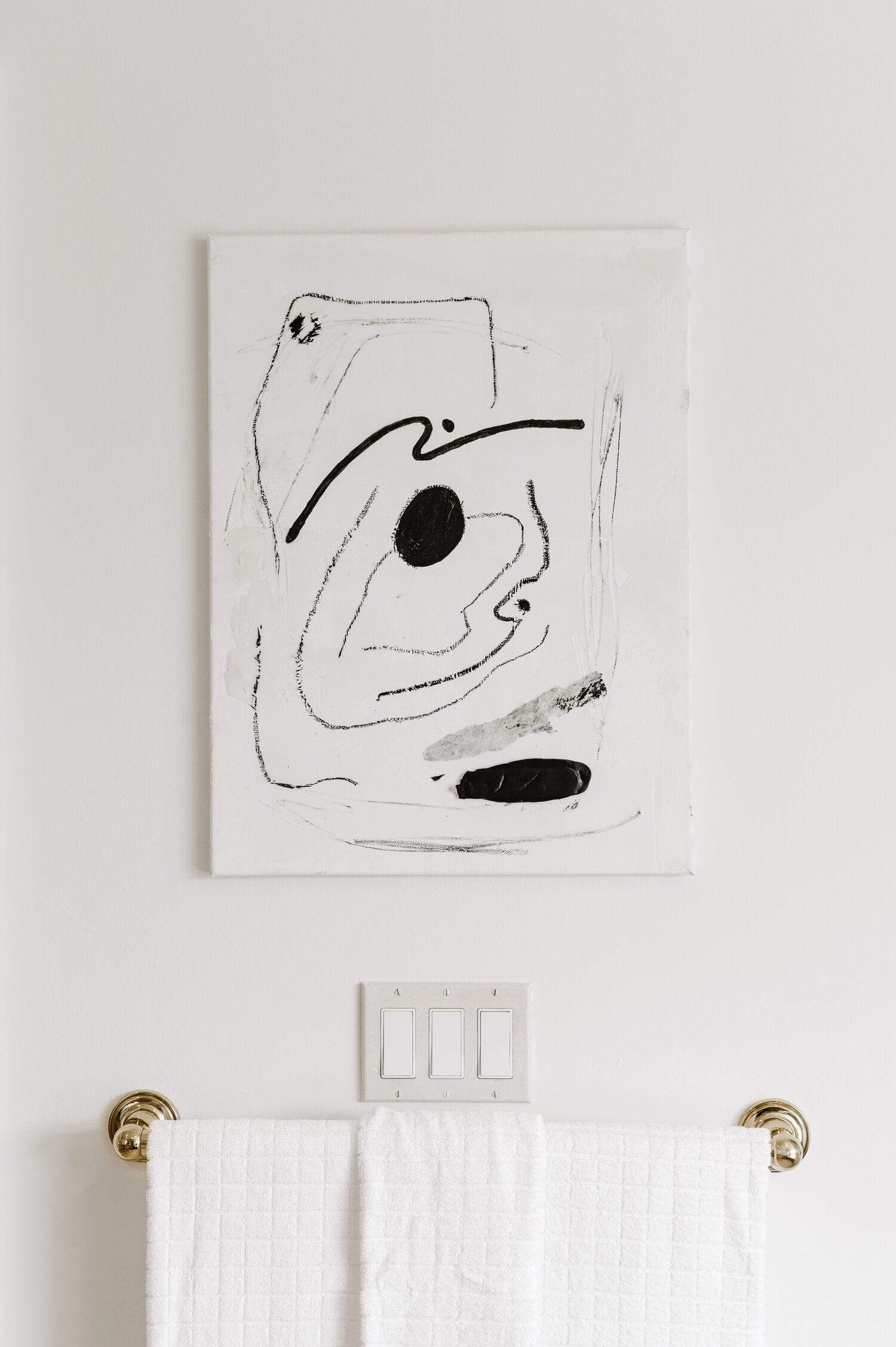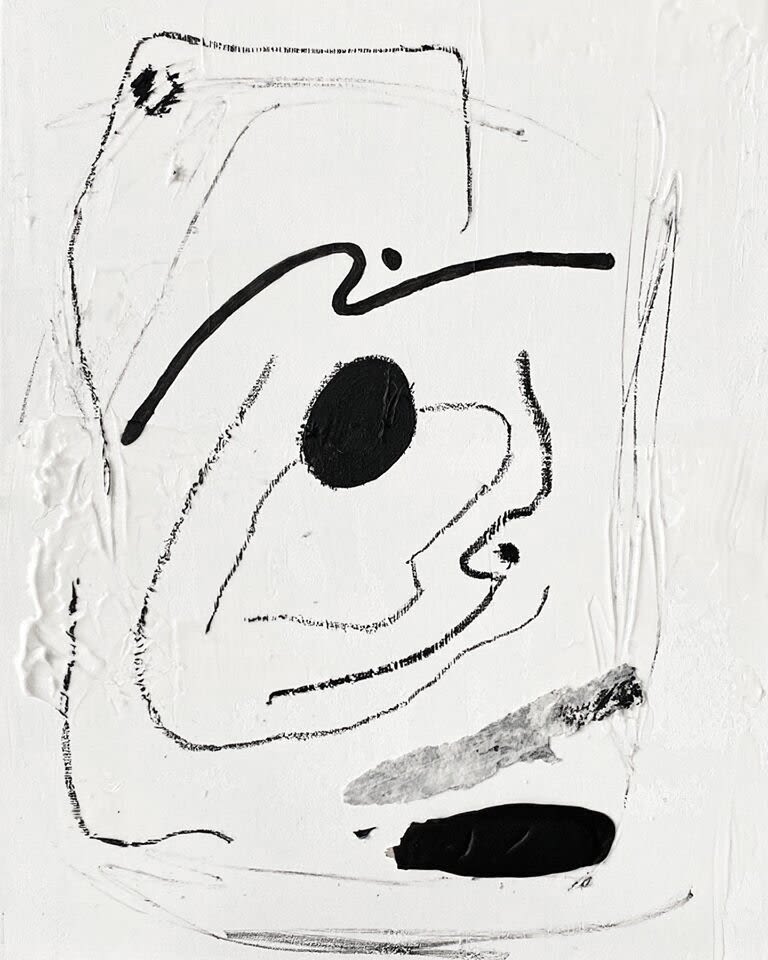 Abstraction is one of the purest forms for artists to express their emotions. This Creator is using her innermost thoughts and feelings to create show stopping paintings with intricate designs and stories. Make sure you explore all of Alexandra's work and bring her work into your space!