Art Director & Emerging Painter Grant McGrath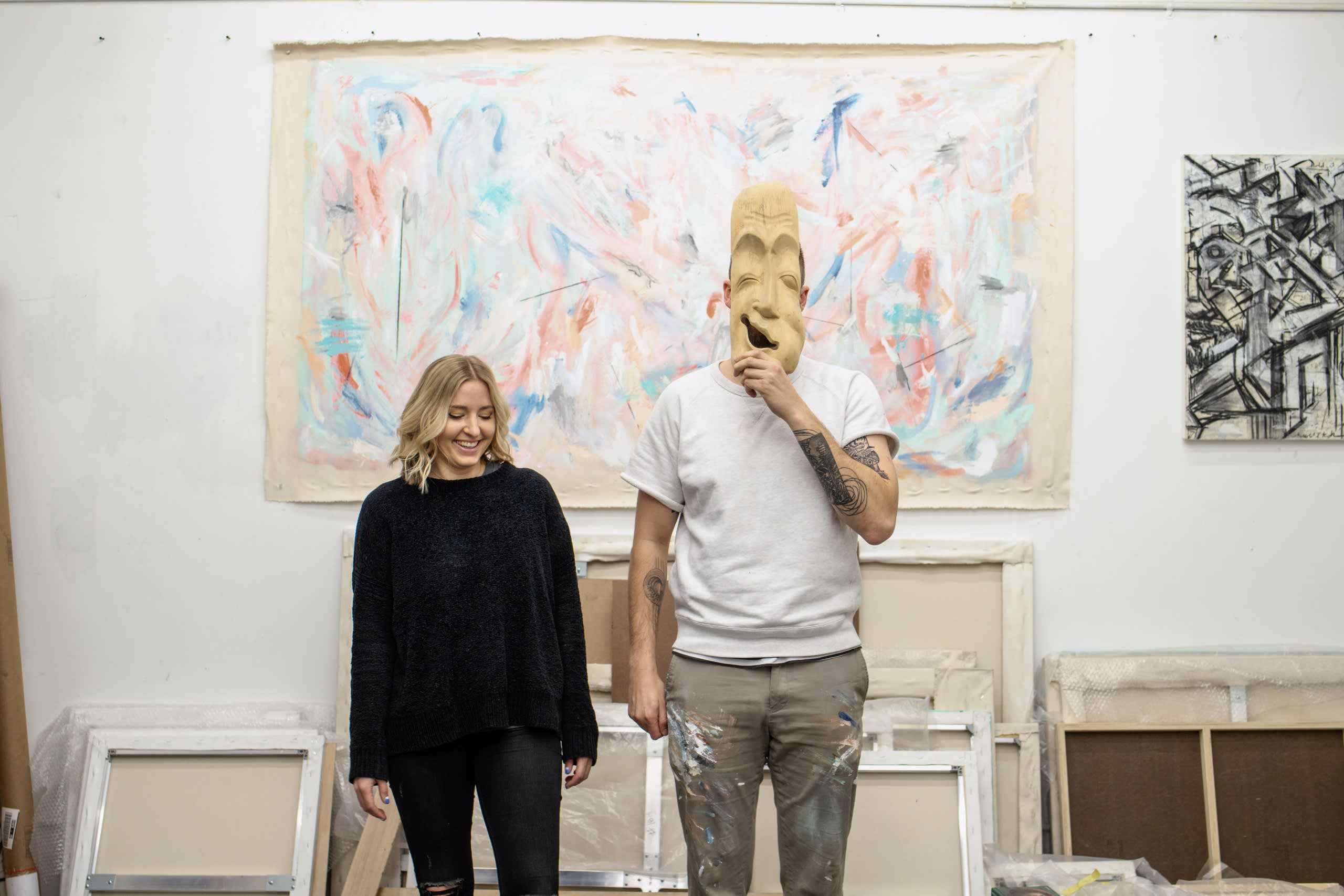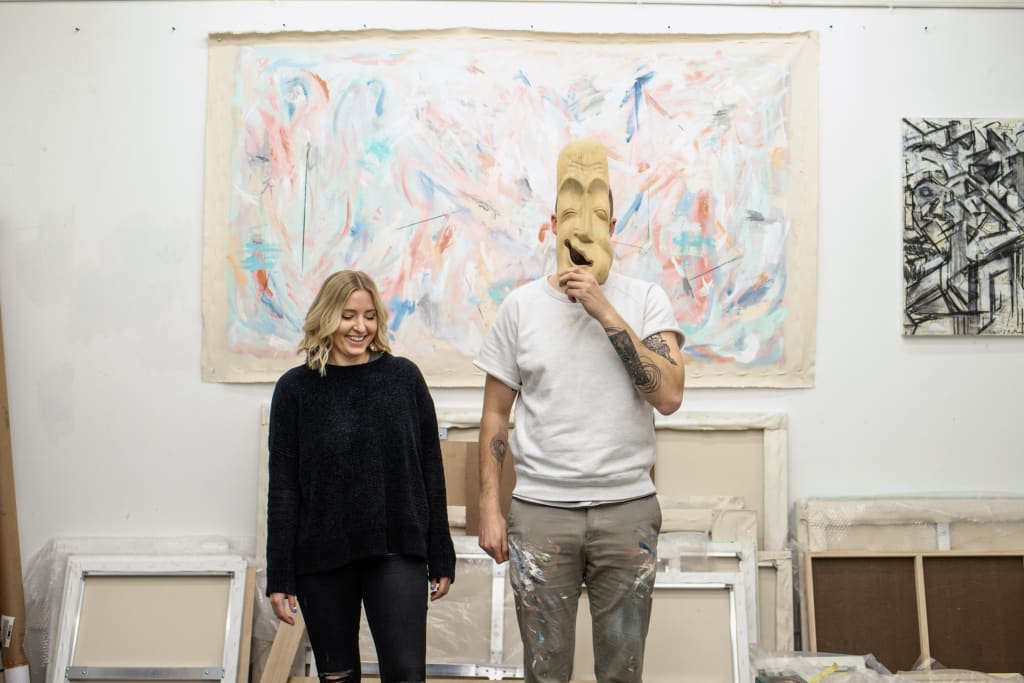 Recently we discovered rising painter Grant McGrath. The Brooklyn based Creator works in advertising as an art director for clients like Adidas and Marvel Entertainment.  Grant implements "creative cross training" by splitting his time between freelancing for various creative agencies and painting in his Greenpoint studio. Oh and add "inventor" to his list of titles because he also invented an attachable men's shirt cuff under his design label, GRANDINO. Needless to say, this creative entrepreneur is full of unique ideas. 
Our NY design scout Lindsay Shepard sat down with Grant to learn about his journey as a Creator, his new series "Control & Chaos," and what's on the horizon for 2020…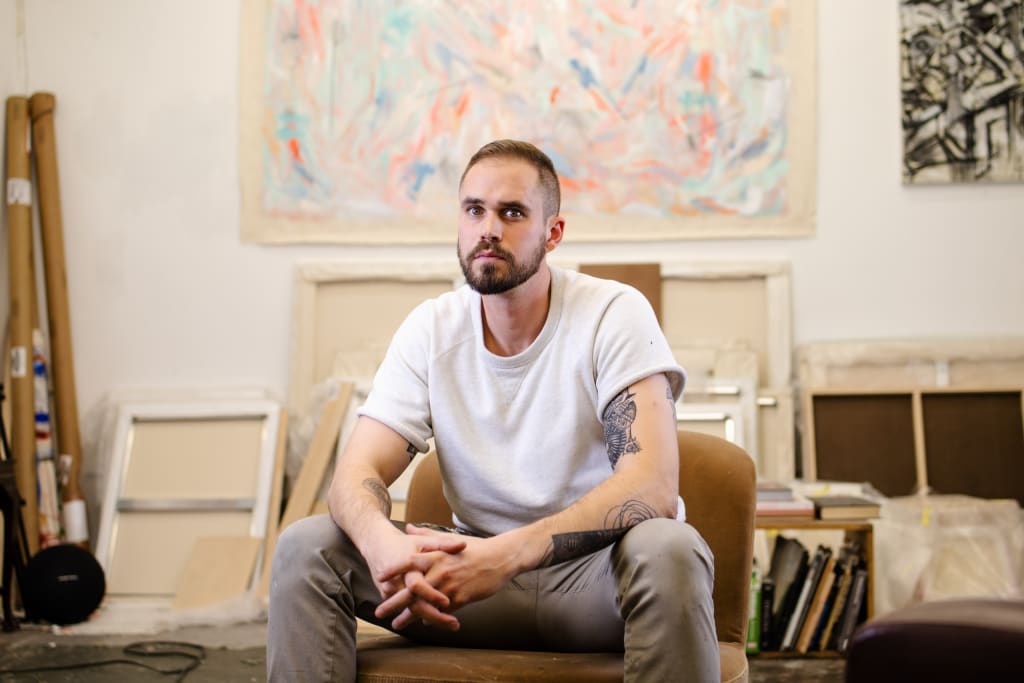 We're in your studio- can you tell me what kind of place this is for you? What does it mean to you? 
My studio is an extension of my brain. How I organize things, or how I don't. This space opened and I hopped on it immediately because I wanted to work on larger format works, like that one behind you "Vecktru", and eventually continue to get bigger. 
What mediums do you mix and why?
I love charcoal and the messiness of it. I love using my fingers to rub it in. I like scraping the canvas and pushing and pulling all the materials around. I almost exclusively work with charcoal and acrylic on canvas because I like having the freedom to mix between these two mediums. 
Can you tell us about your path into the world of art?
Visual expression has always been a mainstay of who I am and what I've been obsessed with. I've been drawing and painting for my entire life. I work as an Art Director and fine artist. I moved outside of working in my apartment into a studio little over 4 years ago.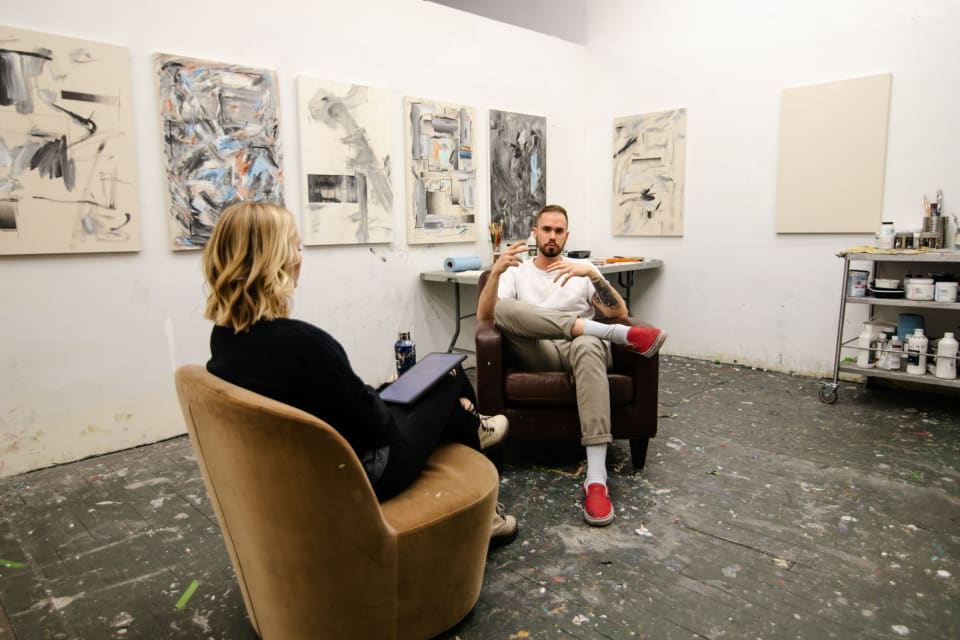 Could you describe your daily work day in the studio? 
It's kind of a ritualistic, getting ready for the day thing. Every day I come in and I start with cleaning and scraping paint off my glass palette from the last session. I stare at the paintings while I scrape the old paint. I get my materials prepped and once it's done I'll walk away for a couple minutes and come back in. That way I'm coming back into a fresh and ready to go space. I spend a lot of time sitting in this chair staring at the work for a while. A lot of these pieces are more time consuming mentally. You're thinking about everything- contemplating it for hours- sitting at it and staring. I definitely do a lot of sitting and staring. 
How do you know when a piece is finished?
There is always a final moment where I know that's the last mark. 
I'm a huge believer in fresh eyes. When you stare at something too long, it's hard to differentiate all the new stuff that's on there and objectively evaluate how things should be placed. Especially pieces with a more complex color palette- they can look unbalanced till the composition is just right. I get out and go for a walk. I pace around the studio like a madman. Or I close my eyes for a minute.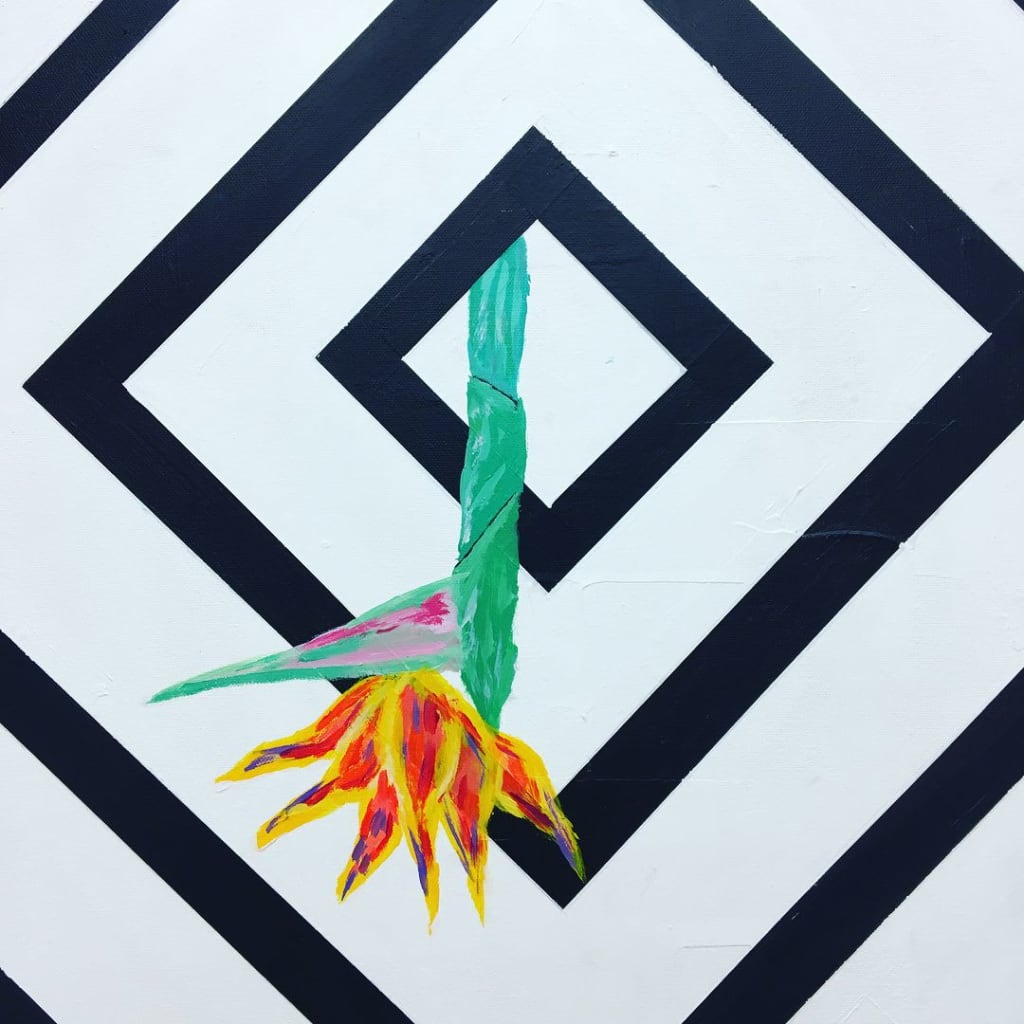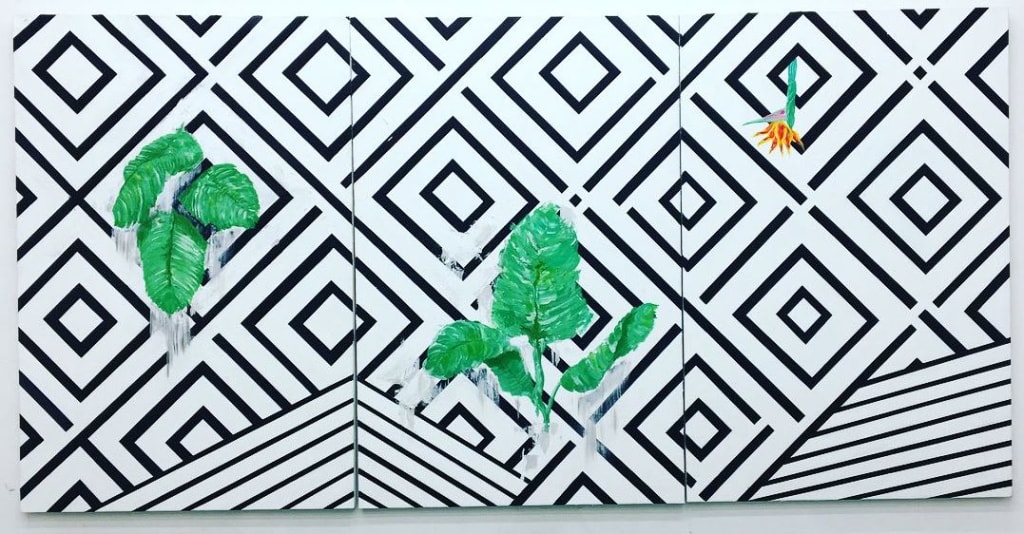 What different ideas and moods you have embedded in your new series?
Right now, there are 12 works completed. The series is made up of these 24×36 rectangles and is called Control & Chaos. 
I personified "Control" and "Chaos" as two characters in lines, color, and shapes. I portrayed how they react with each other in each piece. Some of them are kind of balanced and some are purposefully unbalanced. I'm interested in showing the tension between these two opposite energies.
Do you have any big goals for 2020?
My goal is to work bigger and combine elements I've done in smaller series into larger works. I finished this series Control & Chaos early in the year. I had no formal plans for a show, but it was just something in my head I wanted to get out as soon as possible. Most of my paintings prior have been done in a 3-4 piece series or one off pieces just reacting to something going on in my life at that time. For this year I want to start working on bigger pieces. The biggest piece I've done is 8 feet and I would like to go into pieces that are 15, and 20 feet wide.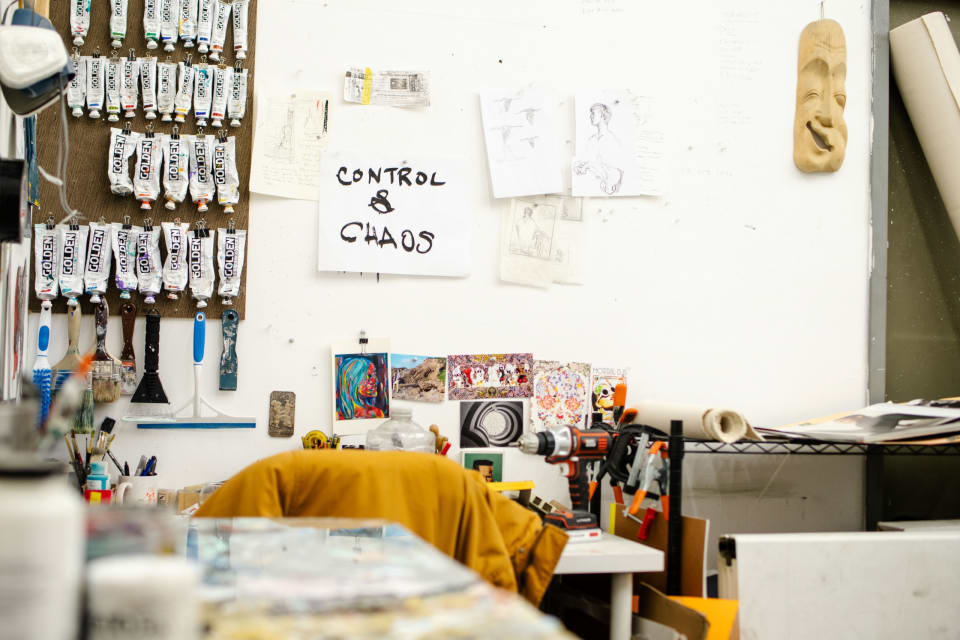 Keep up with all of Grant's newest stuff and stalk his past work follow him @grantmcgrath_studio and make sure to continue to checkout his Wescover page for new discoveries around the world.