6 Unique Kitchen Cabinets to Upgrade Your Design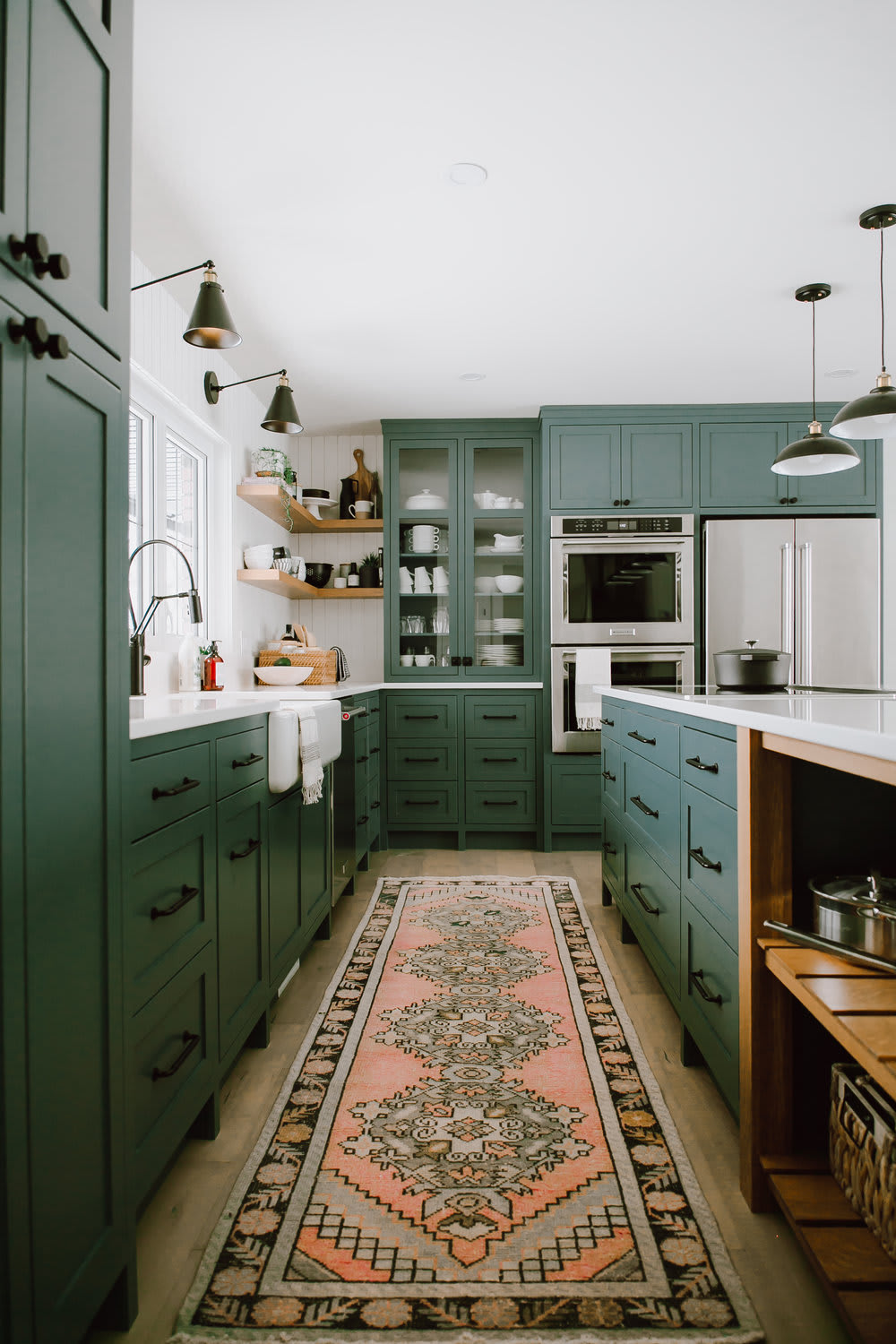 Kitchen cabinets are a major part of a home's design. Not only do they provide storage, they're a necessity that can have a large impact on the look and feel of your space. Kitchen cabinets often get overlooked as a key element of interior design because they are usually thought of as being part of the architecture. But the truth is, cabinets are a vital and rudimentary aspect of the kitchen and require intricate joinery and expert wood working. They can benefit your space in so many ways, but on the other hand, they can hinder an otherwise perfect design. In other words, they will essentially make or break your kitchen!
Cabinets come in an endless array of different designs to suit every style. Try darker cabinets to create a bold, on-trend design or white cabinets to brighten a space and create the illusion of a larger kitchen! Check out some tall floor-to-ceiling cabinets to elongate your space (and also give you tons of storage space!), or some natural wood cabinets for an authentic down home feel. This is a chance to get creative, and you can even mix different cabinet styles for the custom kitchen of your dreams! As the heart of your home, your kitchen deserves stunning, timeless cabinets.
So if you've never thought seriously about kitchen cabinets, now's your chance! You'll be amazed at the impact of this one simple design feature and how it can change the look, function, and experience of your entire space. Make sure you don't overlook them while designing or renovating, and explore different styles to find the kitchen cabinets best suited for you. If you're not sure what direction to go in for your kitchen, here are some of our favorite styles that effortlessly tie each room together!
1. Colorful Kitchen Cabinets
This Highland Park kitchen came together from the vision of Kelly Martin Interiors. Her remodel incorporated shaker design kitchen cabinets which hold true to their base line ideology of simplicity, utility, and honesty. These modern craftsman style blue and white kitchen cabinets coordinate beautifully with the encaustic cement floor tiles, and really complete the look. The shaker design cabinets are clean and simple with signature elements like a recessed center panel and a five-piece door, and we love the hardware that adds a custom pop of shiny brass! Colored cabinets are an easy way to brighten up a space and add some personality to your kitchen!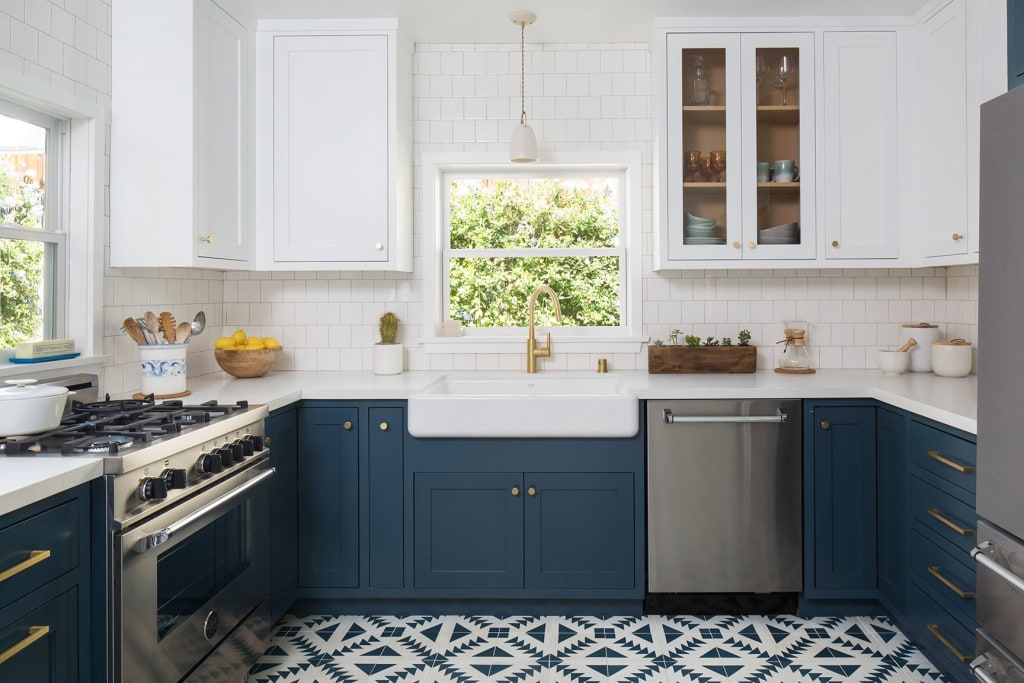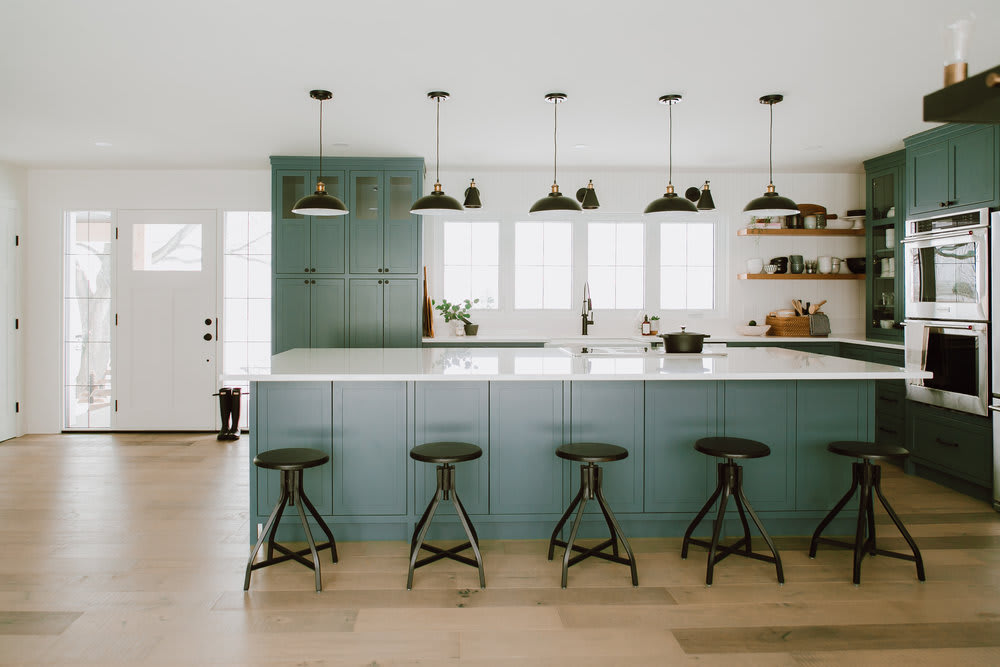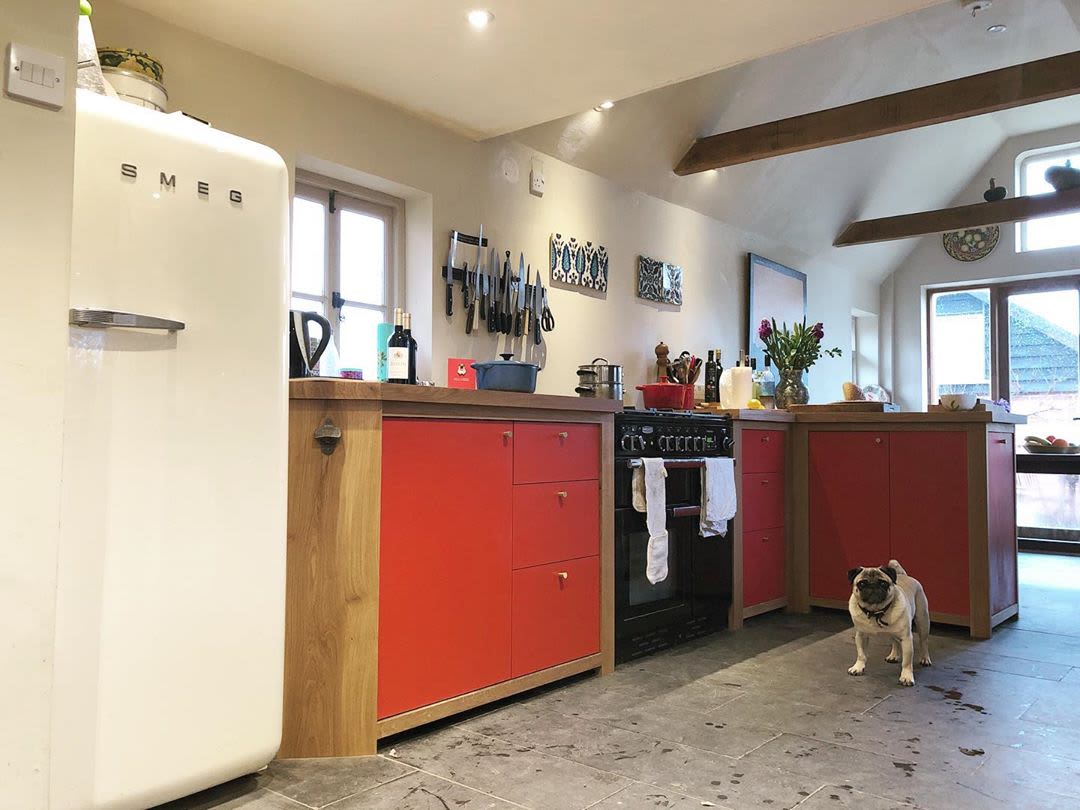 2. Natural & Sustainable Kitchen Cabinets
Iannone Design, founded by Michal Iannone, makes high-quality modern furniture with a strong focus on design and sustainable materials. These custom kitchen cabinets are constructed from quarter-sawn maple cabinets with stainless steel hardware at this Lombard Street, Philadelphia home. Natural and sustainable cabinets create a warm and inviting space perfect for the eco-conscious designer!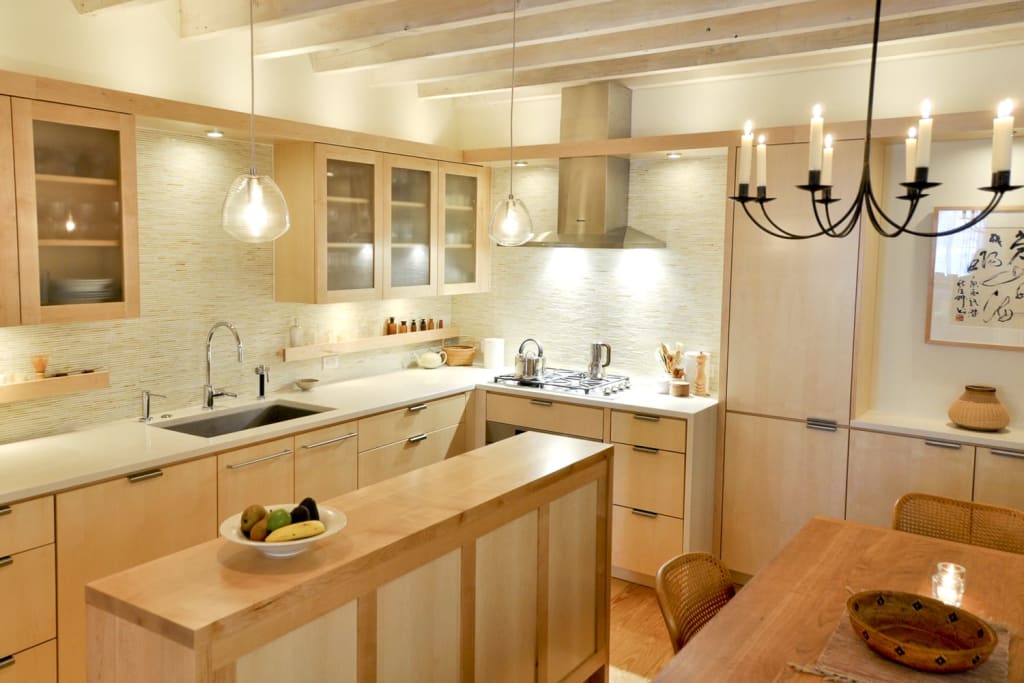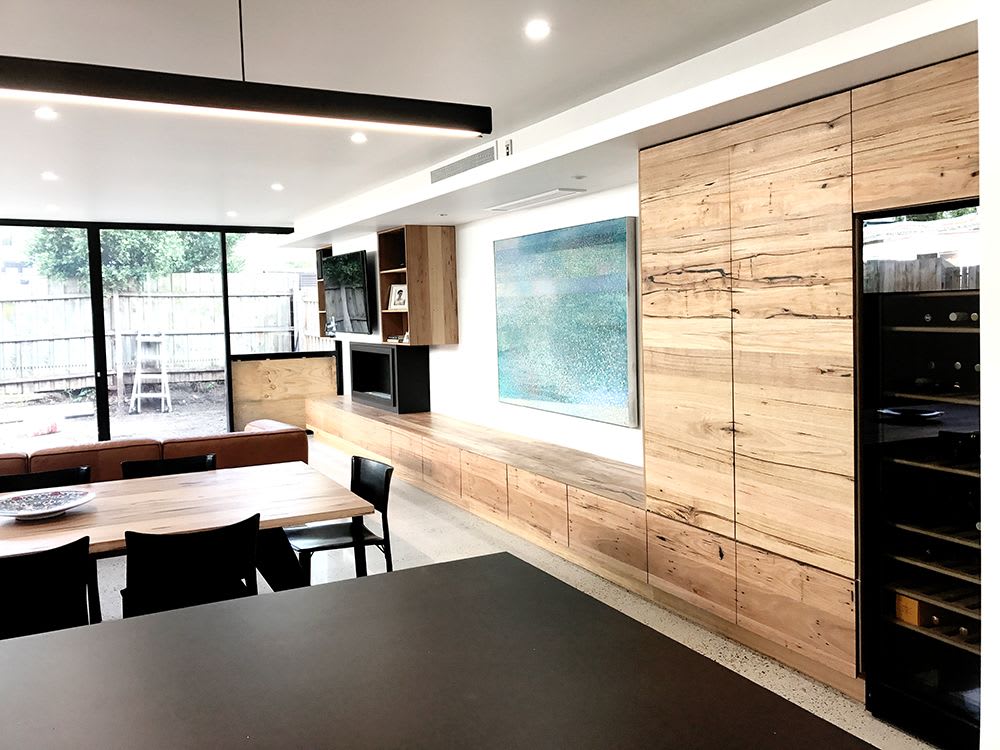 3. Rustic Kitchen Cabinets
Walker Woodworking created this bright simply white space that combines sleek white modernism with traditional rustic touches. These rustic features can be felt throughout the kitchen, from the sliding barn door to the  matching 'X' details woven throughout the area. The focal point of this design is the large island in the center, which provides not only a bar area but ample storage with the continuation of simple white cabinetry and drawers. The upper cabinets also match the design, and blend in seamlessly with the white back splash and light gray wall color. If you're looking for cabinets that are chic, simple, and stylish all in one, this design is for you!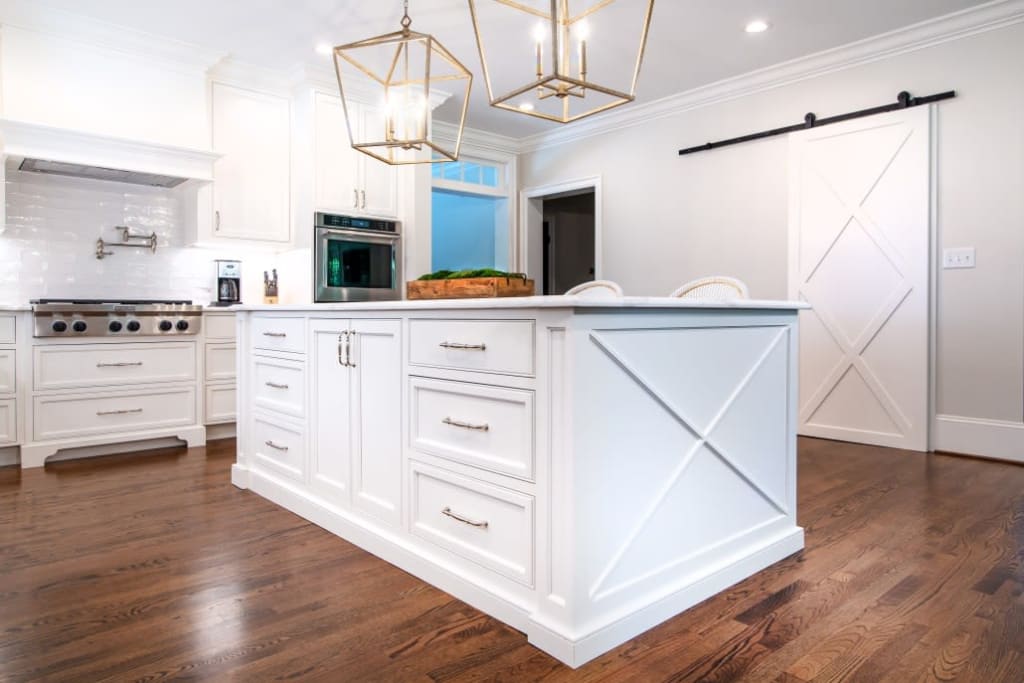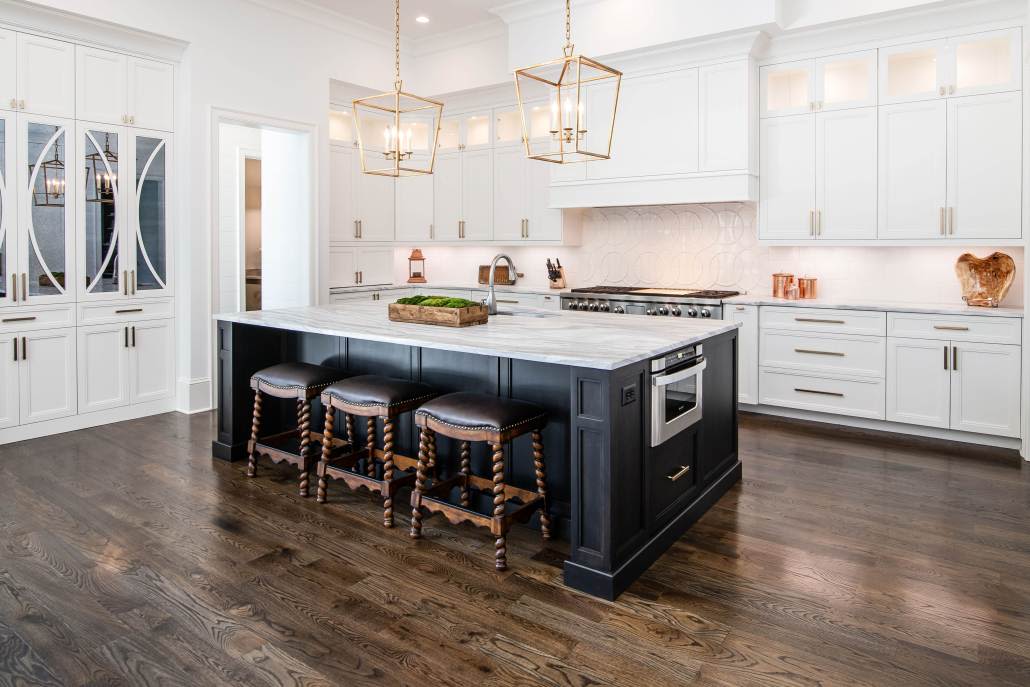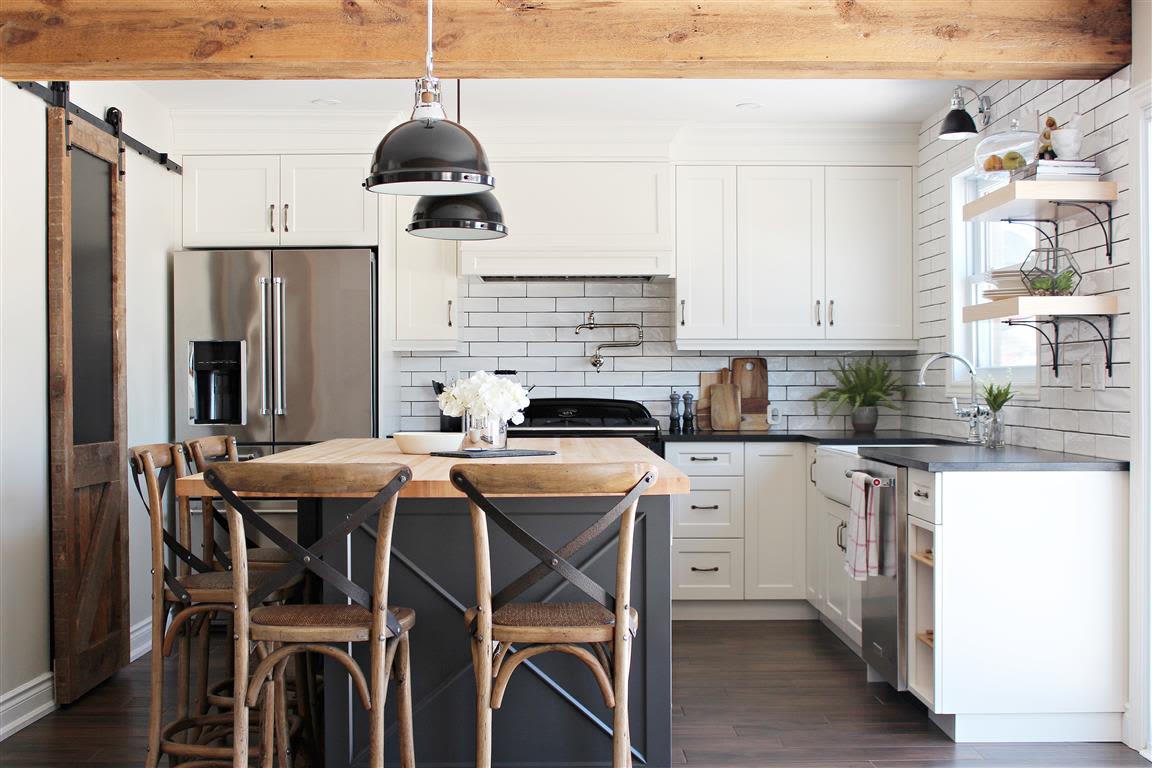 4. Warm Gray & White Kitchen Cabinets
Texan interior designer Angeline, who loves vintage elements, designed this chic kitchen for a local family. Angeline and her team of 3 designers in Dallas created this cozy and functional kitchen for their new house with entertainment in mind! Cleverly pairing clean white and warm gray-toned cabinets, the result is a modern yet welcoming Texan home. We love to see classic touches like gold pendant light fixtures that pop along with the matching gold cabinet hardware, as well as the clever use of color like grays that makes the practical stainless steel fridge blend into the architecture. Warm gray cabinets are a great way to make a space more inviting while still sticking to a neutral color palette.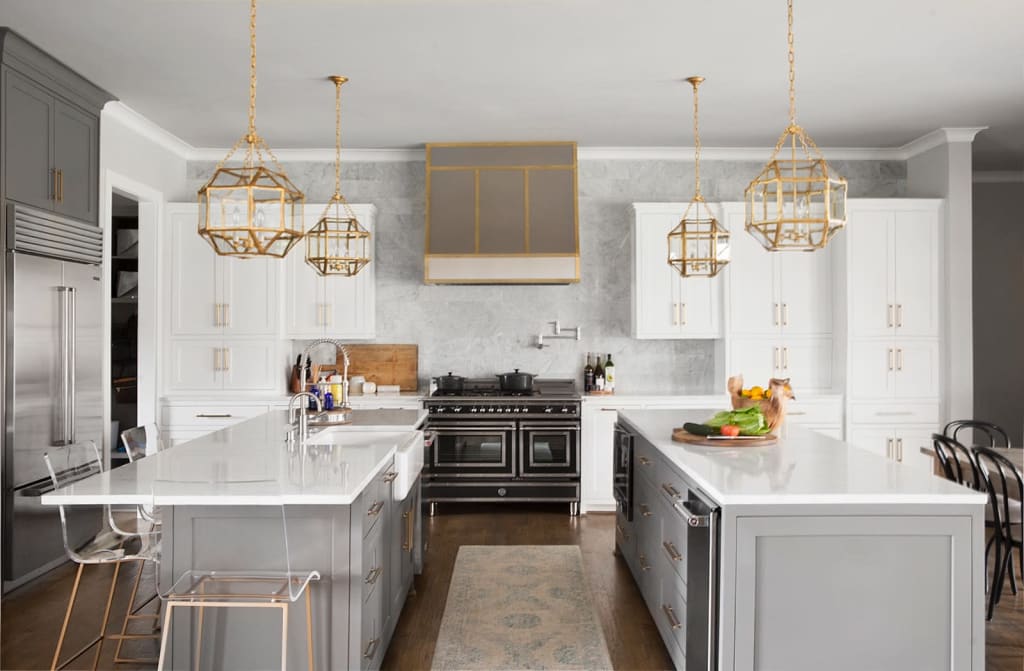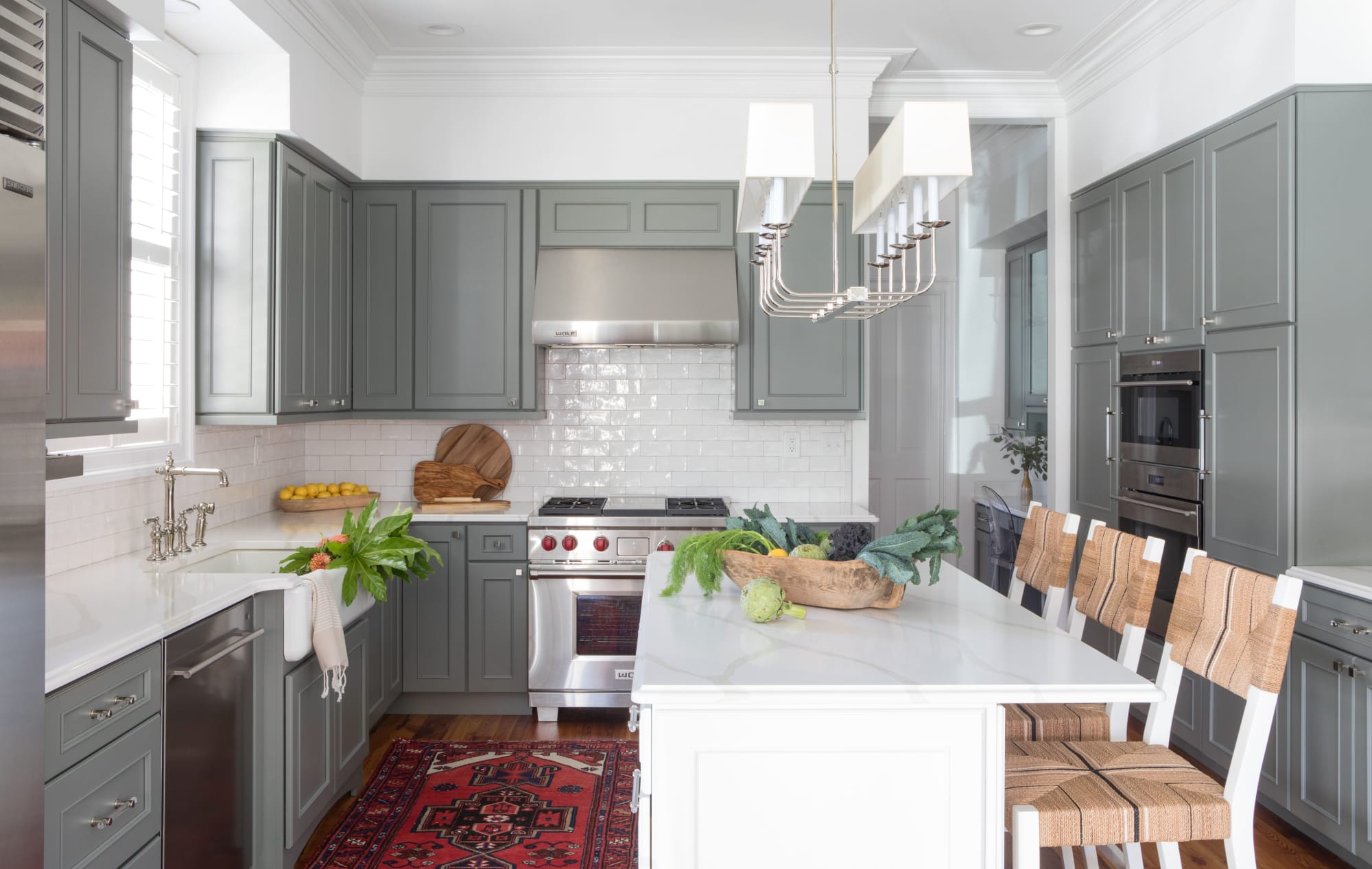 5. Custom Kitchen Cabinets
Light and dark kitchen cabinets create a pleasing visual balance and ample storage space in this custom interior. Canadian creators Birdseye Custom Woodwork make unique and stunning furniture, cabinetry, kitchens and one-of-a-kind pieces, and this kitchen is no exception! "For us, working with people to bring their ideas to life is a truly rewarding experience. Whether it's a minimalist piece or a complex design…" says Birdseye. They consider their style to be a traditional or "old school" approach to cabinetmaking, and we think it really works as a modern kitchen too! By focusing on each small detail to enhance the functionality and the lasting craftsmanship of their cabinet designs, this space certainly stands out. These cabinets, as well as more from our collection, are perfect for a custom design that also provides storage. Cabinets with glass doors are also a perfect way to show off your dinnerware collection!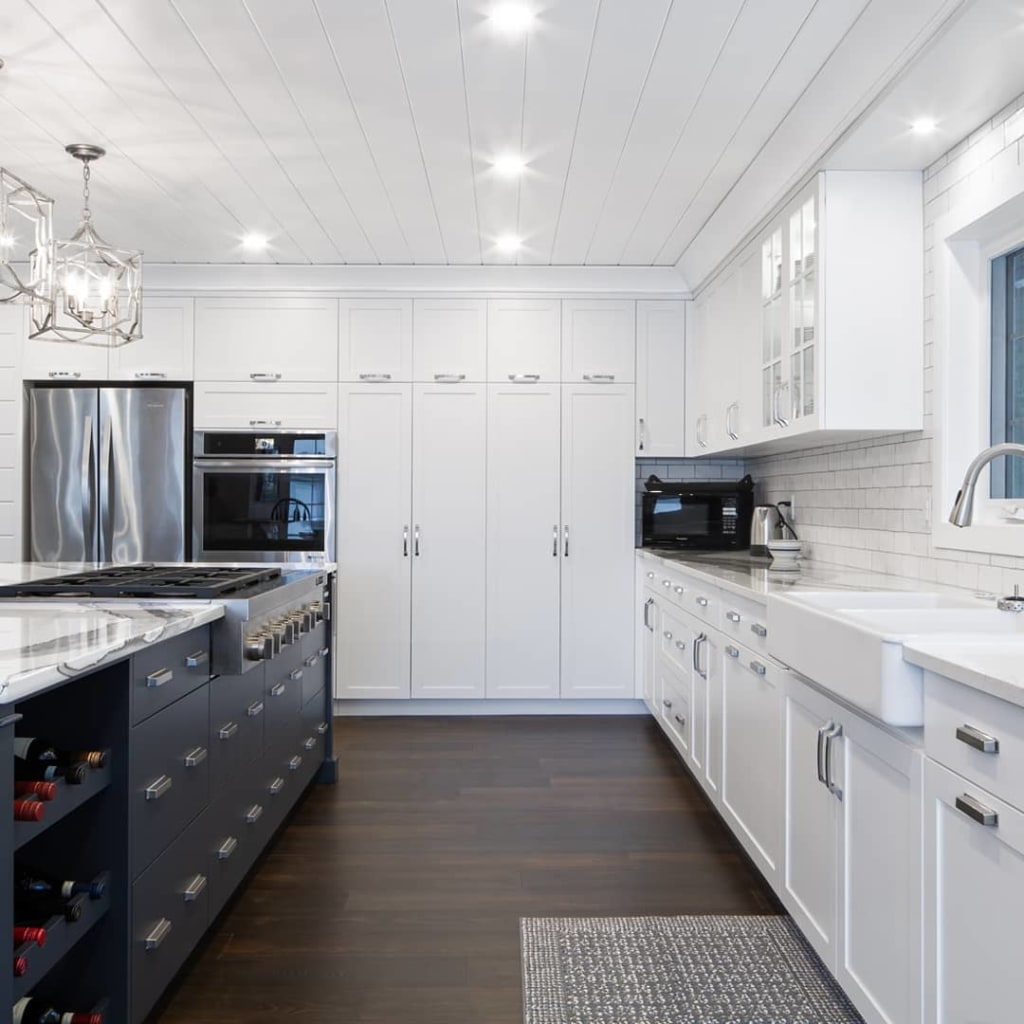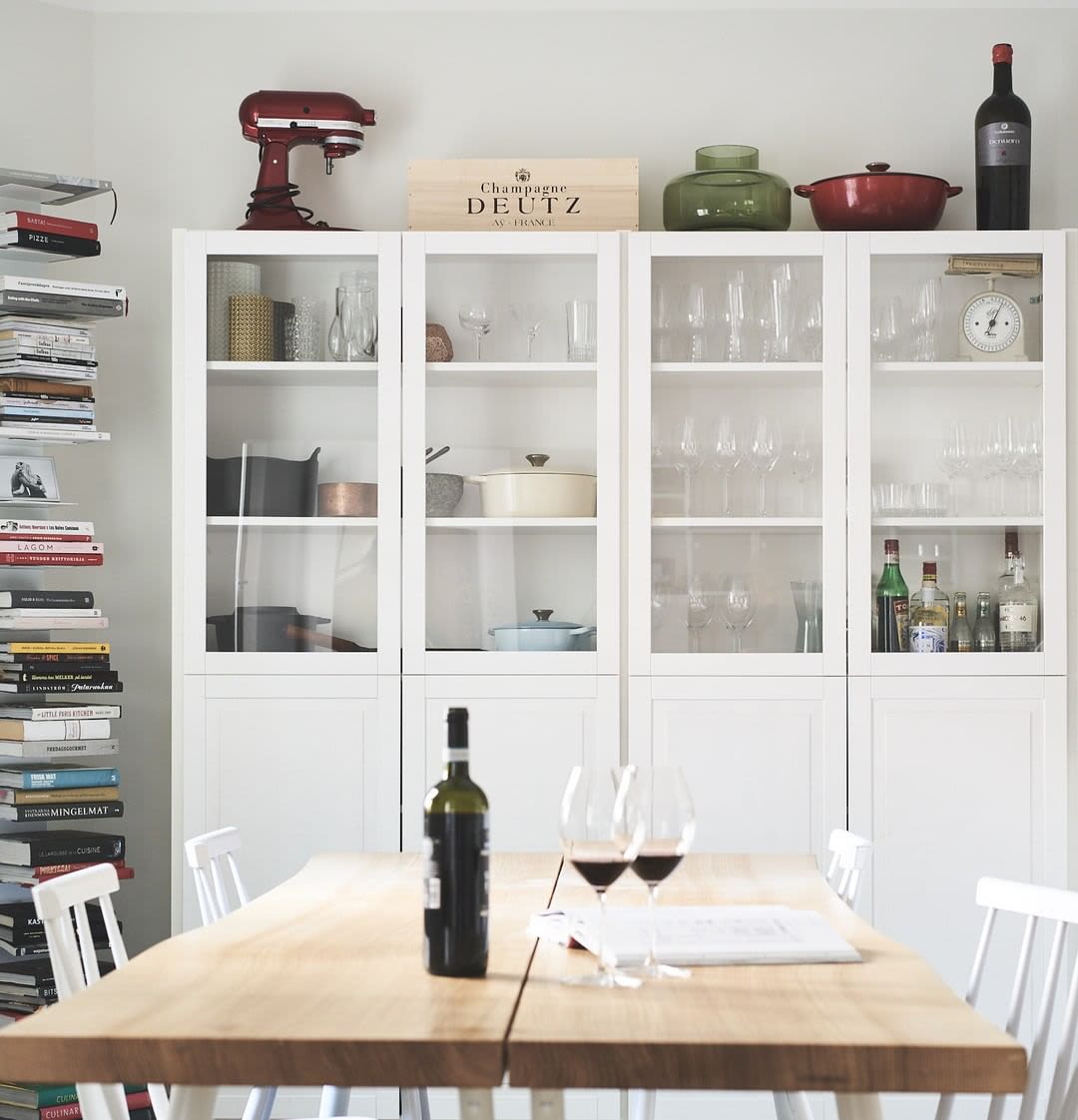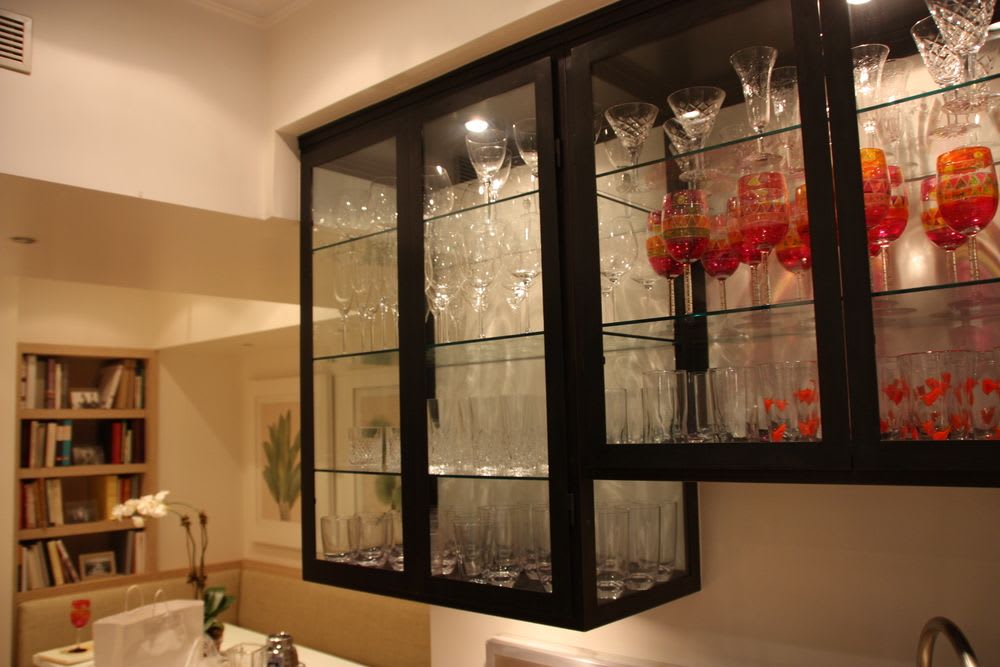 6. Island Kitchen Cabinets
Brace & Bit is a professional full-service design and builds shop that specializes in custom cabinetry and furniture. They strive to combine the clean lines of modernism with the organic beauty inherent in the raw hardwood material. This white oak and ebony ash kitchen island looks elegant in this private home in Portland, and brings elements of multiple design styles into one unique piece! Again, storage is key for any kitchen design and this island won't make you compromise design for function! Enjoy the best of both worlds with these beautiful island kitchen cabinets, and more, to store everything away in sleek seamless drawers.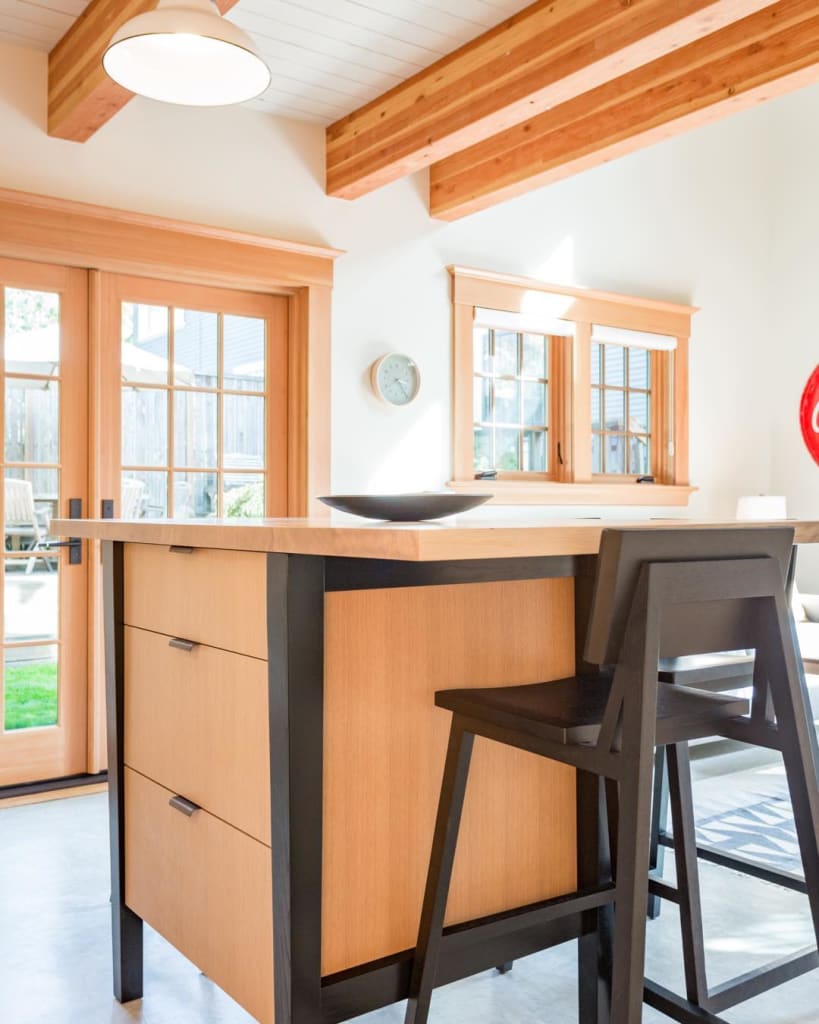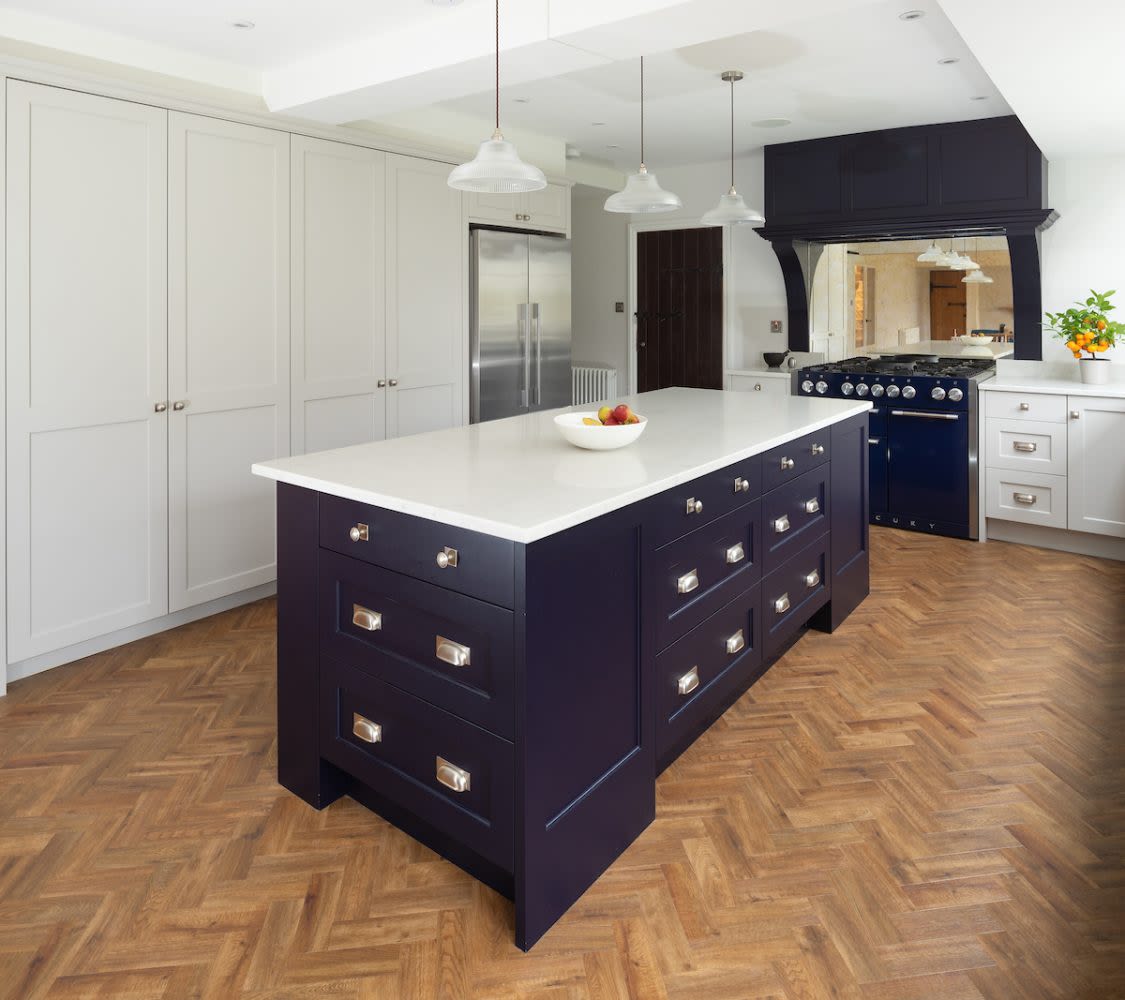 The Verdict
Kitchen cabinets can be a focal point of any stylish kitchen and shouldn't be left as an afterthought. Choosing to make them either stand out or seamlessly blend in with the rest of your space is a design choice that will impact the rest of your kitchen! But don't fret, this doesn't have to be a stressful affair. In fact, it can be quite the opposite! Wescover has tons of examples of kitchen cabinets to get you started and by choosing some from our collection you'll also be supporting creators. Renovating your dated or mismatched kitchen has never been easier, and we have cabinets to suit every style, as well as ones to totally recreate your current look. Fresh cabinetry is a simple way to impress your guests and you'll love entertaining in your new show stopping kitchen! If you loved these kitchen cabinets and want to explore more designs to bring into your own home, head over to Wescover and prepare to be inspired!