Cozy Kitchen Lighting: 9 Unique Pendant Light Fixtures to Inspire 2020 Kitchens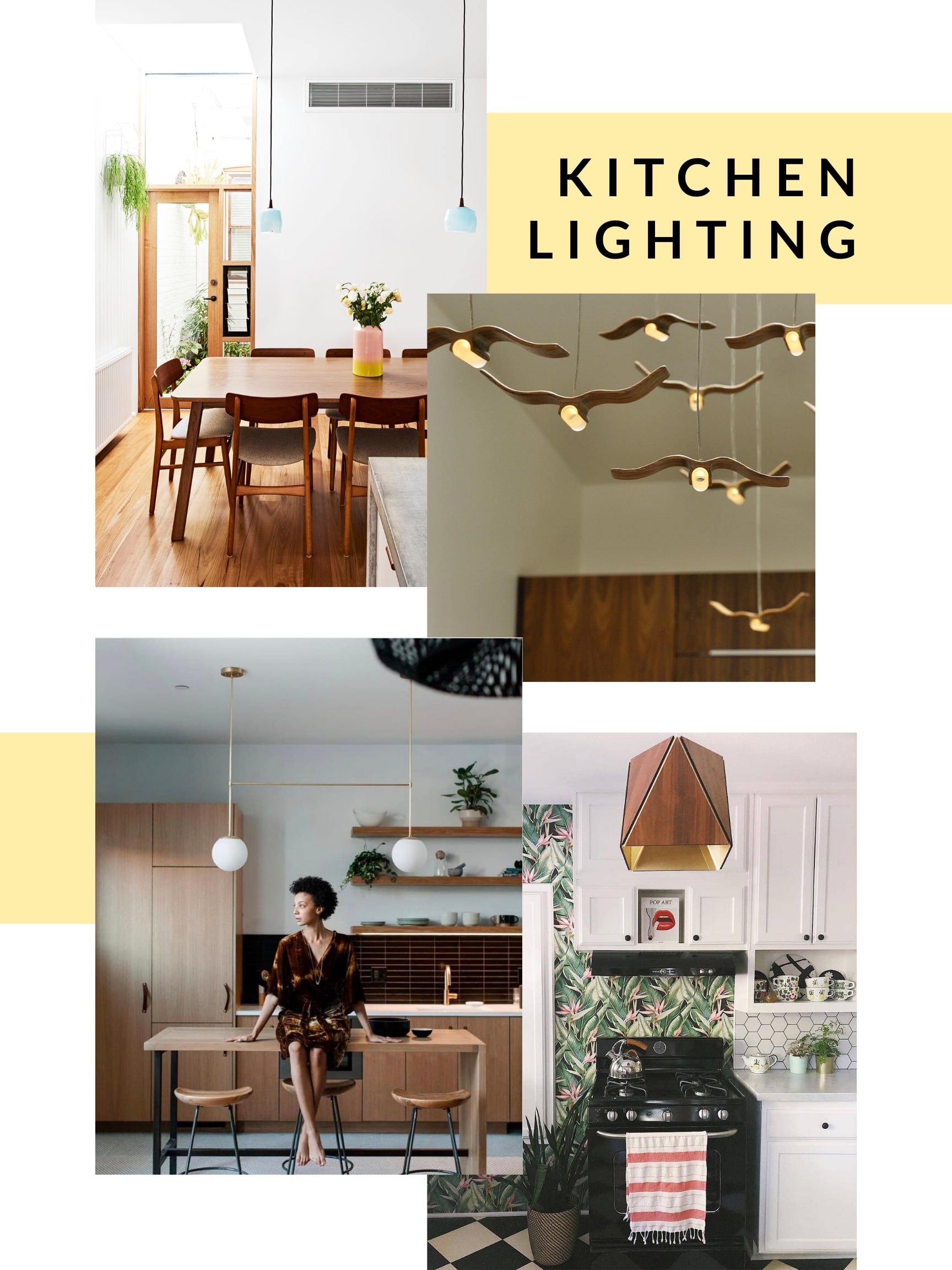 There's one interior design element that can quickly upgrade any kitchen: a new light fixture. Good lighting is everything —especially when setting the mood when dining at home. While a full kitchen remodel may not be on the agenda this season, a new pendant light over your countertops can brighten the mood while cooking. Winter is coming and we're going to be spending a lot of time cozy in our kitchens this year. So, we compiled some of our favorite handmade and unique kitchen lights from Wescover to help inspire you to take on a little lighting project that'll brighten up your space too.
1. Eclectic Woven Rattan Pendant Light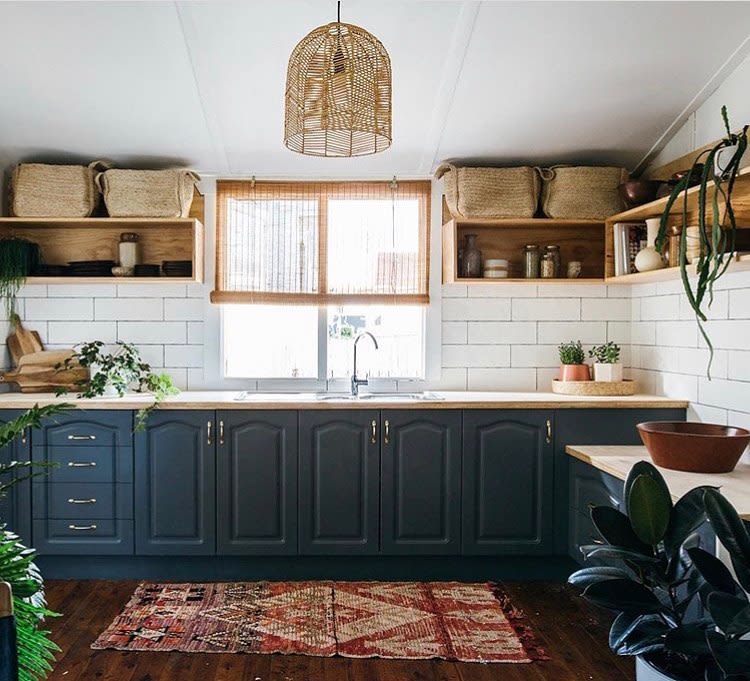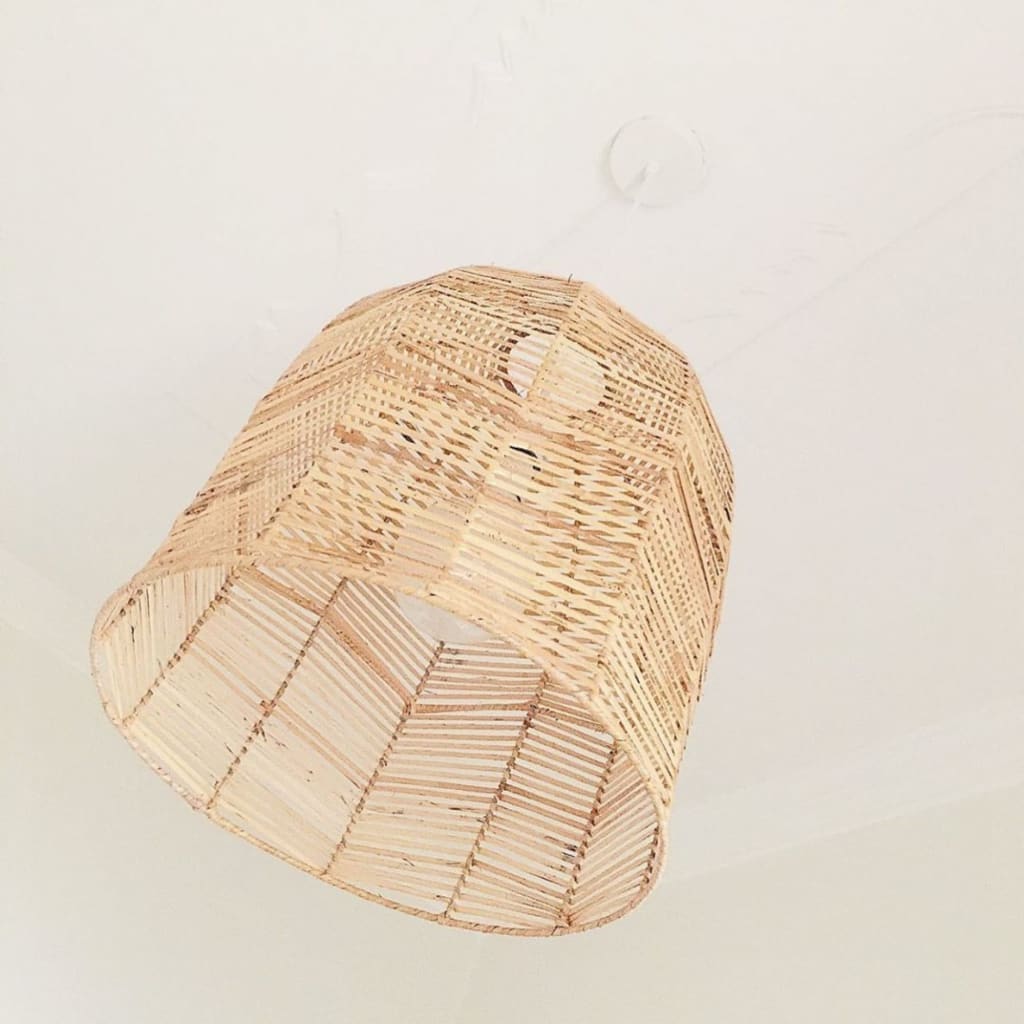 Eclectic vibes certainly come across in this kitchen when you add this artisan pendant light fixture made by Wanderlust Lighting. The Australian brand was inspired by their travels to create a lighting line that specializes in beaded and rattan pendants that pair perfectly with boho interiors. The Sella Woven Pendant light looks luxe next to the dark cabinets and natural woods. It really pulls the rustic, simple vibe of this space together!
2. Modern Industrial Island Lights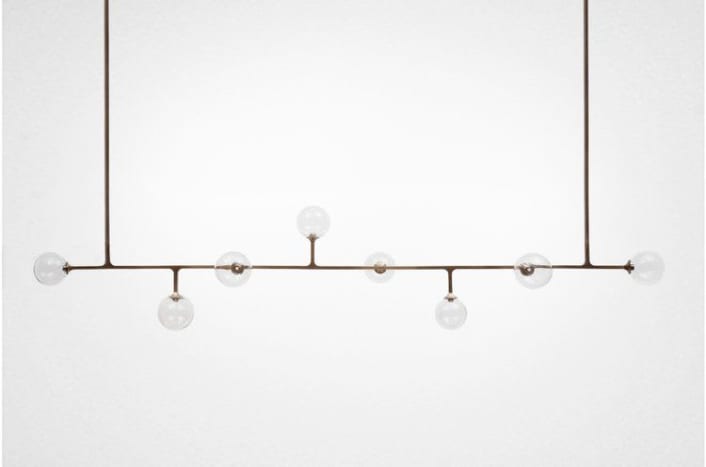 Javier Robles, the designer behind Lumifer, created these Helix Horizontal Pendant Lights that pair perfectly over a concrete kitchen island. We love how Lumifer's work always maintains a modernist aesthetic with industrial overtones. In the kitchen, these light fixtures capture a contemporary spirit with a clean line that seems to float over the island. "Lumifer's spirit is to craft unique objects that are powerful, luxurious and timeless" says the designer.
3. Art-Deco Woven Pendant Lights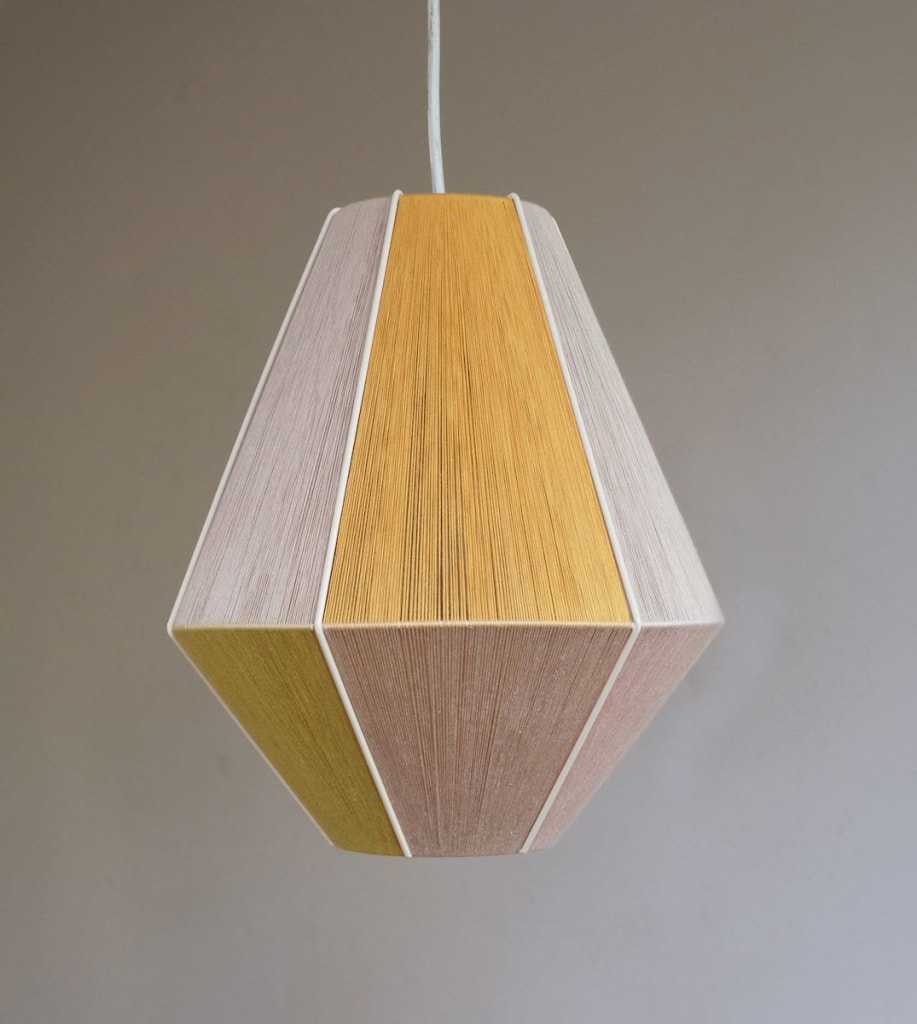 Werajane's gorgeous Kaya Pendant accents this Milanian kitchen with its art-deco revival style. The German designer creates these detailed, colorful pendant lights with hand-painted metal and Italian cotton threads. All of Werajane's lamps are unique, made to order, and handwoven in Leipzig Germany.
4. Gold Geometric Pendant Lights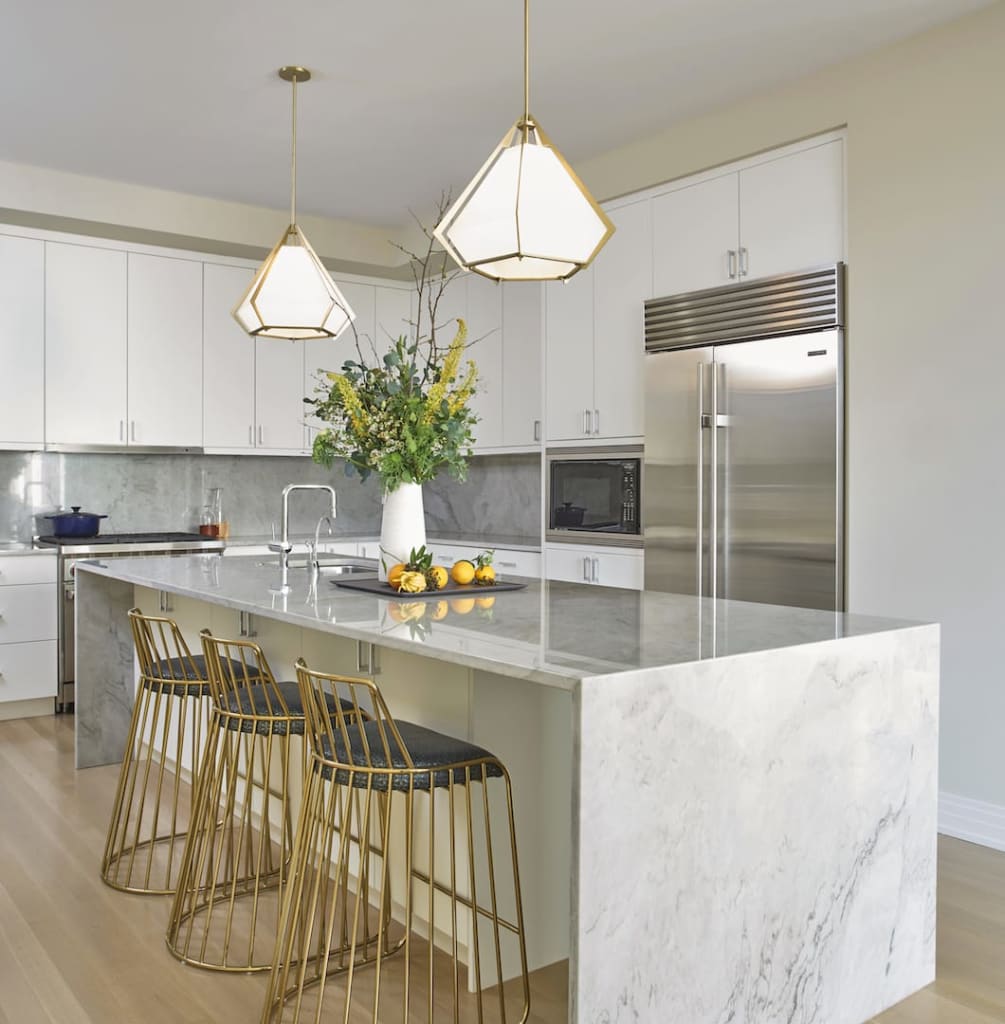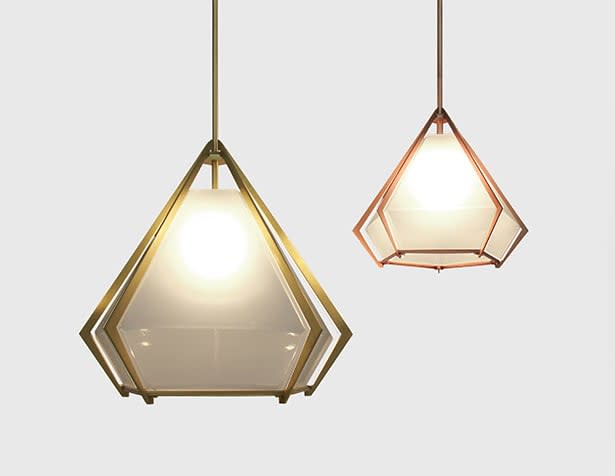 Set over the expansive kitchen island, these Harlow pendants by Gabriel Scott are the highlight of this gorgeous Chicago apartment. The interior was designed by Studio Gild who thoughtfully incorporated metallic accents to balance the cool marble. The result is a graceful space with unique details and a clean, cool feeling.
5. Black and White Orb Shaped Pendant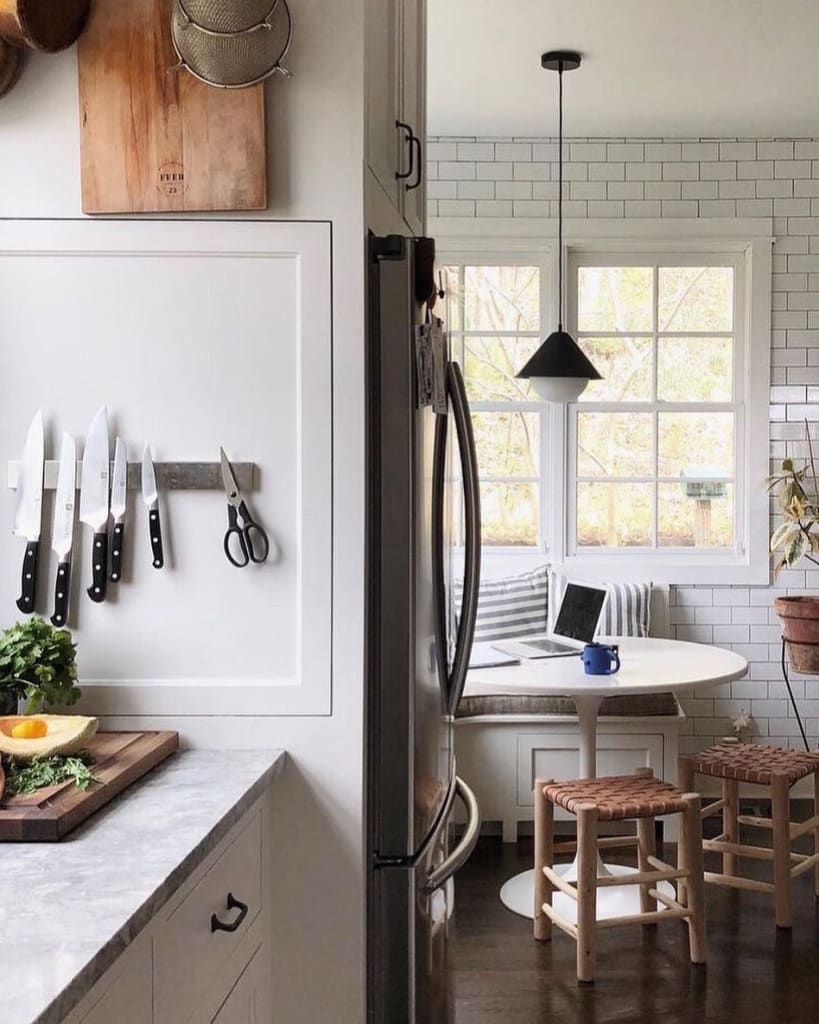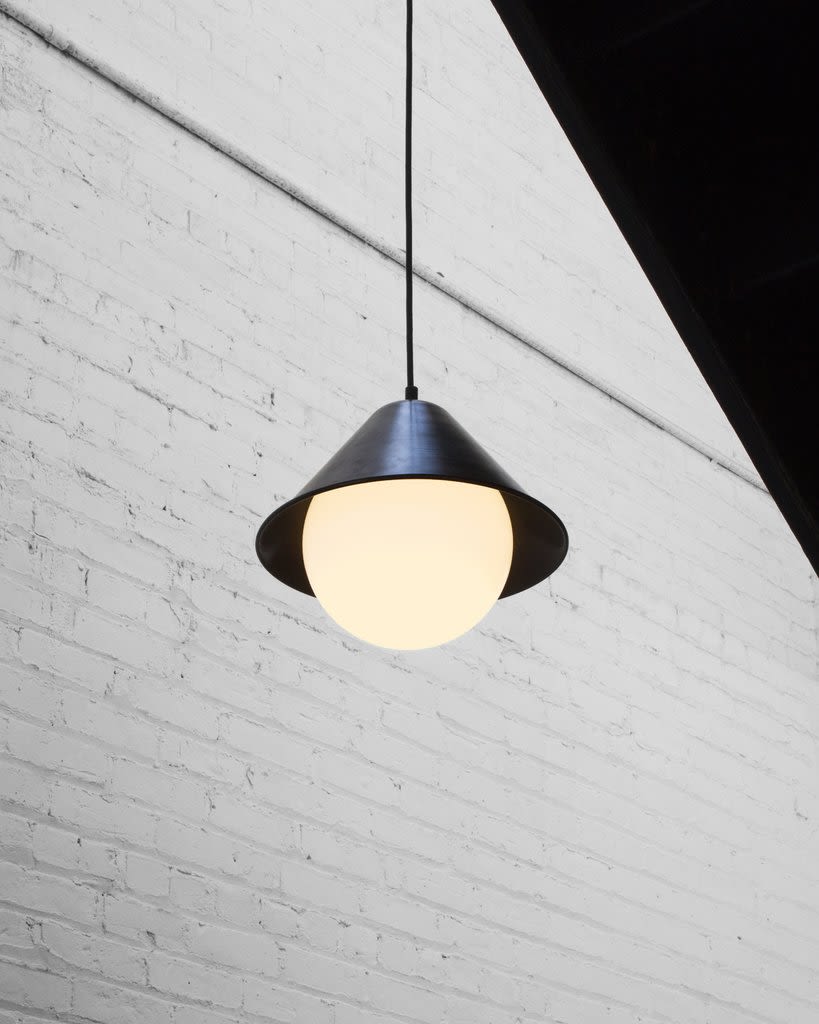 This chic black and white hanging light stands out against white-washed bricks and subway tiles. The Orb Pendant by New York design duo In Common With is the perfect fixture in this kitchen nook. The elegant lines of the fixture add clean structure to the space but they don't detract from its coziness.
6. Warm Wood Island Light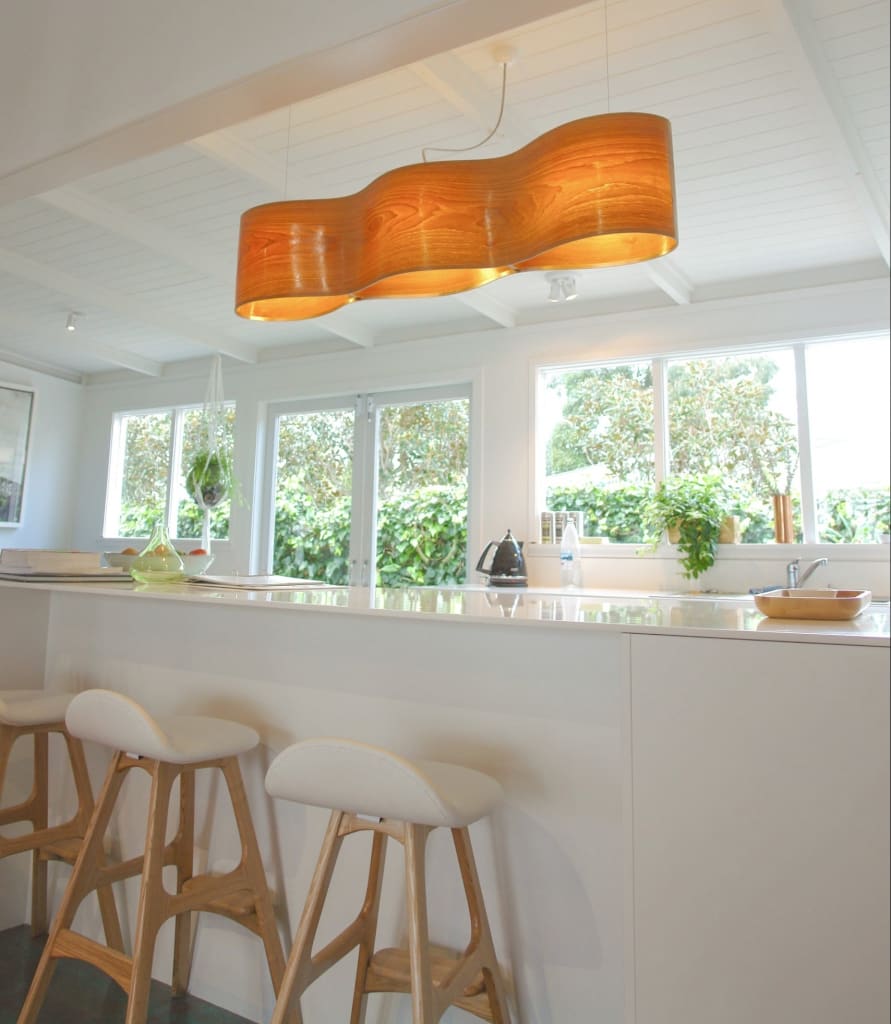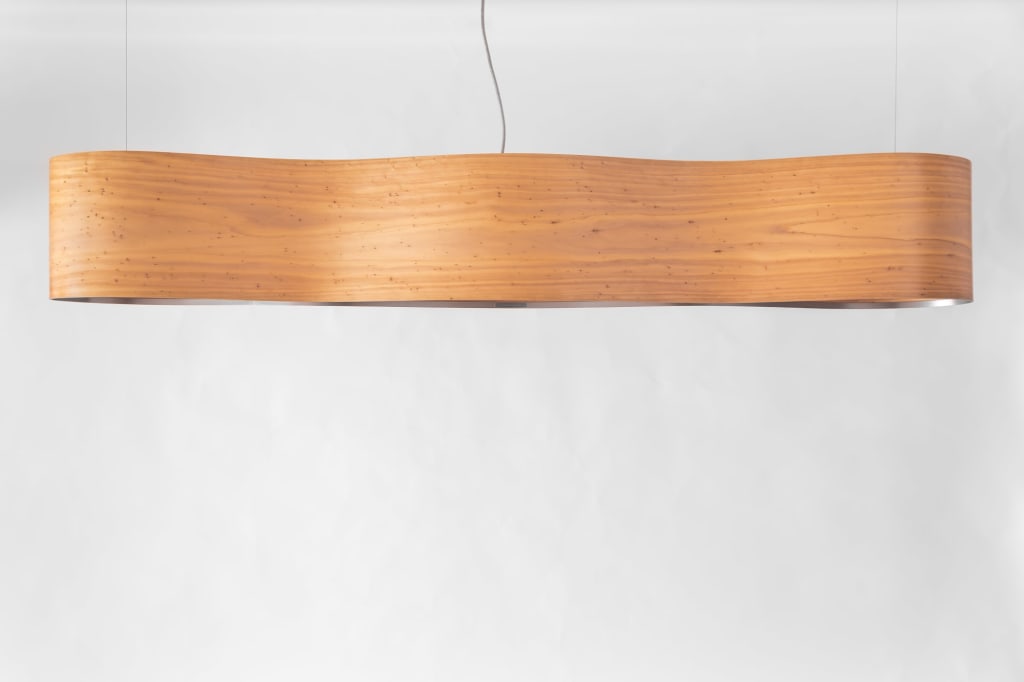 This modern New Zeland home has a warm glow from the Infinity light designed and created by James Russ. The light fixture is made from paper-thin composite so light comes through the material to create an intimate space. "Design inspiration often stems from native New Zealand flora and fauna, photographed or filmed by James to capture details." says the Auckland designer.
7. Flat-Packed Creative Lampshade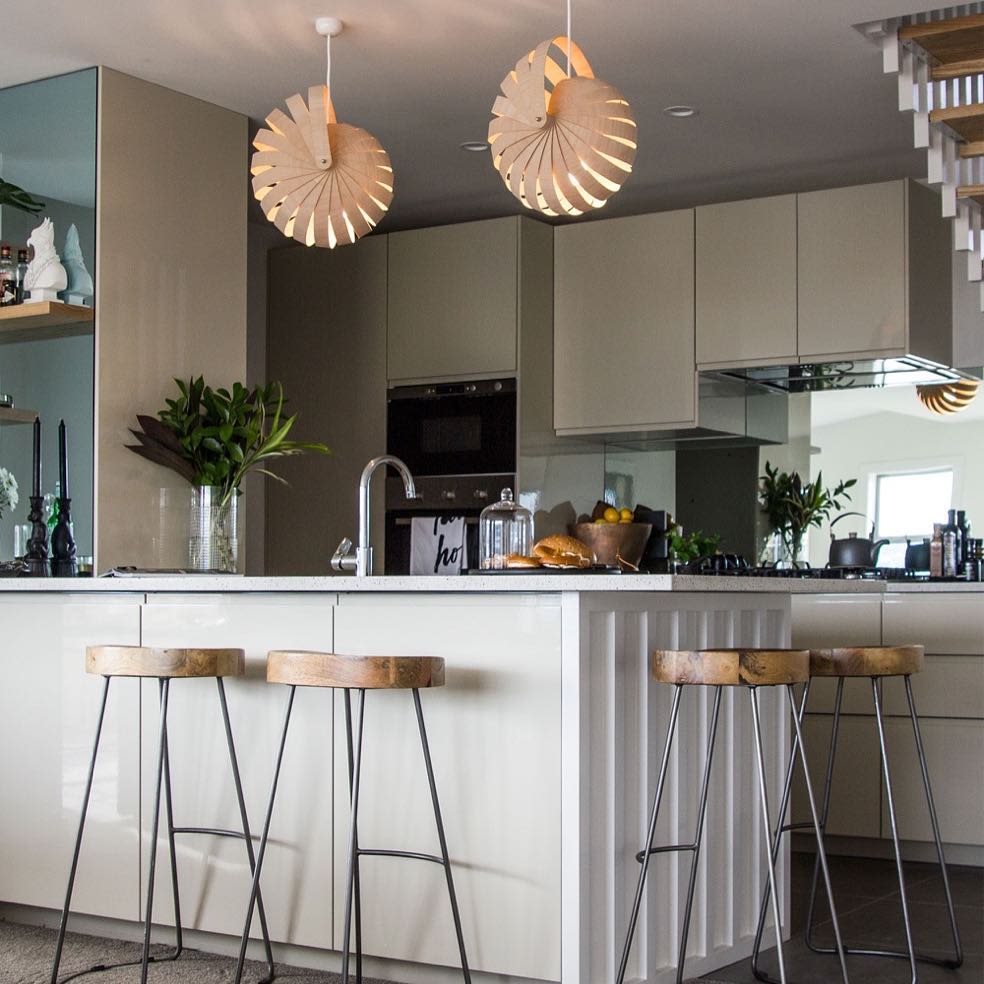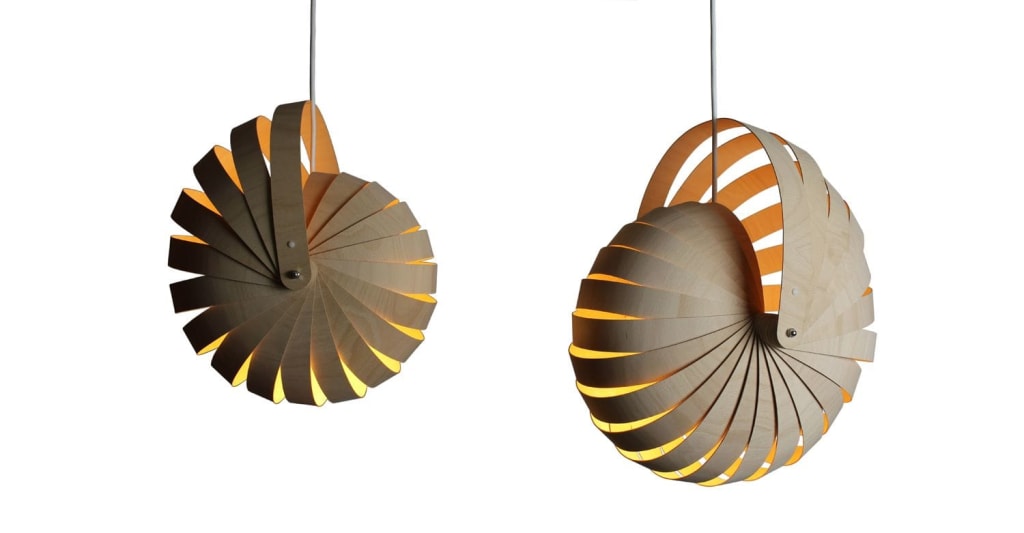 The Nautilus Lampshade, inspired by a seashell and made from European Beech plywood, adds softness to this white, modern kitchen. It has all the elegance of a form found in nature and the functionality of a modern design object. The shade comes flat packed and is fast to assemble so you can create a new focal kitchen light fixture in just a few minutes. It can roll into itself like a shell too!
8. Contemporary Square Wood Pendant Light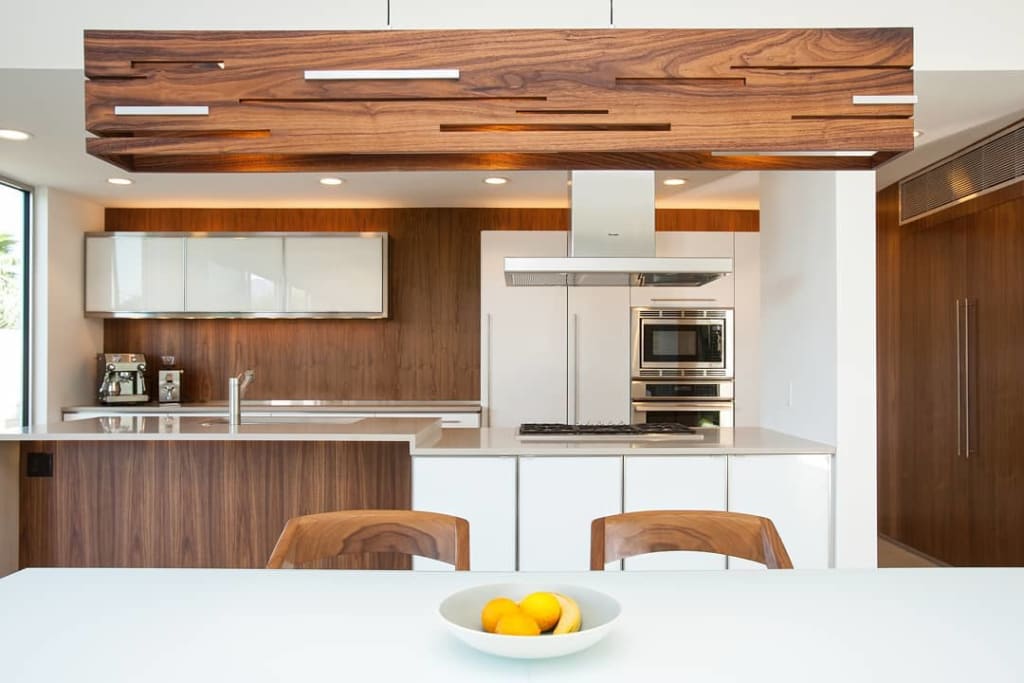 Designed and built in California, Cerno's Aeris Linear Pendant blends beautifully into the architecture of this Palm Springs Kitchen. This contemporary pendant light pairs minimal sensibilities with natural elements. The size and shape make a statement while the cut-outs and metallic details emphasize the natural woodgrain. Cerno specializes in the sleek and modernist aesthetic, while still maintaining function in their fixtures. "Our aesthetic foundation lies in marrying modernism and contemporary design," says Cerno.
9. Playful Mini Pendant Lights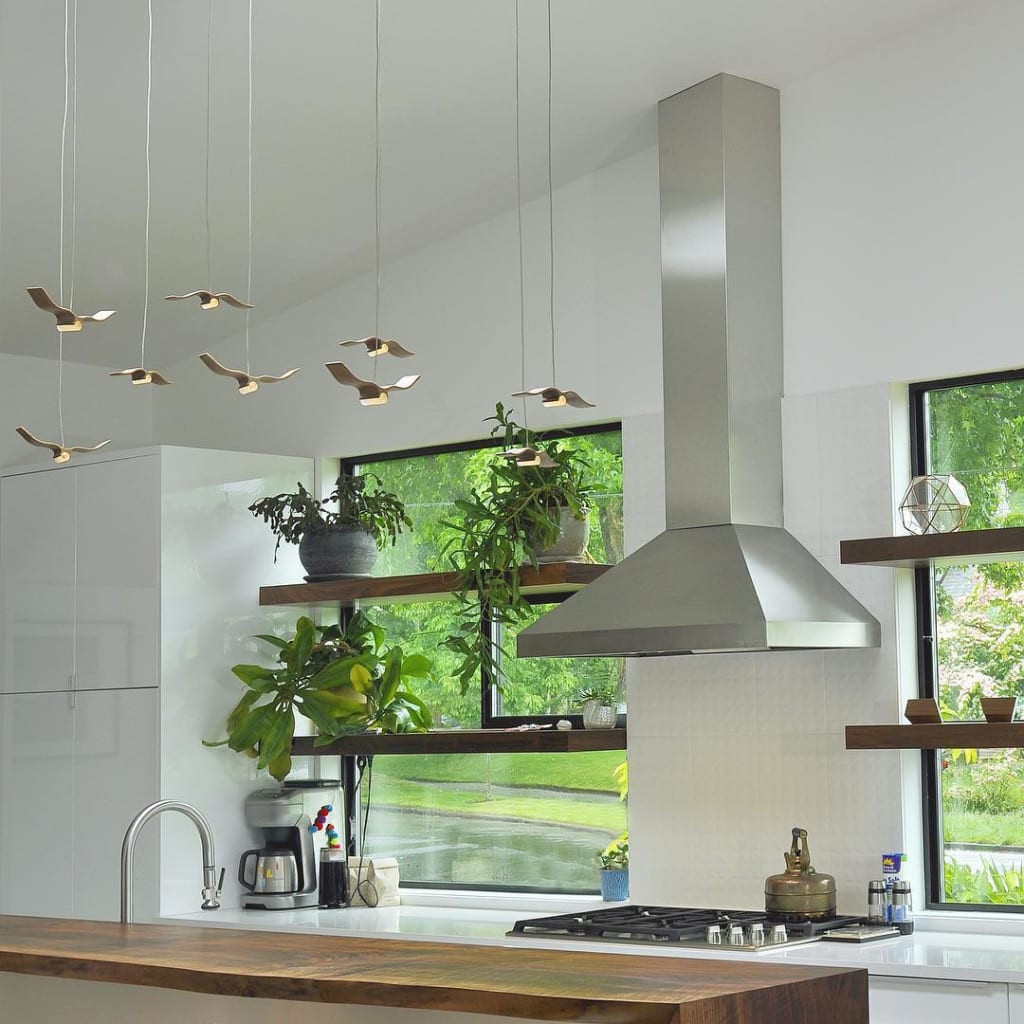 Scott Schiesel, owner and founder of Lightlight, often draws design inspiration from the natural world. This kitchen lighting fixture brings the outdoor wildlife of Portland, Oregon into the home. "I feel that lighting is the single most important component to a successful design whether it be architectural or product based. A proper lighting scheme creates shadow, reveals texture, defines the tempo and sets the rhythm of a space" says Scott. We would love to have a flock of bird lights brighten up our kitchen!
These are just a few of our picks— but there are hundreds of unique lighting designers to discover! Find the right light for your kitchen on Wescover.