Batch's Co-founder on the Power of Shopping Local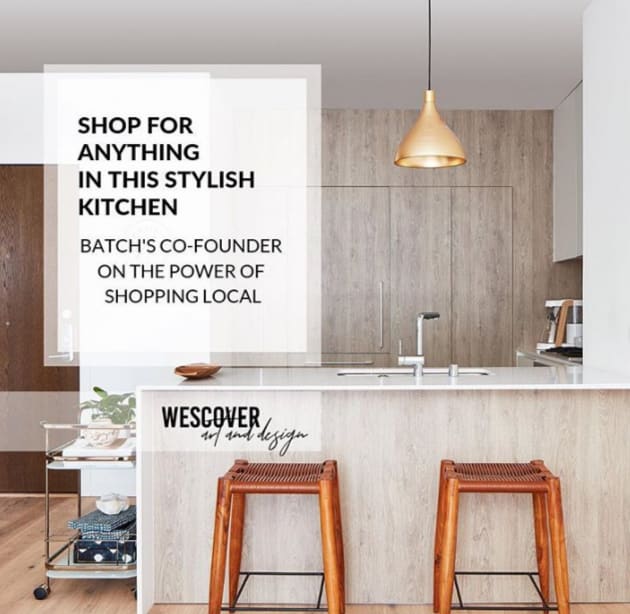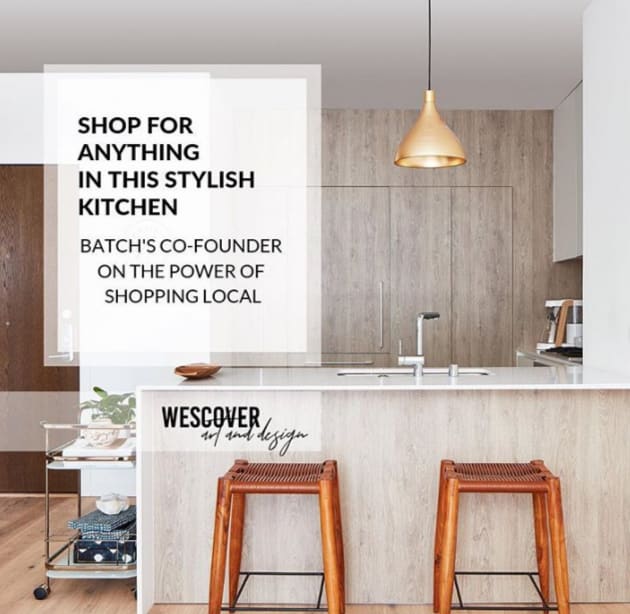 Batch's Co-Founder on the Power of Shopping Local. A Wescover feature.
Have you heard of Batch yet? If you've ever walked into a beautifully curated space and felt a mix of awe, envy, and inspo— this is for you. Batch is a new kind of retail experience that feels like hanging out in a stylish friend's living room. They carefully curate spaces full of amazing products you can actually walk away with!
Batch's Co-founder and CEO Lindsay Meyer is dedicated to keeping the shopping experience fresh, cool, and authentic. Her mix of midwestern roots and Californian lifestyle give her just the right eye for local home decor and lifestyle brands in San Francisco. Lindsay shares with us some of her insider thoughts and tips on how to discover unique spaces and local items, Batch's role in the art & design industry, and advice for Creators.
If you could change anything about the art/design industry, what would it be?
I wish we could change the perception that beautiful art or well-design objects must be expensive. Many people that shop at Batch are surprised to hear that our prices are more affordable than they perceive. It's possible to build a beautiful home by layering a range of price points and pieces.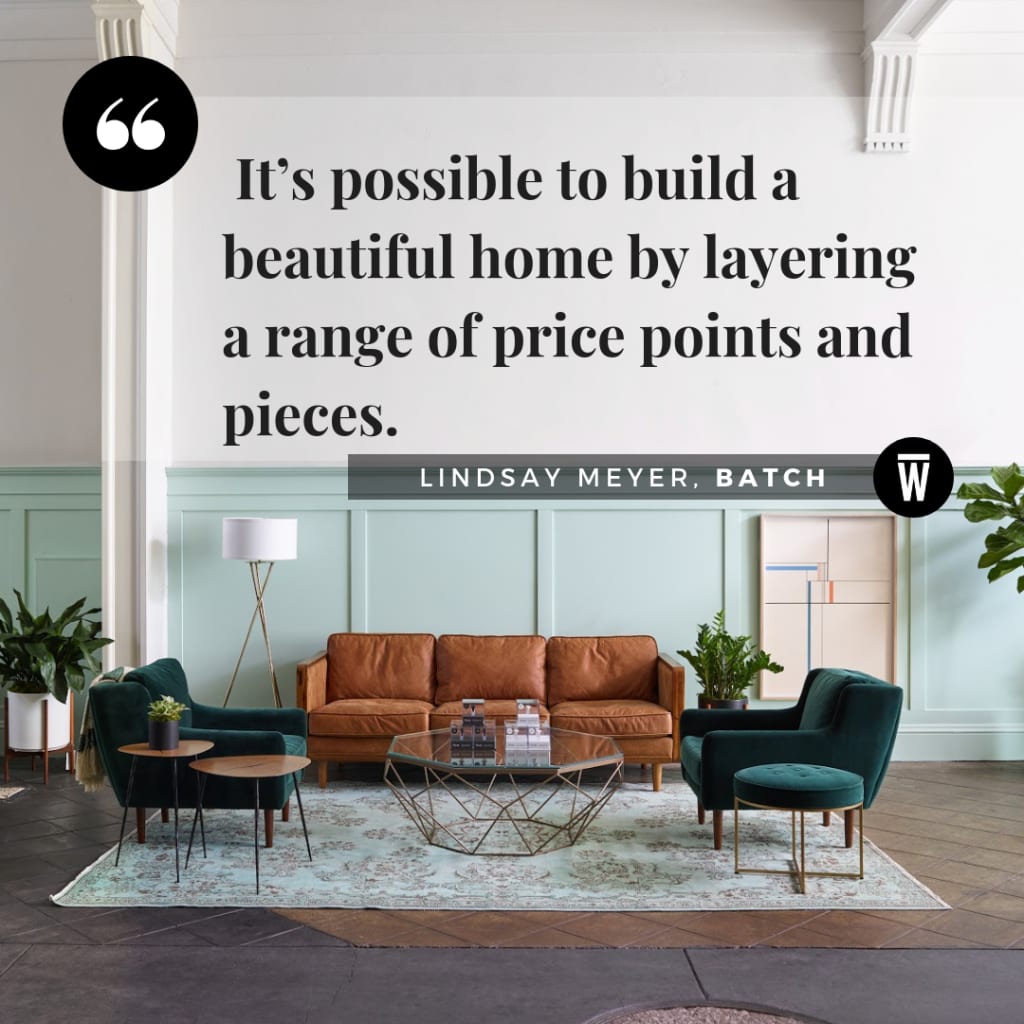 How do locally made pieces add value to a space? / Why is it so important to support local creators/businesses?
Diverge with me for a moment while I tell a short story of an alarming trend happening in Turkey where a thriving ancient rug trade has shaped so much of Turkish culture. As the Turkish economy has developed and people there have become more wealthy, they are getting rid of their traditional Turkish rugs for machine-made rugs made in China. It's such a shame that Turkey's wealth creation led to mass-produced consumerism. Fortunately, in the areas Batch operates today, our audience is very interested in supporting and sustaining smaller businesses.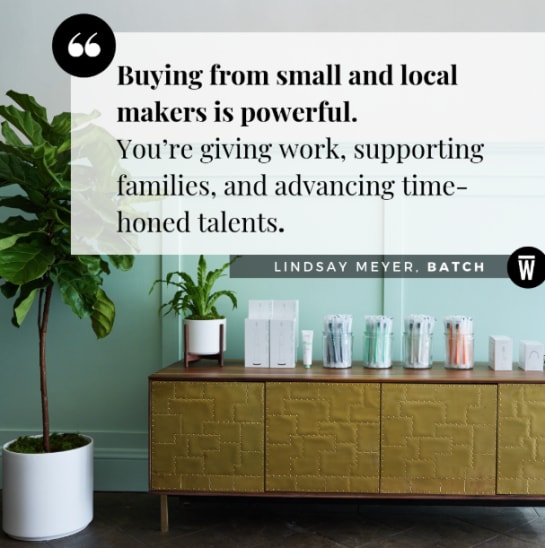 Buying from small and local makers is powerful. You're giving work, supporting families, and advancing time-honed talents. So many small businesses produce items of incredible quality that could never be as beautifully reproduced at large scale for a bigger audience.
What's your secret to finding new, innovative brands? / How can a consumer find local artists to support?
Although we're a small operation, we have a dedicated team member that focuses on cultivating new brand relationships for Batch! We've worked with over 100 brands to date. We love attending local craft fairs to meet more makers.
Have you seen an impact on the Creators you work with thanks to including them in Batch?
The brands we work with have had all kinds of success to validating a new market opportunity in San Francisco and growing to open their own location here to increasing awareness and sales.
So many of our Creators would be thrilled to work with Batch! How should they position themselves to get discovered and work with you?
We're approached by tons of creatives but the key aspect to what we do is that it is a paid placement. It's important to consider whether you're ready to invest in physical infrastructure. Our beautiful staffed-spaces handles marketing support and community activation as well. Feel free to email me at lmeyer@visitbatch.com with your product pitches!
What is one piece of design-hunting advice for locals and travelers?
Hang out in trendy cafes in bustling commercial corridors or shopping streets. Treat yourself to a latte and pay attention to the logos on the shopping bags of other customers stopping in. These are great hints about where others are shopping nearby!
How do you think cities would change if there were less "retail" spaces and more "Batch" lifestyle spaces, with a side of retail?
Vibrant retail offerings are an important part of what makes cities thrive. When there are local businesses that people can walk to, discover a great product, and support merchants in their neighborhoods, dense urban environments feel more like close communities. Batch loves participating in the fabric of what makes every area a unique place to call home.
What's the first thing you'd "call dibs" on in your best friends apartment?
I'm on the hunt for the perfect chaise lounge for my bedroom. Ideally, it is structured but soft, unique, and not too expensive. I see a lot of late night work with my dog on my lap happening here!
If you could shop any space like Batch, where would you go shopping first?
There are so many amazing shopping concepts all over the world but friends who have spent time in London lately have sent me tons of cool places to bookmark.