Sustainable Interiors: Eskayel's Eco-Friendly Decor Pieces Will Inspire You to Purchase for the Planet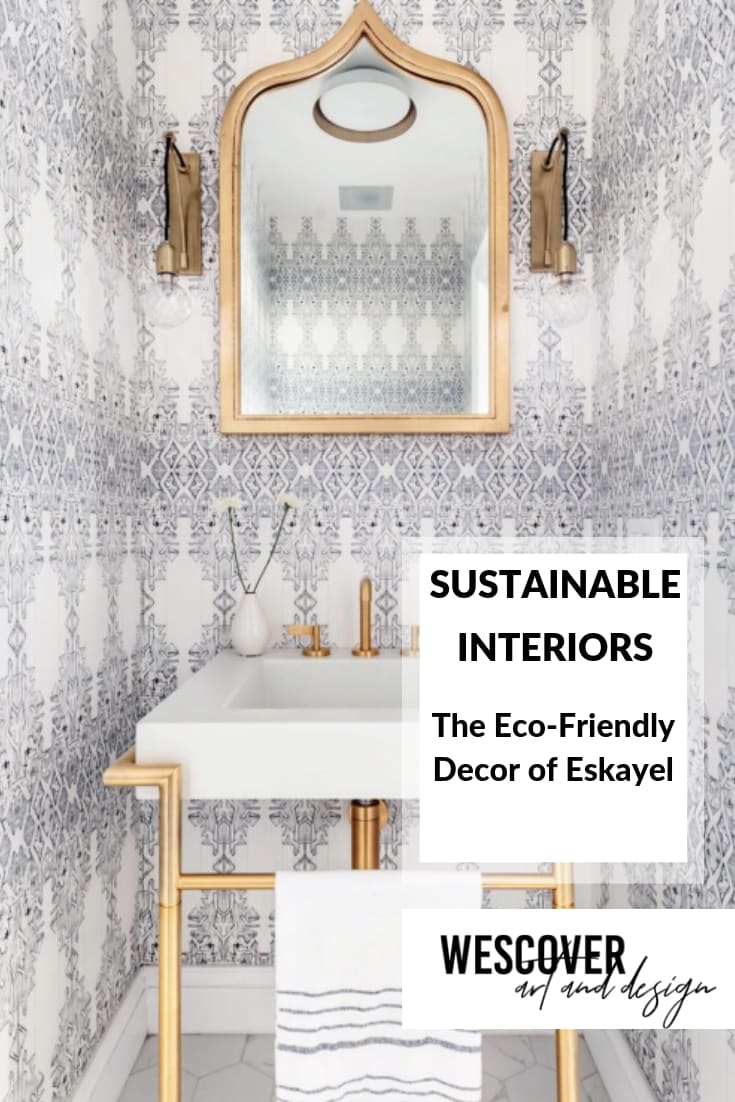 Sustainability had a moment in a recent ELLE Australia post about 2019 Interior Design Trends.
"2019 represents an era of furniture with purpose: Pieces made entirely from recycled goods and environmentally-friendly material alternatives." -ELLE Australia 
We couldn't be more happy to see this shift towards sustainable, intentional design pieces. We were reminded of one of our very own creators who is committed to sustainable design…
Meet Eskayel
Eskayel's founder and creative director, Shanan Campanaro, has her roots in the sustainability movement. Before founding (three cheers for female entrepreneurs!) Eskayel, Shanan worked with various non-profits.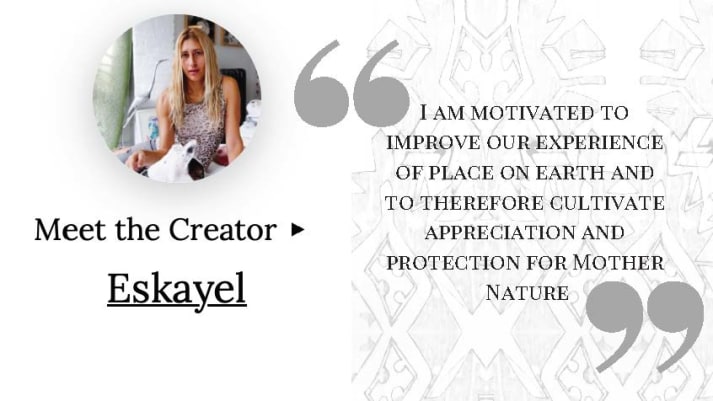 Akimbo 2 Black and White
Recently, Eskayel added this beautiful wallpaper to their page, and we absolutely fell in love with the intricacy and detail of the installation. Often times, in interiors, the walls are dressed by the decor; but in this bathroom, Eskayel's beautiful wallpaper takes center stage (accented by the gold appliances).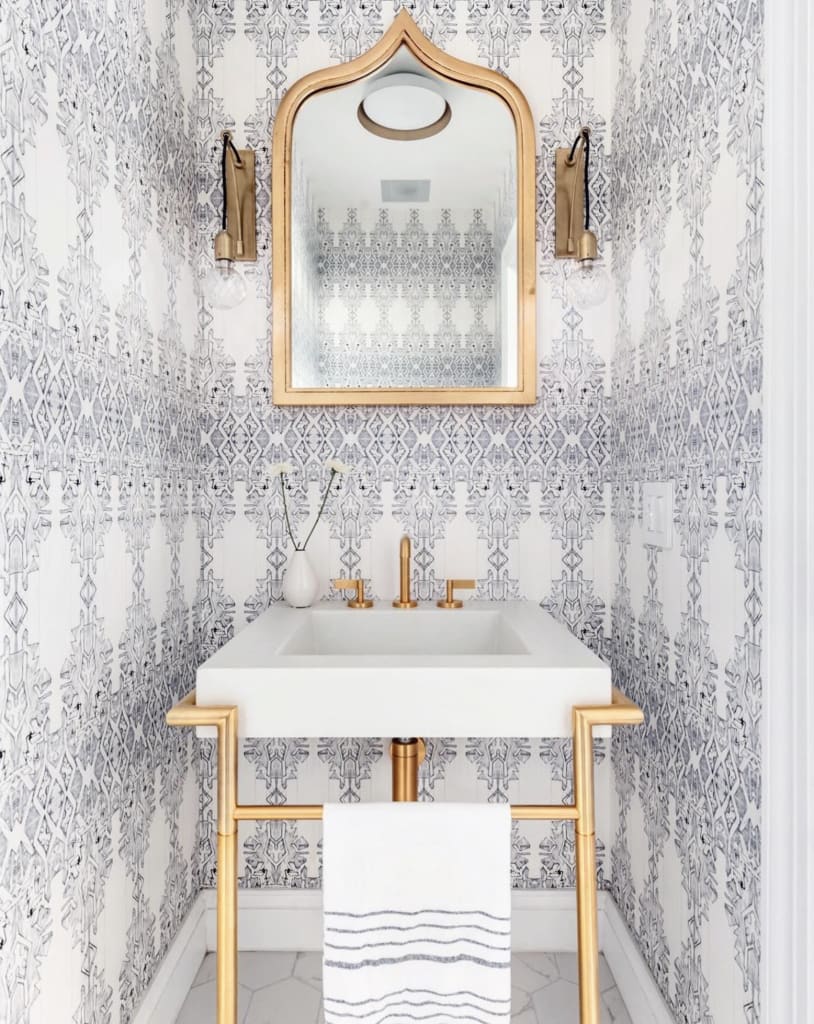 What was the inspiration behind the intricate shapes in this piece?
"A vintage rug that I found on a sidewalk sale"
What do you wish piece knew about the value of adding custom wallpapers to their space?
"Pattern can be expansive and once you have it you won't be able to imagine the space feeling complete without it!"
You also have beautiful rug and textile pieces; do you approach those projects differently from your wallpapers?
"Yes especially with rugs there is so many options with weaves, materials and techniques its fun to play with texture and scale in a way that isn't possible with wallpaper" 
What inspires you to continue to use only sustainable materials in production?
"Before I started Eskayel I organized art auctions and exhibitions to benefit Environmental non profits. It was always a goal to use my company to support and help the environment and not hurt it or add waste to the planet." 
How do you find the sustainable materials that you use in your work?
"Well a lot of times we work with the factories and have them source grounds for us or buy printers that meet the requirements.  So mainly in working with the factories – which are all tiny local family owned businesses."
The Future of Sustainable Design
As humans, we are profoundly impacted by space. The spaces in which we spend our time impact our physical and emotional well being. We love the idea of eco art being incorporated into more of these spaces.
So how can you purchase art and design with sustainability in mind? For starters, purchase from small and local artists. These products are made to order and skip the factory pollution of mass production. Here is an article on the other benefits of the shop small practice. Specifically, you can look into artists like Eskayel, who put sustainability and eco-friendliness at the center of their practice.
Eskayel donates one percent of its total sales to a variety of environmental organizations. We linked them below for you to check out!
–Union of Concerned Scientists
–Sea Shepherd Conservation Society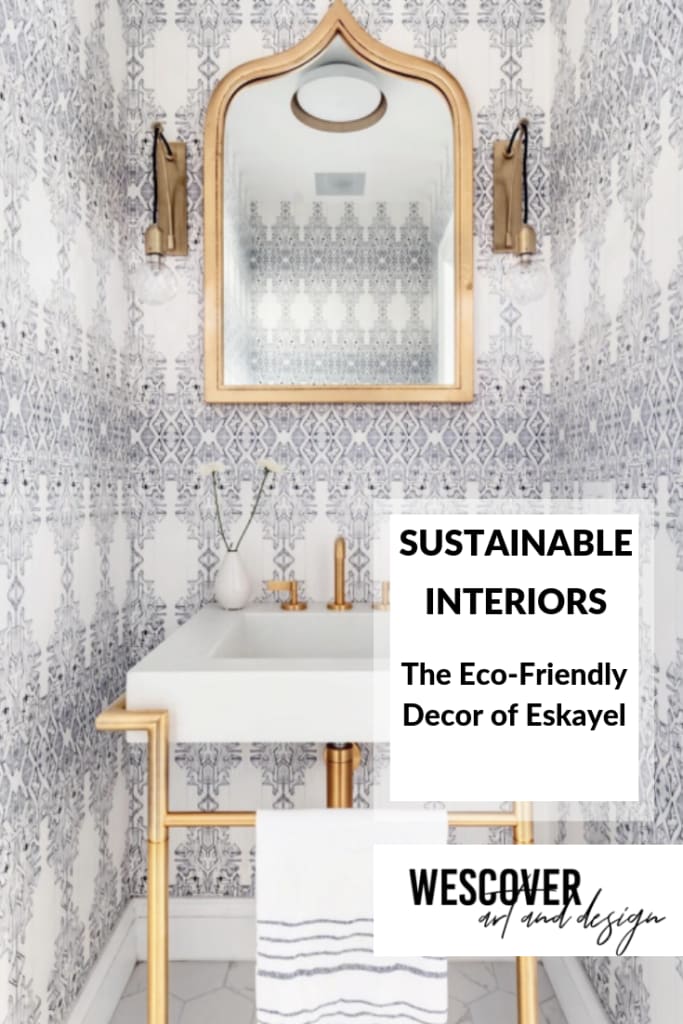 Got sustainable designs to share? GET ON THE MAP!
Here at Wescover we are so excited to learn about individual artists and help Creator communities thrive. See more unique designs and, especially if you're creating a new space, take a moment to explore more local, sustainable artists!